I can't thank you guys enough for all of your sweet words and encouraging comments in response to
yesterday's post
. Really. They made my day.
I'm doing things a little differently today. I thought it'd be fun to tell you guys about all the things Micah and I love simply because the other made us try it. Over the course of ten years, we've both ended up braving and loving so many things we wouldn't have ordinarily tried, and I think we're both so much better for it.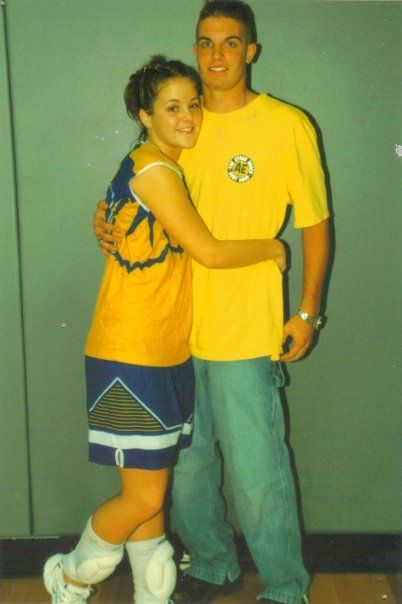 Fall 2002 (he used to wear clothes that were way too big for him... I suppose I fixed that too. :))
So without further ado...
Things Micah loves because of me...
(In general, Micah had pretty vanilla taste in food before he met me. Poor country boy just couldn't help it... his family is definitely a meat and potatoes kind of bunch. So I made it my mission to introduce him to new things, and he's generally been pretty good about being cooperative. Here's a list of food he now loves. After reading it, I might almost mistake him for a city boy... almost.
Cheese enchiladas
Chimichangas
Sushi (although he still doesn't love the really raw stuff)
Greek food (the boy can put away some hummus)
Thai food
Blue/Feta cheese (again... maybe he doesn't really love it, but he eats it with a smile on his face)
Lettuce wraps
And here are some other things he loves because I love them, too (or because I made him try it against his will):
Pottery Barn
Dogs in the house
The beach/ocean (I wouldn't say he loves it, but he'll go. And that's enough for me. :))
Aveda Hand Relief
Banana Republic
Converse
HGTV
Cuddly blankets
Things I love because of Micah...
Homemade biscuits
Pound cake
Cheesecake
Fishing (I still don't love it as much as he does, but I like it more than most girls probably do)
The Twister soundtrack (seriously... it's really good)
Football on Sundays
Extra vanilla in any and all baked goods
Ford pickup trucks (I've always been a Chevy girl, but the sight of him driving an F150 makes my heart go pitter patter)
Samoas Girl Scout Cookies
A vaccuumed closet
Duck Dynasty
No dogs in bed (I've got to hand it to him... I really do sleep better without Lilly up there with us)
Extra lime in my guacamole
Being productive on Saturday mornings