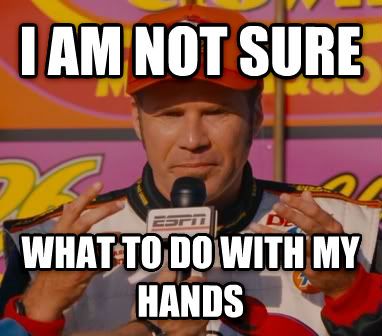 Guess what day it is?
It's day THIRTY ONE of the
Whole30
. Which means I survived thirty days of no sugar (natural or artificial), no dairy, no grains, no alcohol, no soy, and no legumes (beans). It's a freaking miracle, y'all.
I'm betting you guys have questions, so I've done my best to answer them, but if there's something I missed, feel free to comment or
email
. I'll be glad to tell you anything you want to know about this crazy adventure I've embarked on.
Q: What is the Whole30?
A: Go
here
. It'll tell you everything you need to know.
Q: If you can't eat sugar, dairy, grains, soy, or legumes, what did you eat?
A: Lots and lots of protein and vegetables. And fruit. Spinach and I became fast friends, and I constantly had slow-cooked chicken in the fridge for nights when I didn't feel like cooking. I fell in love with roasted vegetables and got downright giddy when I saw Greek salads with shrimp on the menu at restaurants (minus the feta, of course).
Q: Did you lose weight?
A: Yes, I definitely lost weight. I did break one huge rule of the Whole30 by weighing myself daily, but I made a promise not to let any fluctuations on the scale deter me from the course. And there were definitely days where it was hard to keep that promise. But my total weight loss over thirty days made up for it.
I lost
15 pounds
.
Which puts my total pounds lost since the day I delivered Grace right at
85 pounds
. Insane.
I'm the worst blogger in the world, so I forgot to take before pictures, but here are a few full-body shots from before I started the cleanse.
And here I am today.
And lest we forget where I started from, here I was the day after I gave birth to Grace.
I am absolutely a work in progress, but I'm proud of how far I've already come.
Q: Tell the truth. How hard was it really?
A: Truthfully, the self-control thing wasn't nearly as hard as I expected. But that's probably because I'm a rule-follower. If I was the kind of person who could be okay with moderate amounts of cheating (i.e., BALANCE), I wouldn't even
need
a program like Whole30. But I'm not there yet (though I hope to be someday).
That's not to say there weren't days like
this one
where I literally had to sit on my hands to keep myself from reaching for the biscuits and gravy. And the banana cake. But that's because they were staring me in the face. After the first week or so on the program, the sugar and carb cravings really did disappear, so I didn't even really remember what I was missing unless it was in front of me. And because I knew that all the bad stuff was off-limits, it just got easier and easier to say no to it.
It was trying to find compliant foods at restaurants that was the true challenge. You feel like a high-maintenance jerk asking for your food to be prepared in a special way, and it's embarrassing to have to explain to every person you dine with why you're not eating the chips and queso (especially now when our firm is filled with summer intern such that I'm eating out most days). But I found a few places where I knew I could find something, and I frequented those quite often. (If you're in the Dallas area, check out HG Sply (a paleo-inspired restaurant that is INCREDIBLE), Kozy, and, of course, Mr. Mesero.)
Q: Did you ever cheat?
A: I accidentally had soybean oil at Chipotle and organic coconut nectar without knowing it, and once I literally only had one option for protein at a plated, two-hour luncheon where I was starving. It was a small scoop of chicken salad (with some sort of mayonnaise I have to assume wasn't homemade), and I ate it. Technically, I should have started over. There was no way in
heck
I was starting over. Other than that, I made my very best effort to be completely faithful to the plan.
Q: What were your go-to meals?
A: For breakfasts, I usually scrambled 2-3 eggs with a few handfuls of spinach and added some hot sauce (like Frank's Red or Chalula) or
mango salsa
on top. One week, I made up a huge batch of Nikki's
sweet potato hash
, but I noticed that my weight loss seemed less consistent that week, so from now on, I will probably only eat it 2-3 days a week, max. It's still my favorite Whole30 recipe, though.
For lunch, I usually did some version of a salad with chicken or shrimp and an olive oil vinaigrette. One of my
favorite restaurants
has an amazing salad with bibb lettuce, hearts of palm, avocado, shrimp, and a lemon vinaigrette. I ate that quite a bit. I also made up a chicken salad with homemade olive oil mayo and avocado and herbs which was fantastic on top of spinach with some fruit mixed in.
For dinner, we did many of the recipes in
It Starts with Food
, including the curry bowls and stir fry. I wasn't a huge fan of the ground beef scrambles. I also tried
this coconut chicken recipe
that was atrocious, but I think it's because I put the limes in with the peel still on (per the instructions), so the whole thing was bitter. I want to try it again with squeezed lime juice instead. We also loved turkey burgers with various things on top. My favorite was probably my last turkey burger with fresh mango salsa and avocado on top on top of a bed of spinach with cherry tomatoes and plain ole' cherries. So, so delicious.
You're not really supposed to snack, but sometimes I had to have a little something to get me through to the next meal. I usually went with fruit, but in a pinch, the Apple Pie/Banana Bread/Coconut Cream Pie Larabars were fantastic. After the chicken salad fiasco, I always keep an emergency bar in my purse in case I get stuck somewhere with no healthy food options.
Q: Where will you go from here?
A: This week, I'm reintroducing all of the foods that I eliminated last month one at a time so that I can evaluate whether they make me feel yucky or not. Today was dairy, so I added some shredded cheese to my eggs this morning, a creamy masala sauce to my Indian chicken and salad at lunch, and spicy queso to my shrimp and veggies at dinner (and for the record, I'm feeling like
crap
tonight). I won't lie and say I didn't enjoy it or that I'm not
really
looking forward to trying grains in a few days. But once I finish with that, I plan on continuing to eat clean for as long as I possibly can. I won't schedule in any cheat meals, but if I stumble across something delicious that feels worth cheating with, I will absolutely indulge every once in awhile. Because life's just too dang short not to.
And I'm sure I'll venture off the path after some period of time, but the beauty of the Whole30 is that you can
always
do another one if you feel like you need to hit the reset button.
So there you have it. Way more than you ever wanted to know about my eating habits for the last thirty days. But maybe some of you have been sitting on the fence about your health. Maybe you're like I was and have an unhealthy relationship with food. Maybe you want to be more intentional about what you put in your body. Or maybe you just want to kick those sugar cravings and afternoon energy crashes to the curb for good. If so, this post was for you. If you're ready to make a change, I say give the Whole30 a shot, and I pinky-promise to be a cheerleader for you if you need one. See if it will change your life the way it changed mine. You'll never know what you're capable of unless you try.