{Day Two: 9/11 Memorial, the Financial District, Little Italy/Chinatown, Tea at the Plaza, WICKED!}
(See the details from our first day in New York
here
.)
When I went to New York in college, it was 2006, and the 9/11 memorial hadn't yet been completed. So as we were planning our trip this time, I knew it was something I wanted to see.

On the morning of our second day in New York, we got up fairly early, grabbed bagels the size of our heads at Think Coffee near our hotel (mine was covered with Nutella, obviously), and then took the subway down.
I can't explain the way it made me feel to be standing at the place where such an unspeakable act of violence occurred. Because it is also a place that represents so many of the things that make America a great nation: bravery, courage, strength, service. For anyone who is headed to New York any time soon, I think a trip here is a must.
9/11 is near the Financial District, so we decided to walk through Robert F. Wagner, Jr. Park and Battery Park to get there.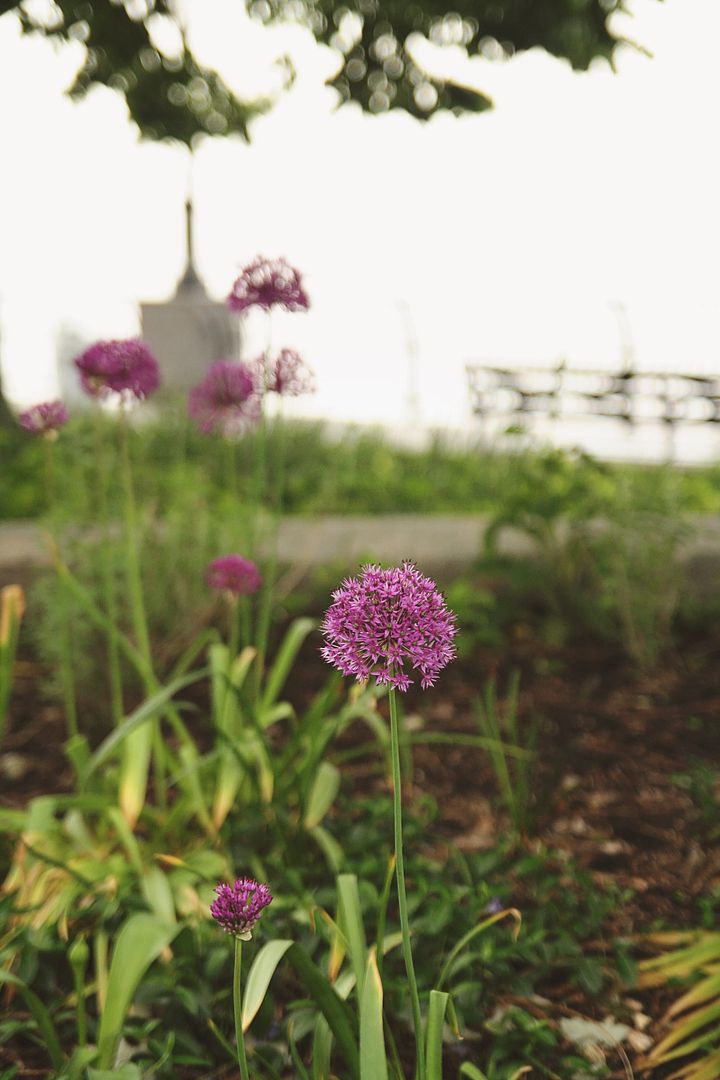 The "park" is really just a green, grassy space that curves around the edge of the water, and it was an excellent spot for a stroll.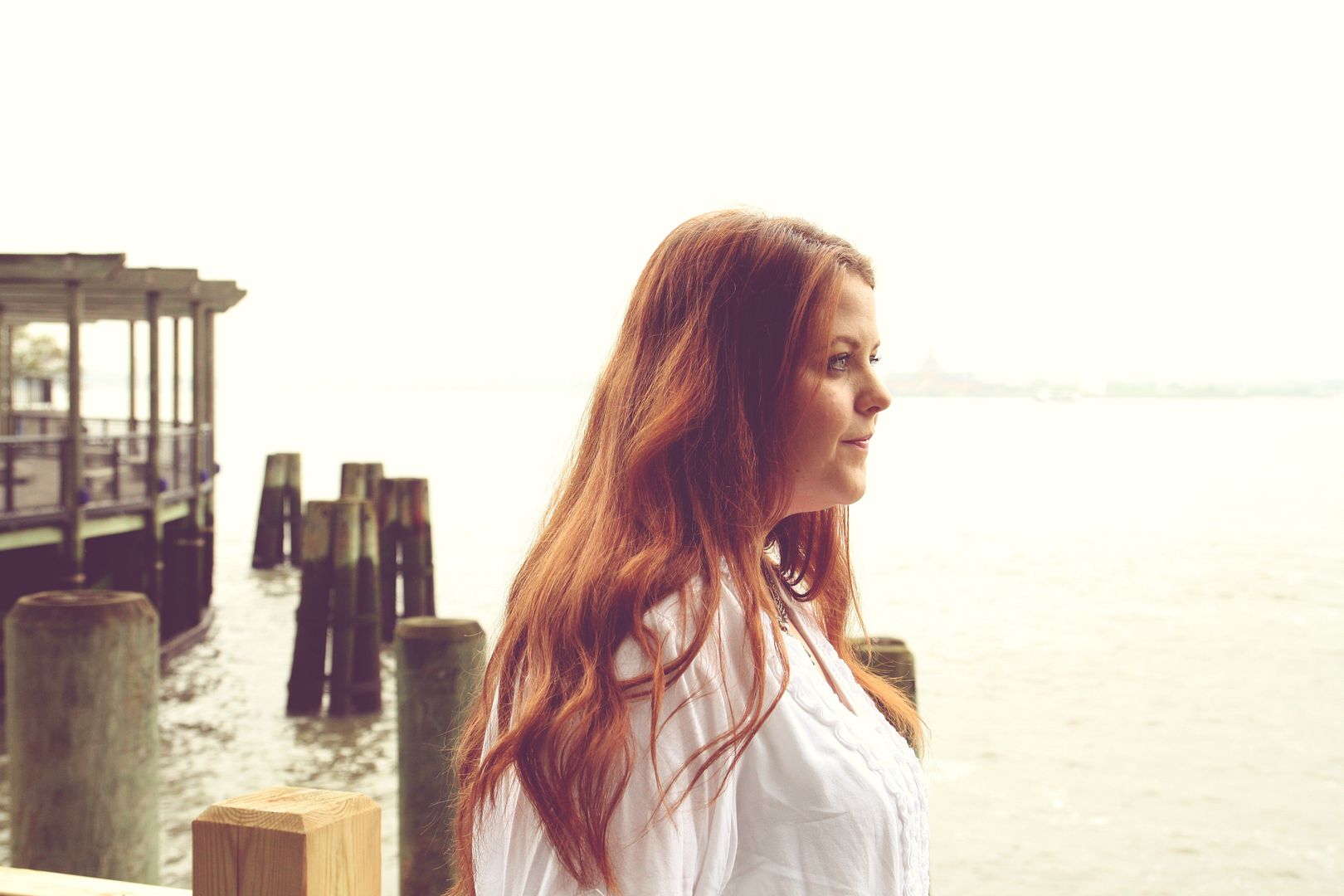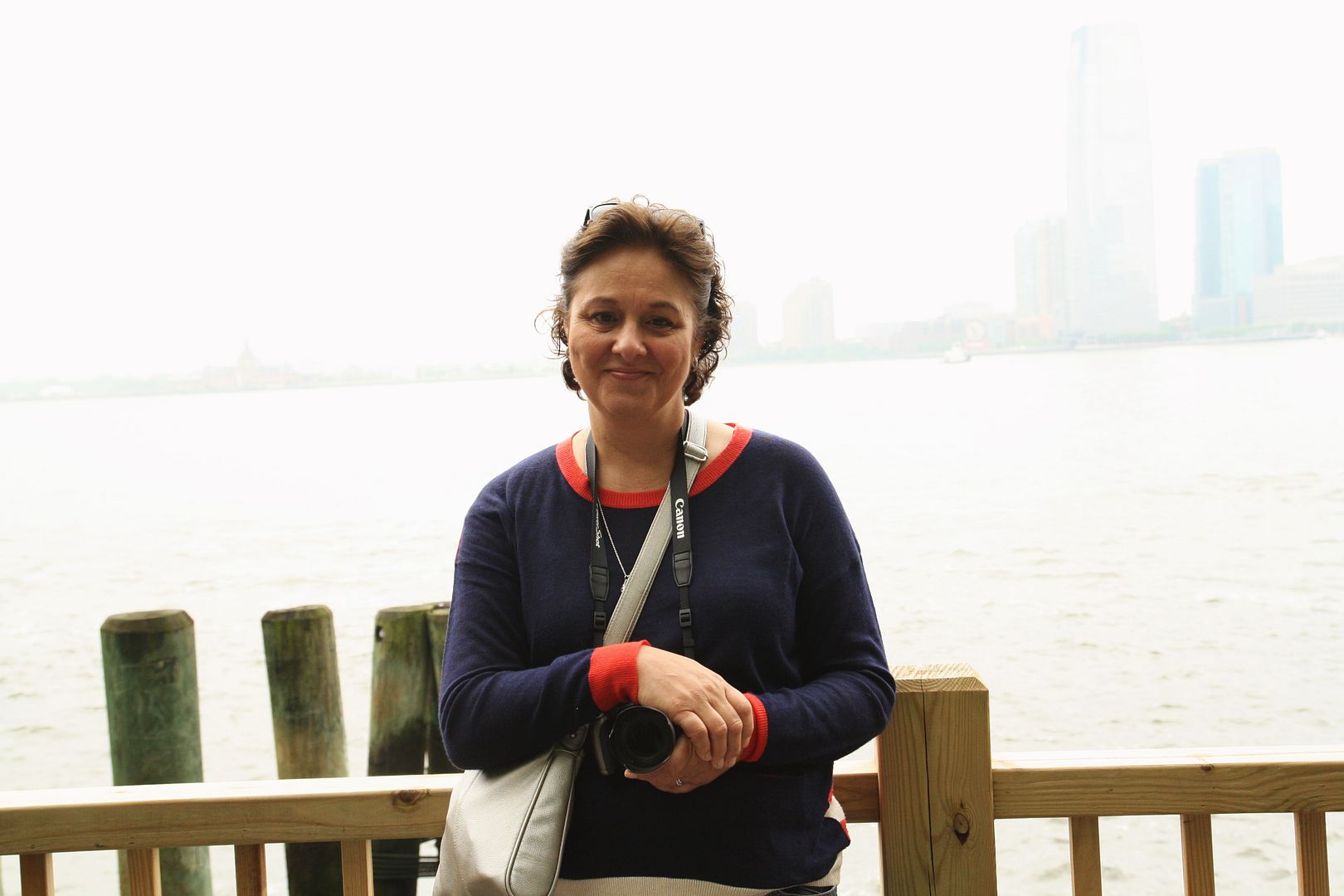 It was foggy, but we still got a peek of Lady Liberty from edge of the water.
When we got to Battery Park, we were disappointed to learn that the whole thing was under construction and not accessible for anything except getting in line to head to Liberty Island (where the Statue of Liberty is). Bummer, but we continued on.
We walked along Broadway, past the Charging Bull, and headed straight for Trinity Church.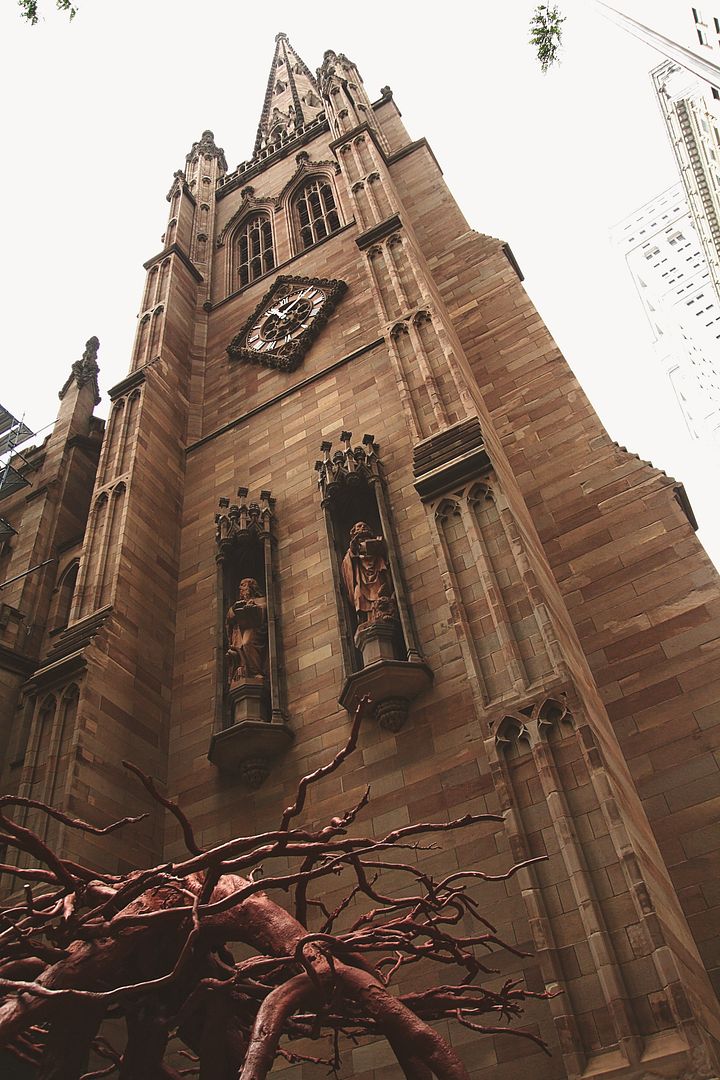 This church is situated right on the corner of Broadway and Wall St., and it's so beautiful.
Not only the outside, with its ornate architecture and the beautiful cemetery that surrounds it...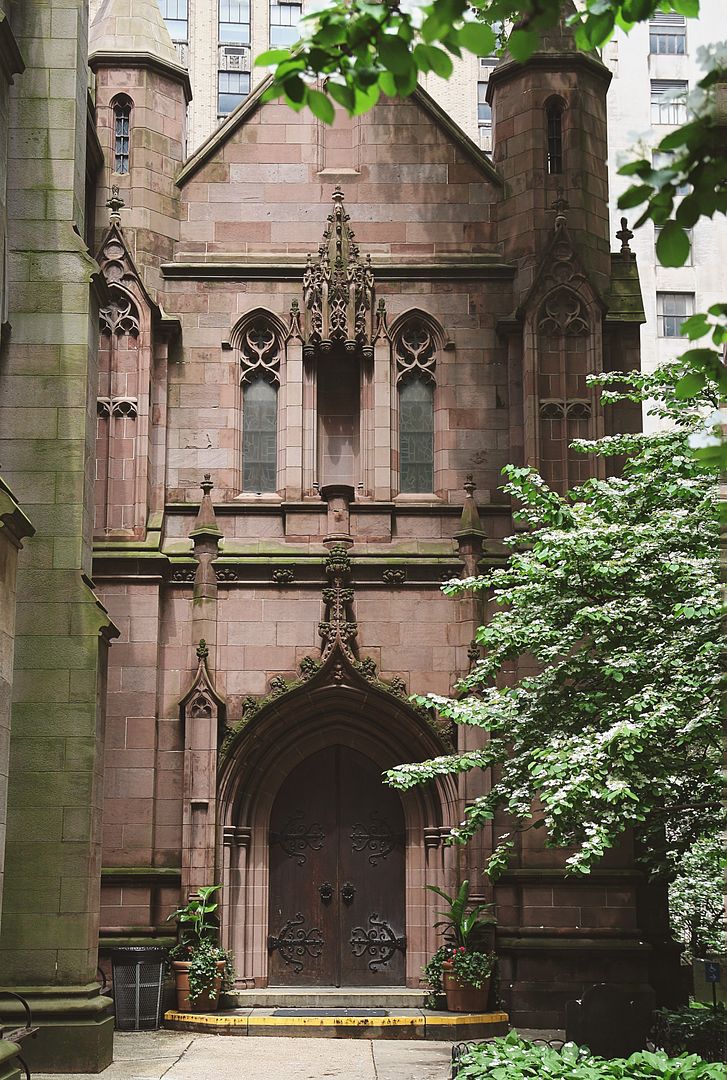 ... but the inside, too.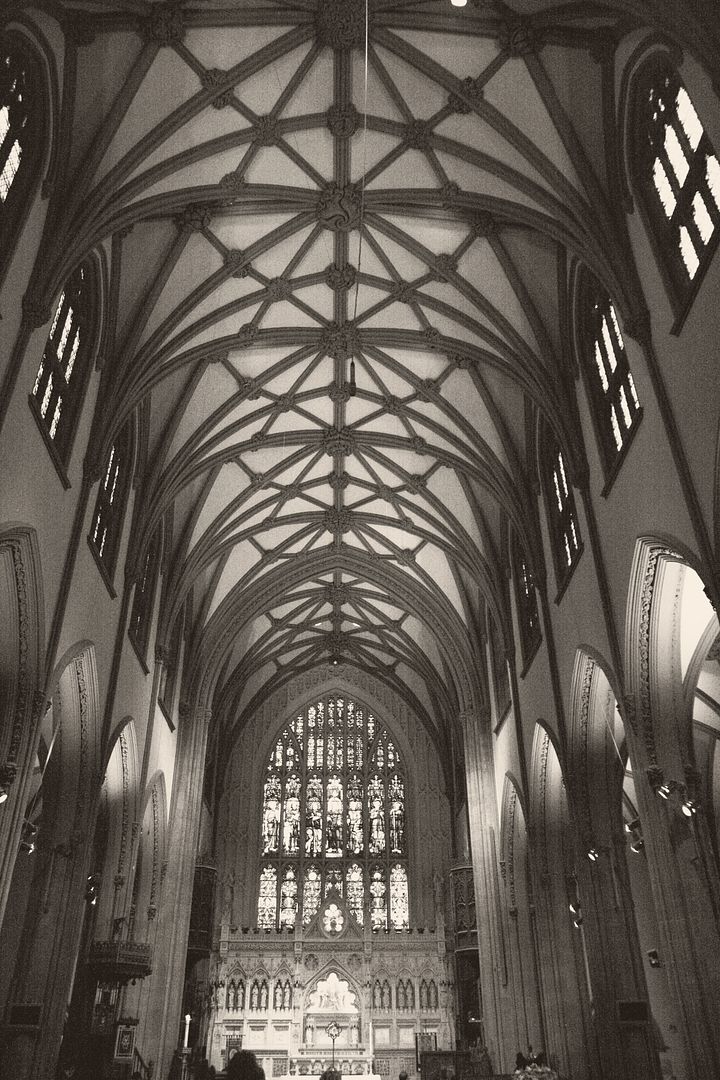 Just stunning.
Mom wasn't really interested in exploring Wall St. any further, and I had already seen it, so we hopped on the subway and headed to Chinatown/Little Italy.
(And let me stop for a minute and mention how INCREDIBLY helpful the HopStop app was to us in navigating the subway system. I found there to be very few subway maps in the stations and near the platforms as compared to London and Paris, so we wouldn't have survived without HopStop. You basically just enter in the location you want to head to, and it'll direct you to the right subway station, tell you which train to get on, and even give you walking directions once you get off the subway. You have to enter everything before you go down because there really isn't much cell service down in the stations, but it'll preserve your route information even without service. It's awesome.)
We got off right in the heart of Chinatown, on Canal.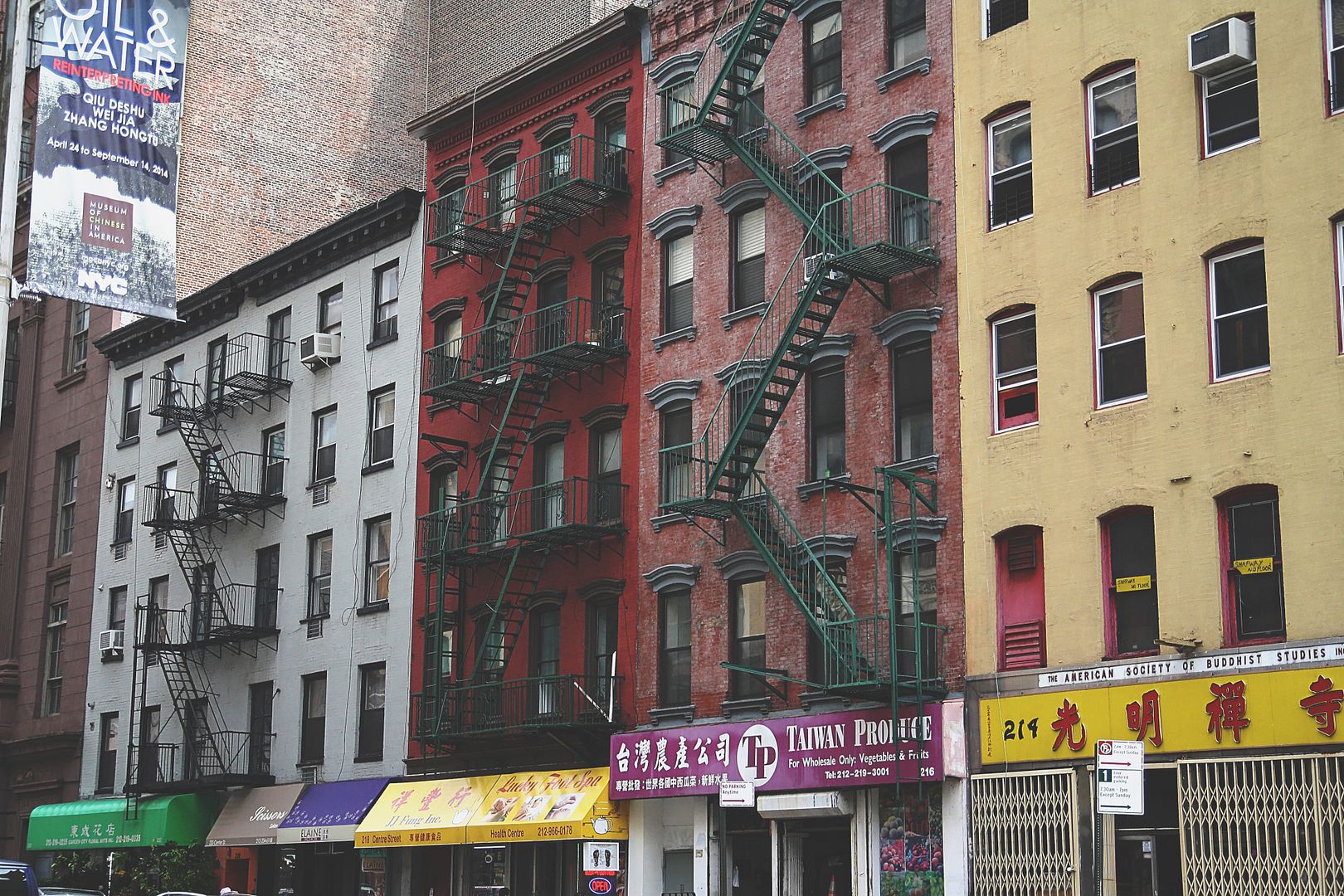 Our exploration of Chinatown was limited, however, because we were both starving and had pasta on the brain.
The two areas are right on top of one another, essentially, so it wasn't long before we ran smack dab into Mulberry Street.
Look, I know it's a tourist trap, but I feel like you can't go to NYC and
not
have pasta in Little Italy. Ours was incredible.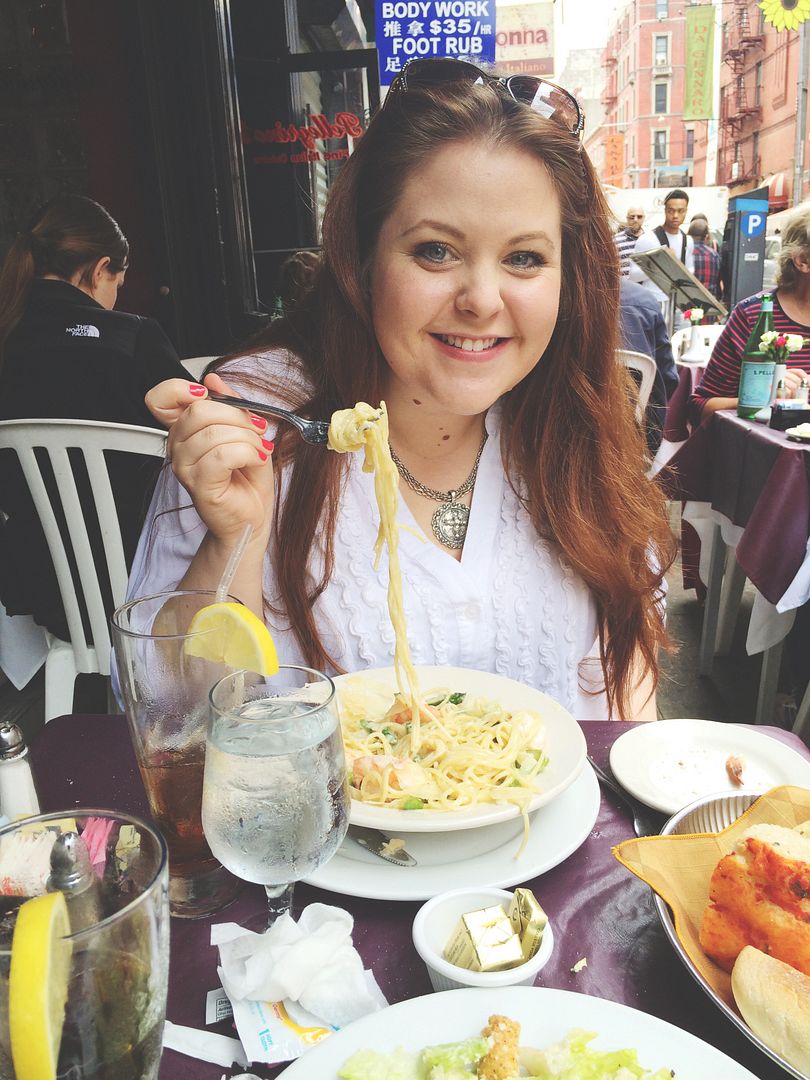 It was the Spaghetti Pellegrino at Pellegrino's. I'd definitely get that again if I went back.
After lunch, we had reservations at the Plaza Hotel for tea. We hadn't originally planned on doing tea, but the idea struck me a few days before we went, and I snagged a reservation for 2:15 on Friday. The hotel isn't really at all near Little Italy, but we were subway pros by that point, so it was no big thang. Ha.
Apparently the Plaza isn't quite what it used to be, but it's still worth a peek, in my opinion. It's right in the heart of midtown, so it wouldn't be out of the way.
The inside is ornate, and Palm Court, where they serve lunch, and then tea in the afternoon, is just beautiful.
Our adorable waiter told us that we were naughty like Eloise for starting from the top of the tray with the desserts. But we were too full from lunch to mess with cucumber sandwiches. Bring me macaroons, please!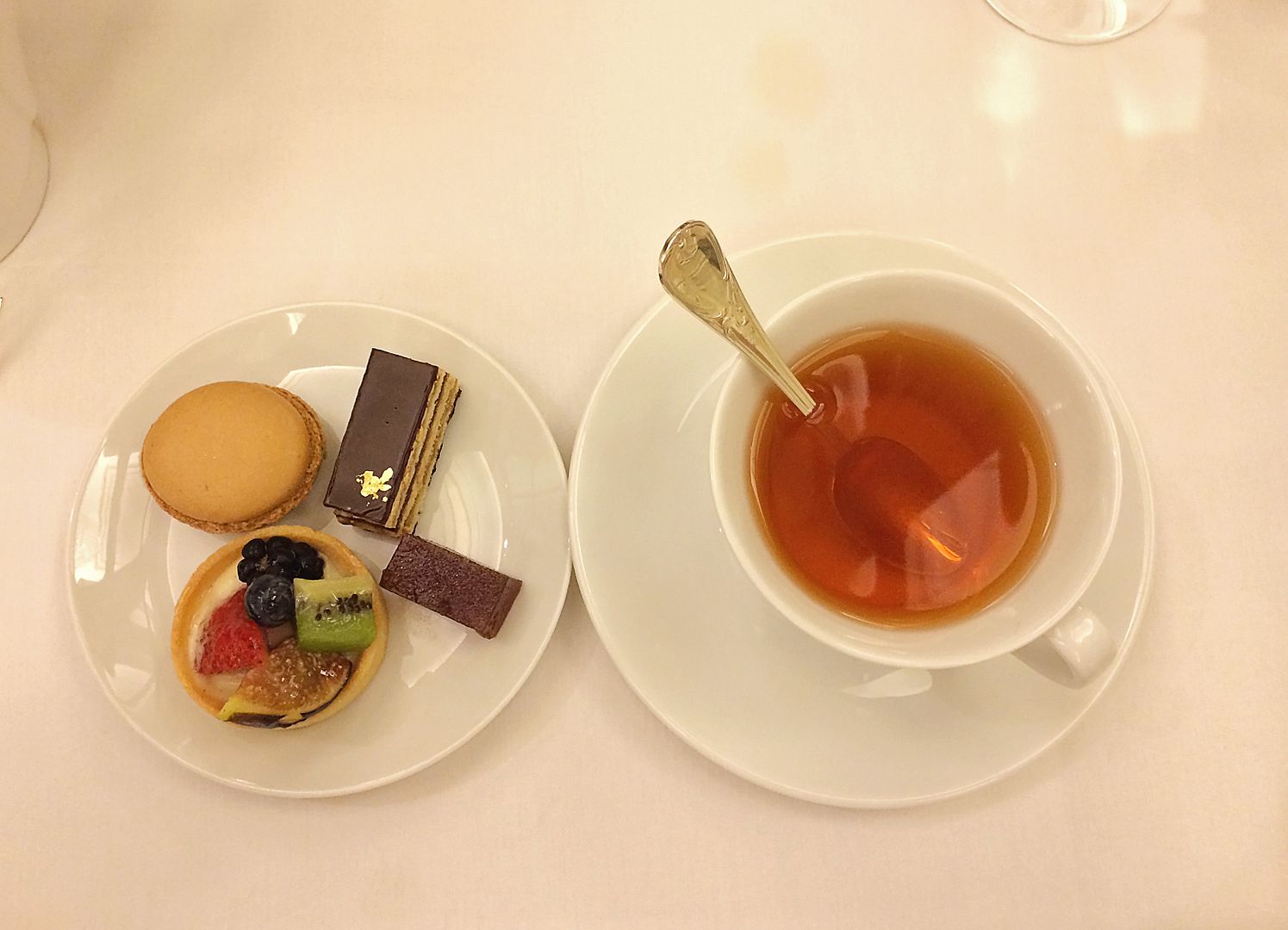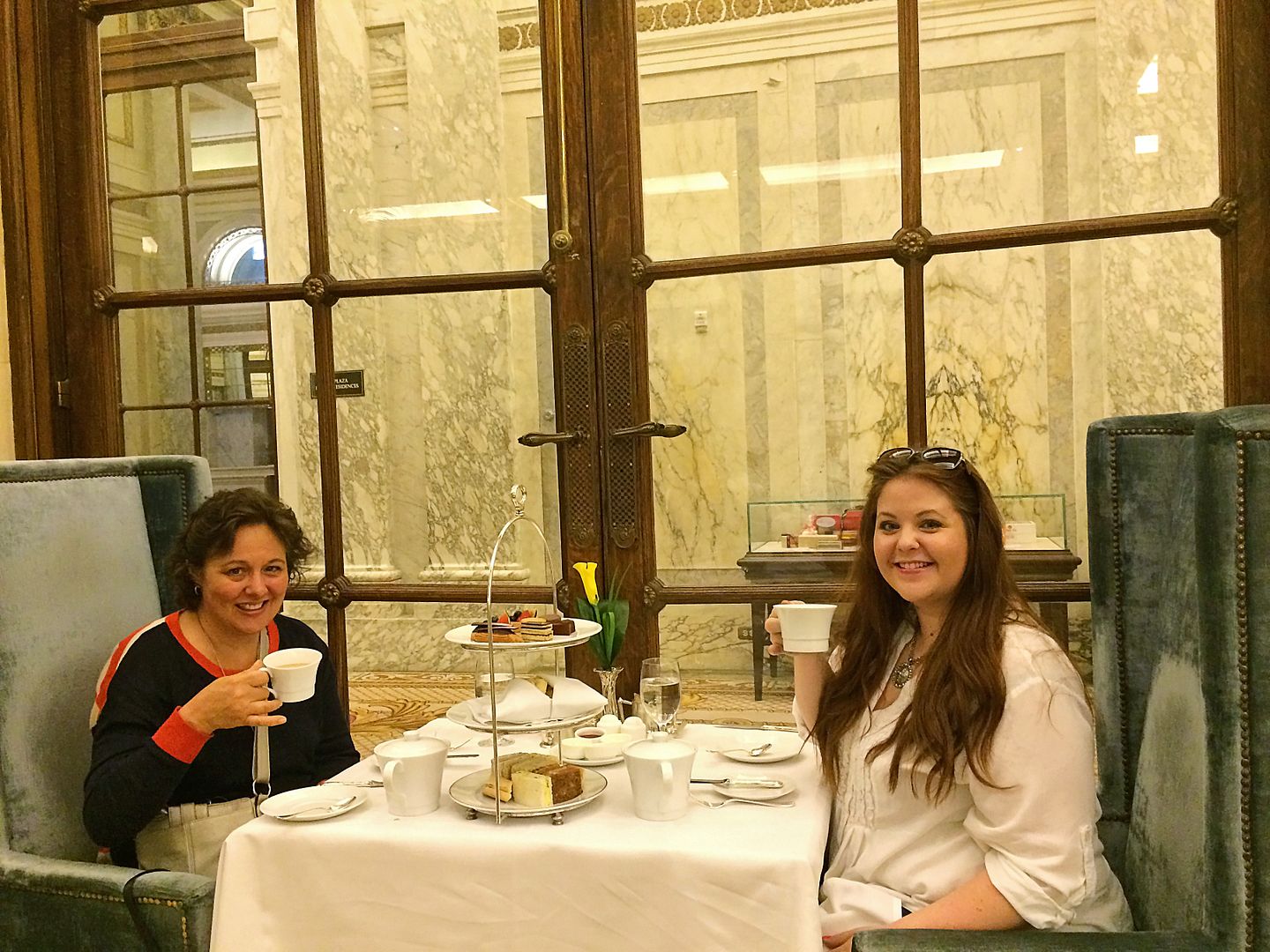 Pinkies out, obviously.
After tea, we were beat again, so we headed back to the hotel to grab a quick nap before dinner. When we got off the subway, it had started to drizzle, so we were rushing to get back to the hotel, but I couldn't resist capturing this very New York moment.
(He ended up trying to hustle me into playing with him, but I definitely wasn't about to test my pitiful chess skills against this guy who as sure as the sun rises would have annihilated me.)
After our nap, we threw on some fresh clothes and headed to dinner.
Patsy's, near the theater district, had been recommended by a few people, and I fell in love. It was a quite, little place with pretty reasonable prices and delicious, classic Italian. It felt very familiar, which means Rebecca and I may have stumbled upon it when we went before, but who knows. Maybe it's just one of those places...
After dinner, it was time for the highlight of the trip for me.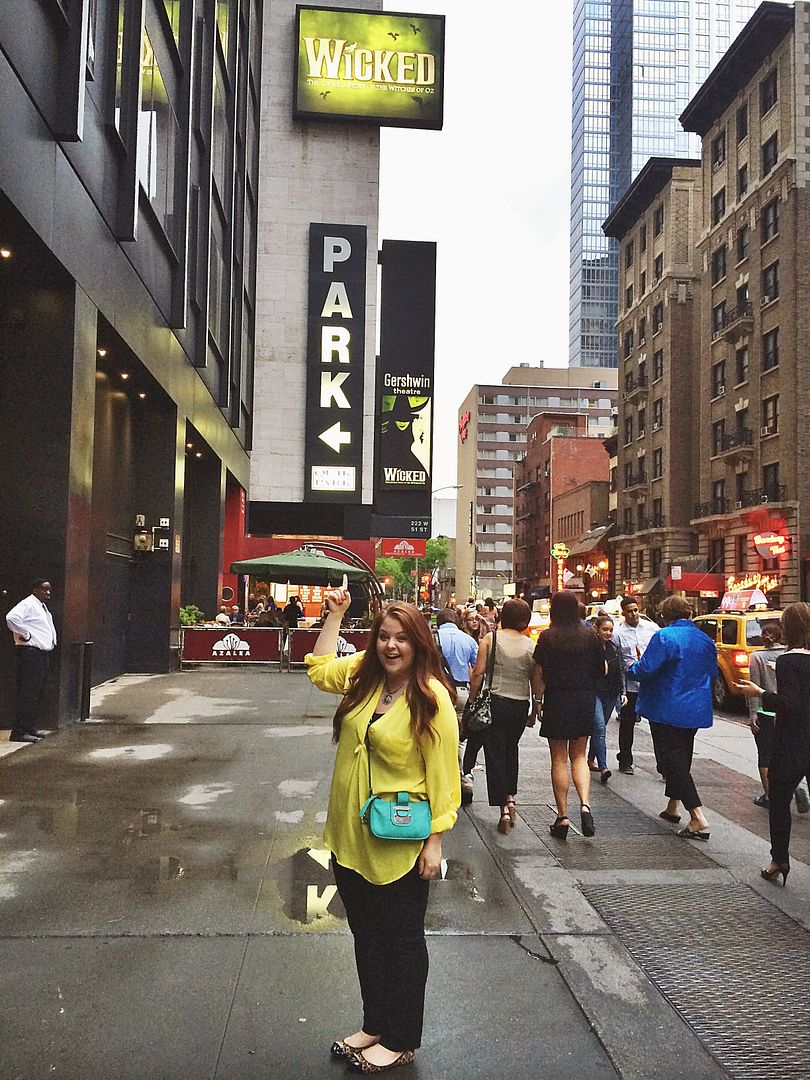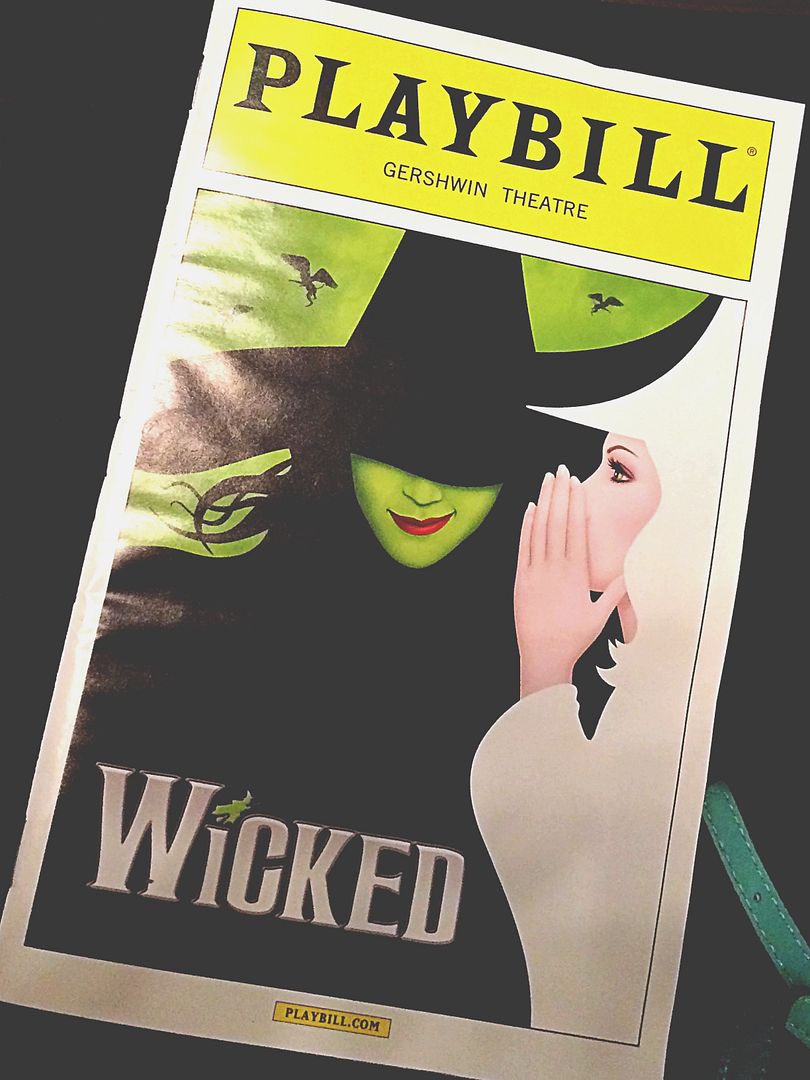 My wonderful mom sprung for awesome seats, and I could go on and on about how amazing this play was, but I won't. If you're at all inclined to adore things that are magical, and if you were ever a fan of Wizard of Oz, you must see Wicked. That's an order.
After the show was over, we had planned on exploring Times Square, but mother nature was kind of a witch that night. (Fitting.) We walked out of Gershwin Theater to a torrential downpour. We had umbrellas, but neither of us felt like sloshing through all the puddles to get a closer look at Times Square (we could see it from afar), so we hightailed it back to the subway station.
It's at this point I must tell you that I experienced something traumatic that evening. It scarred me for life, and I still have the urge to lift my feet up off the ground even as I'm typing.
We got down to the correct platform (after mistakenly paying for access to the wrong platform) and were waiting on the train when I saw movement down on the tracks.
Rats, y'all.
Mother freaking rats.
I had heard they made little homes down there, and I tried to convince myself that it was a sweet momma rat with her toddler rats, but I still pretty much died.
I couldn't really tell you how I managed to force myself to stay down on the platform long enough to board the train back to our hotel, but I am not still currently in Manhattan, so I must have done it.
Yuuuuuccccckkkkk.
And that was day two.