Reading... Bone Tree by Greg Iles. I just discovered that it's the second book in a three-book installment, which explains why I have no clue what's going on.
Watching... very little TV lately. I have zero enthusiasm for anything that's on right now (most especially The Bachelorette), and all I ever want to do is watch Friends re-runs. Anyone feel me?
Trying... to gather prints/pictures for the gallery wall I'm putting together in our home office. I seriously can't wait to show you guys when it's finished.
Cooking... healthy things again. Finally. I'm jumping into another Whole30 because I just need it, so I'm meal-planning all kinds of things this week.
Eating... Paleo chicken salad, buffalo chicken salad, chicken curry, turkey burgers, and Paleo chicken pot pie. I'm suddenly ravenous.
Drinking... unsweet tea. With a straw. Always with a straw.
Pinning...
all kinds of things,
per the usual
. Today I attempted
this hair tutorial
. Mine obviously didn't turn out quite as perfect as hers, but I kept it in because I didn't feel like messing with it anymore.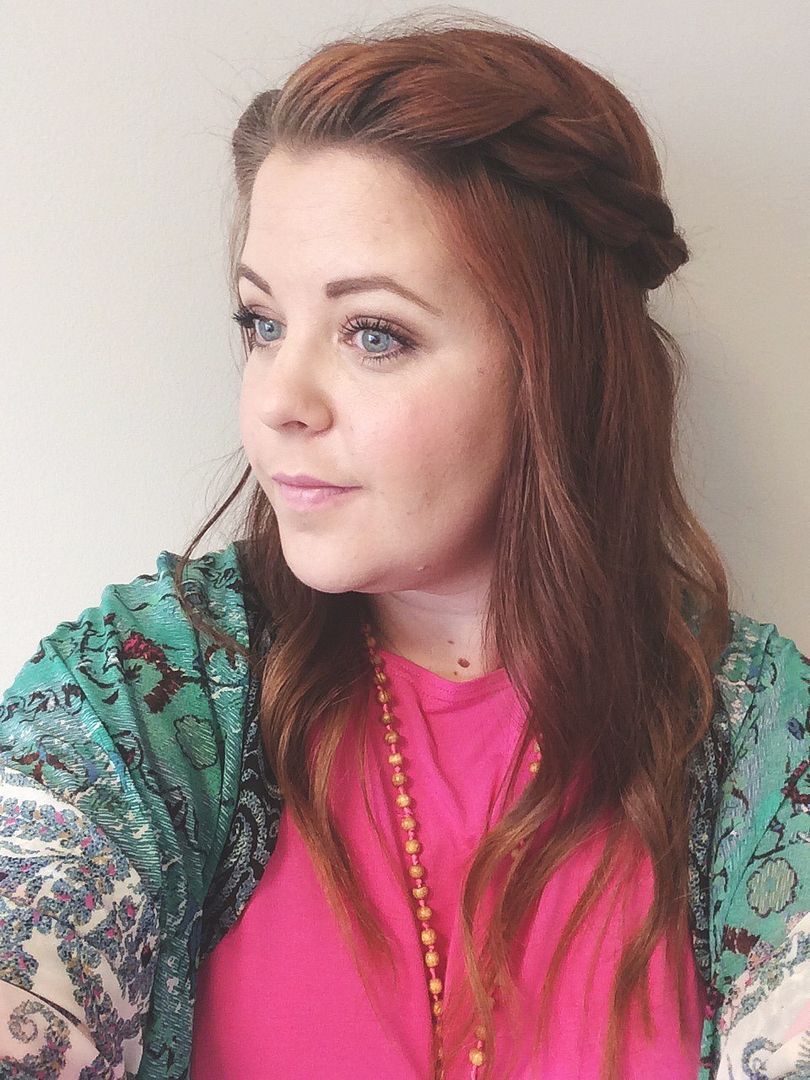 Going... to Minneapolis tomorrow for a deposition. I'll be back late on Thursday, so it'll be a short trip, and then I should be DONE traveling for awhile. Hallelujah.


Hating... the heat. Where are you, fall?


Discovering... that purchasing fragile things via the Internet isn't always the best course. I ordered a mirror for the office a week or two ago, and it arrived very rattle-y. Sure enough, the glass was in shards at the bottom of the box, and I'm having heck getting the company to respond to my emails.


Thinking... that we really need a vacation but probably won't get one until after my trial in October or November.


Feeling... like the gray hairs that have popped up on my crown seem to be here to stay. I'm not even thirty yet, you guys.


Hoping... for no more rain, at least for a week or two. My hometown experienced very serious flooding this past weekend, and while a Texas girl is always thankful for rain during the summer months, I feel like we've had our fill for awhile.
Smelling...
this candle
. It's the most perfect summer scent, and it's on major sale right now.
Considering...
going for it on
this contour palette from Maskcara
. I adore her and, though I wasn't obsessed with the formula of her first contour palette, this looks like it might be worth trying.
Finishing...
this tea. Time for some more, yeah?
What are you up to, currently?
(Thanks for posting your Currentlies, Tricia! I took your hint and posted some of my own!)