Before I forget, I want to say thank you so, so, so much for your encouraging and supportive comments on last week's post. To be completely honest, I wasn't expecting such an overwhelmingly positive response given the divisive nature of the topic. But you guys lifted me up, as always. And, judging by the insane number of hits that post has gotten over the last week, you guys must have been sharing it, as well. Just know that I'm always thankful for this space and your unyielding support. Always.
Hi friends! I'm quickly typing out this post at nearly midnight on Sunday evening. I just finished up a work project and have a 7 a.m. flight to Austin in the morning. Tomorrow marks the beginning of a ridiculously busy ten days that I'm hoping will fly by. I've got three work trips, two weddings (one of which will involve a certain two-year old in a flower girl dress), and a rehearsal dinner to conquer, and I'm tired just thinking about trying to fit it all in.
But before I disappeared (because you know something's got to give), I just wanted to drop in and share a couple of things that we've been up to. The first is sort of monumental, given that Micah's been waiting for this moment basically since we started dating nearly 13 years ago.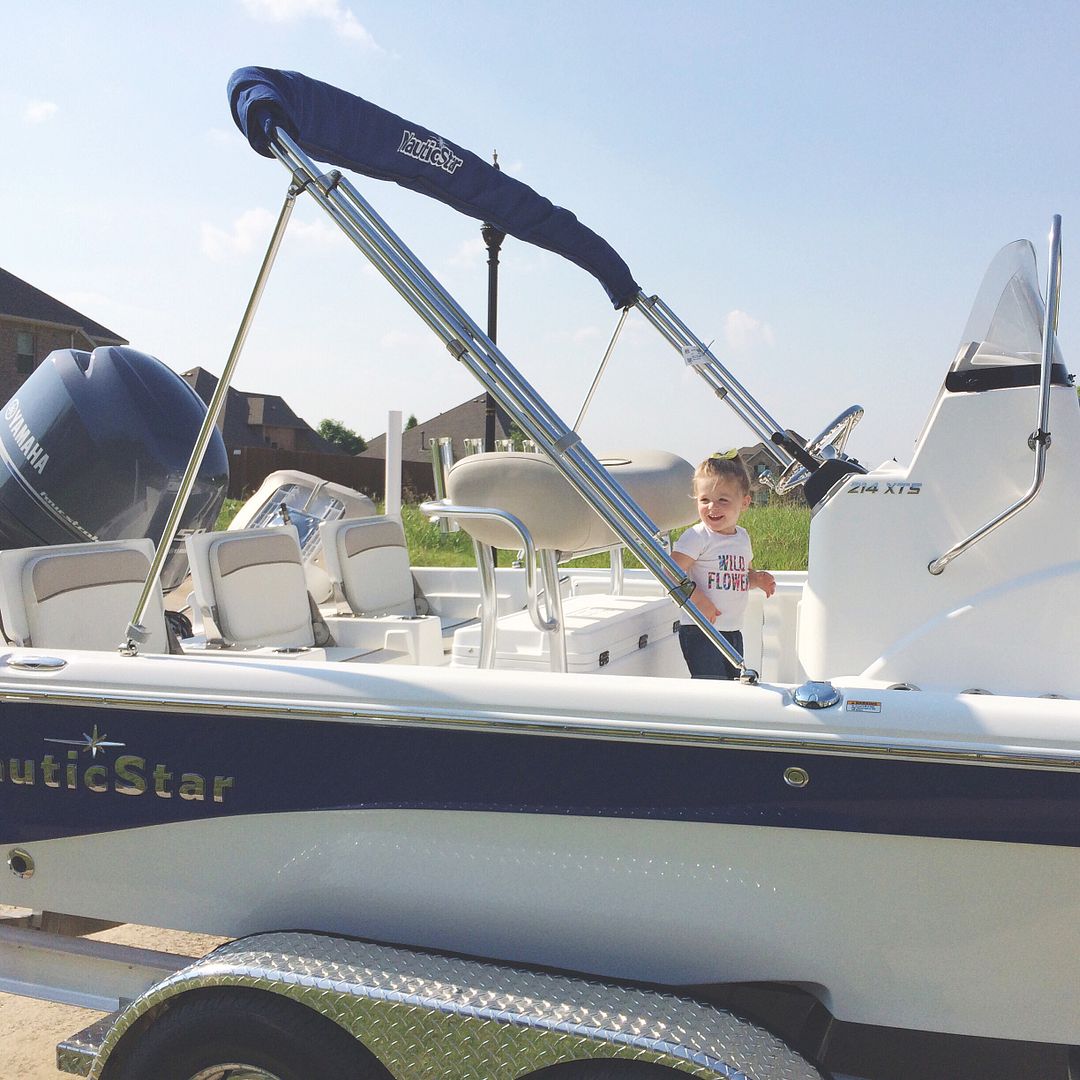 The boy got himself a boat!
It's a bay boat, and he'll be able to use it in freshwater and saltwater for fishing. It'll also double as a playpen for Grace when necessary. Ha. She definitely likes playing "in [her] boat."
This purchase marks a dream come true for Micah, and I'm over the moon happy for him.
Also fairly monumental, we finally got around to getting built-in bookshelves installed in our home office, and we even managed to get paint up on the walls. Given that we've lived in this house over four years, I'd say it's about time. I'm still working my tail off decorating the space, but I'm making progress, and I've got a plan. Which is definitely significant. You may have already seen a sneak peek on
Instagram
, but here's another one.
(I spent several hours covering books with craft paper this weekend. Nothing will take you back to the days of high school like putting book covers on textbooks while watching Friends re-runs.)
I'm going for an understated nautical theme, and when you see the wall paint color, you'll understand why.
Last, but not least, figured I'd share this lazy girl hairstyle with you guys.
It looks complicated, but if you can french braid your hair, you can do this, I promise. I just sectioned off about 2-3 inches in the middle, french braided it back, and then threw it up in a high pony. This style is perfect for straight or curly hair that's too dirty to wear down, but not dirty enough to justify getting up early to wash and blow-dry it. Ha.
That's all I got.