In case you missed it, I've been clearing out my closet to get rid of some things I can't wear anymore. You can see the tops and sweaters
here
. There are still some really adorable things available (how have #4, #12, and #22 not been snatched up yet?!).
Today, I'm sharing bottoms and dresses. But first, I wanted to share where I've traditionally shopped for cute plus-size clothing. If you're a curvy girl, you know how impossible it is to find plus-size stuff that doesn't look like it belongs in your grandmother's closet. I generally only shop online, and these are my go-to sites:
Lane Bryant.
Yes, their stuff is pricey. But their jeans are second to none in terms of color, fit, and comfort. (
These
, in particular, are my favorite jeans ever. EVER.) And you can find awesome deals there. A couple of months ago, I scored two pair of gray slacks, a woven belt, a sleeveless dress shirt, a pair of wedges, a cocktail dress, and a sweater tank for less than $100 shipped because they were giving an extra 75% off clearance prices. Boom.
Forever 21 Plus.
You probably know by now that I'm a HUGE fan of Forever 21's plus size selection. You seriously cannot beat their prices and, although their stuff isn't super high quality, I generally only buy super trendy stuff from there such that it only really needs to last a season. I own and adore
this dress
and
this dress
. And I'll likely be ordering
this top
,
this dress
, and several of these
necklaces
soon. (Particularly given that they are doing a 20% Friends and Family event right now - use F21FRIEND for 20% off your order through November 2nd!)
Kiki La Rue.
I've bought lots from Kiki La Rue over the last couple of years because I think they have REALLY cute stuff. They sell standard and plus sizes, and their prices are slightly higher than they probably should be. But, again, I always wait for a sale or for something to go on clearance. Right now I'm eyeing
this cardigan
.
ThredUp.
You're probably sick of hearing about this website, but I'm not sick yet of telling you about it. It can be overwhelming at first because there's so much stuff on the site. But just block off 10 minutes of time to peruse your size, and I bet you'll find something you can't live without. And if you're a designer girl, check out the "X Collection" tab.
Alright, so that's where I shop. Now why don't YOU do a little shopping? :)
Just like last time, shout out a number and your paypal email, and I'll send you an invoice. (Or email me at lovedandlovelyblog@gmail.com if you'd rather.) Jeans are $10 plus $2 shipping. Dresses are $12 plus $2 shipping.
Left: (30) Lane Bryant 18 black stretchy skinny pants.
These pants are sort of impossible to describe, but they're amazing. They're stretchy cotton-ish, but they're thicker and have more structure than leggings. I wore them to work with heels, and I wore them on the weekends with flats. They're super versatile and ridiculously comfy. Like REALLy comfy.
SOLD.
Right: (31) Forever 21 size 20 acid wash joggers.
These are really, really fun and so in right now. They'd be great on someone with thinner calves because they're fairly narrow on the bottom.
Left: (32) Lane Bryant 18 skinny jeans.
These jeans are super slimming because the waistband is thick and stretchy. No muffin top!
SOLD.
Right: (33) Lane Bryant 22 gray stretchy skinny pants.
These are very similar to the black pants listed above except the waistband is thicker, and there's no zipper.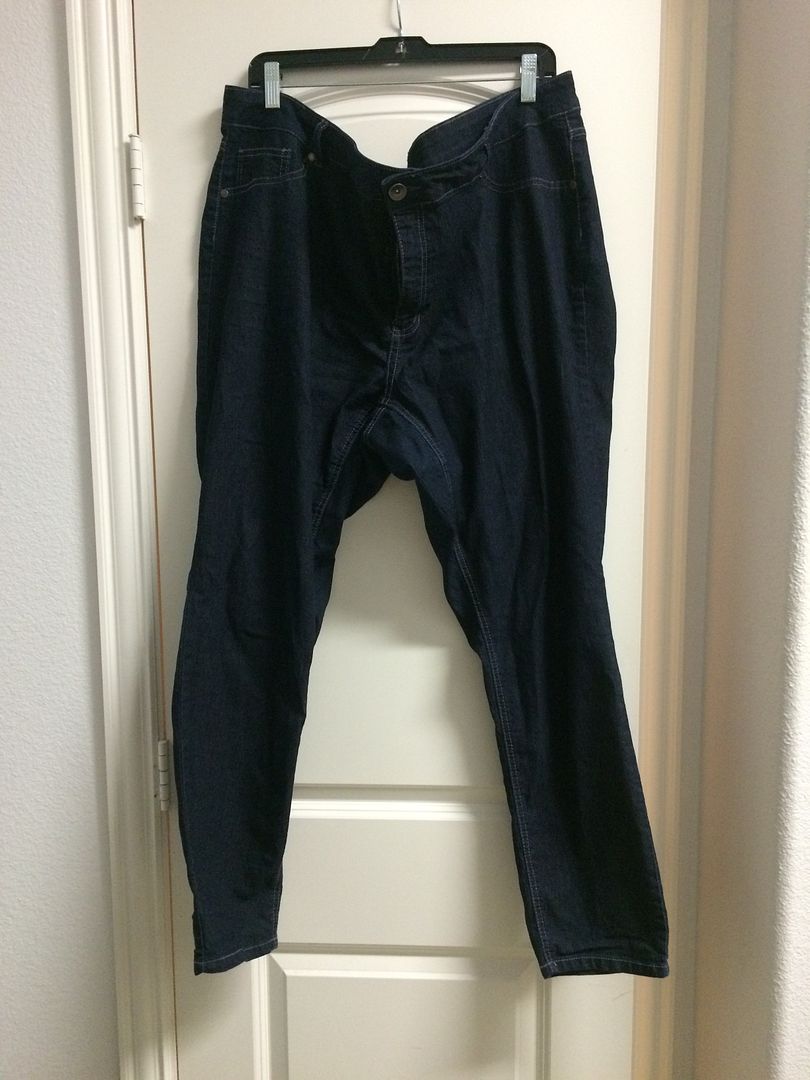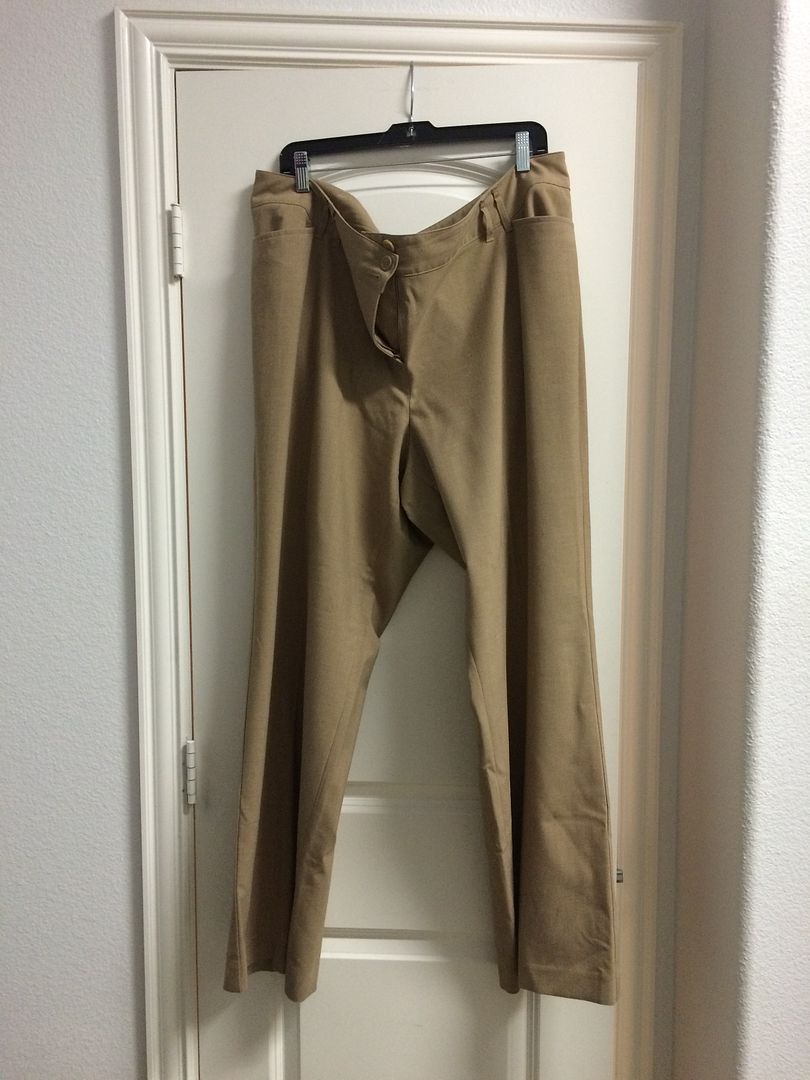 Left: (34) D. Jeans 22 skinny jeans.
I can't remember where I got these, but I liked them. They're true denim, so not much stretch, but still comfy.
Right: (35) Lane Bryant 20 tan straight leg slacks.
These are great for triangle-shaped body types (i.e., smaller waist, larger hips, butt, and thighs).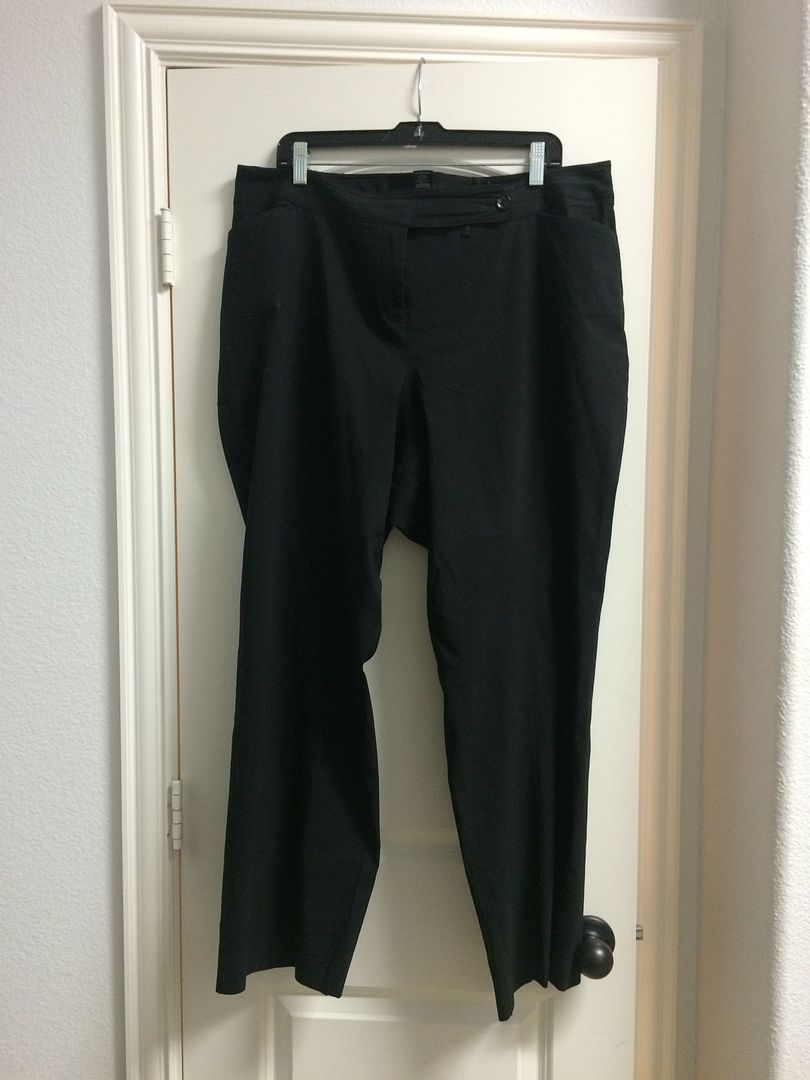 Left: (36) Lane Bryant 16 black straight leg slacks
. Y'all, these pants are my favorite dress slacks I've ever owned. The material is a combination of rayon, nylon, and spandex, and they dress up really well. The fit of the leg is perfect and flattering, and the bottom is ever so slightly tapered. So somewhere in between straight leg and skinny. I wore these until up until really recently, despite the fact that they were too baggy, because I loved them so much. I'd say they're pretty true to size, but that if you're closer to an 18, they would very likely work because they're very stretchy.
Right: (37) Lane Bryant 18 gray straight leg slacks.
I'm not sure how to describe the print on this fabric. It's like teeny, tiny herringbone, and it's great. The zippers on the front pockets are really fun, too. These aren't stretchy.
DRESSES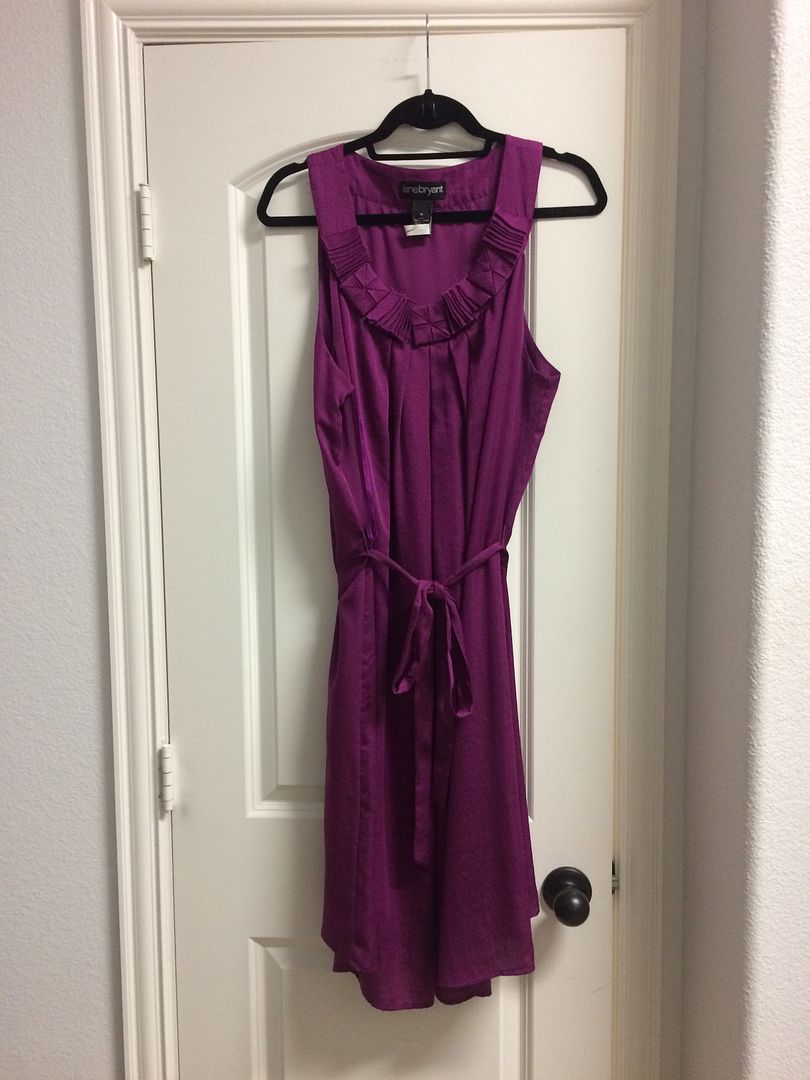 Left: (38) Lane Bryant 18 raspberry/purple dress.
This was my go-to dress for weddings, and every time I wore it, I got compliments. When I was super self-conscious of my arms, I'd wear a black short cardigan over it, and it looked great. The sash helps define your waist, and the length is great - goes barely past your knees. It's very flowy and flattering.
PENDING.
Right: (39) Calvin Klein 16-18 charcoal dress.
I tore the tag out of this dress for some reason, but I know it's Calvin Klein and that it was a size 16 or 18. It fits more like a 16 in my opinion. I also always got compliments on this dress because it's SUPER flattering. It's sturdy and form fitting but not tight, and the buttons are really close together and secure, so no worrying about gaps. I actually tried it on to wear it to a convention last week and was super bummed that it doesn't fit anymore.
PENDING.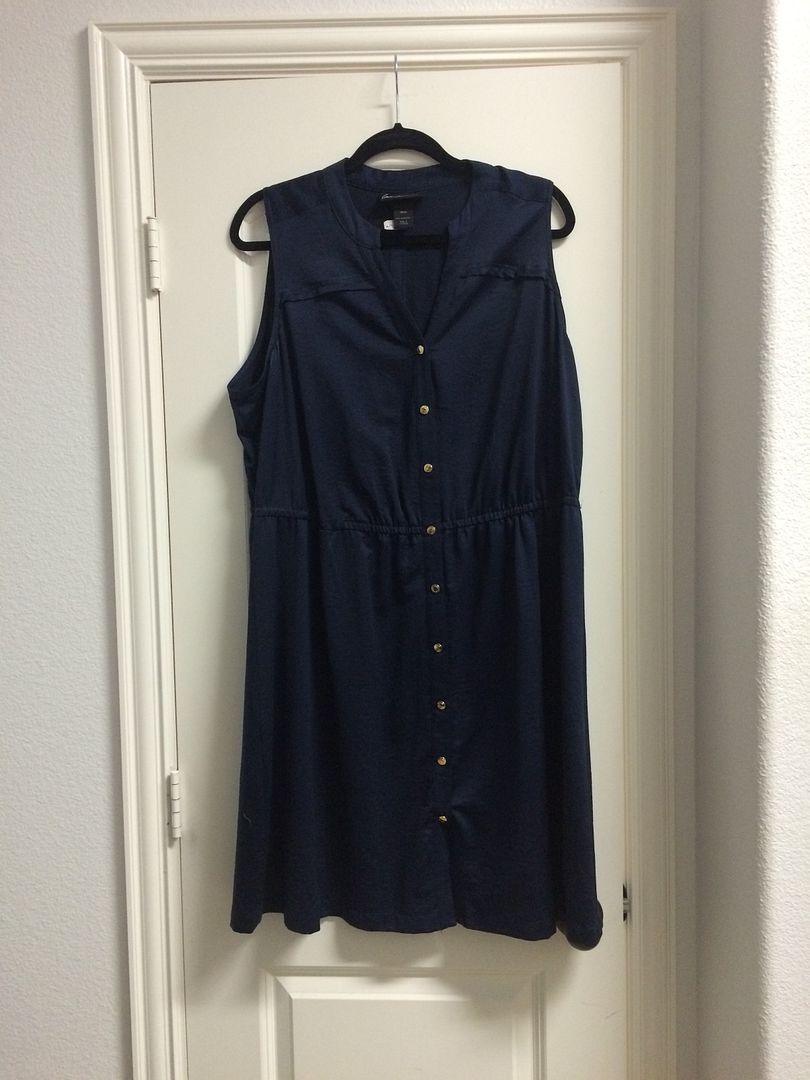 Left: (40) Lane Bryant 18/20 navy shirtdress.
I'm obsessed with this dress, and the picture doesn't do it justice. The collar is great, and so are the gold buttons. I wore this with gold gladiator sandals to work once a week when it fit.
PENDING.
Right: (41) Lane Bryant 18 black and champagne lace cocktail dress.
If you have anywhere fancy-ish to go in the next couple of months and you're anywhere in the vicinity of a size 18, please buy this. I paid over $100 for it, and it was perfect for my office Christmas party (so it's only been worn once - $12 is a STEAL!). The champagne satin peeking through the black lace is just gorgeous, and again, the ribbon sash is flattering. (Can y'all tell I like dresses with sashes?)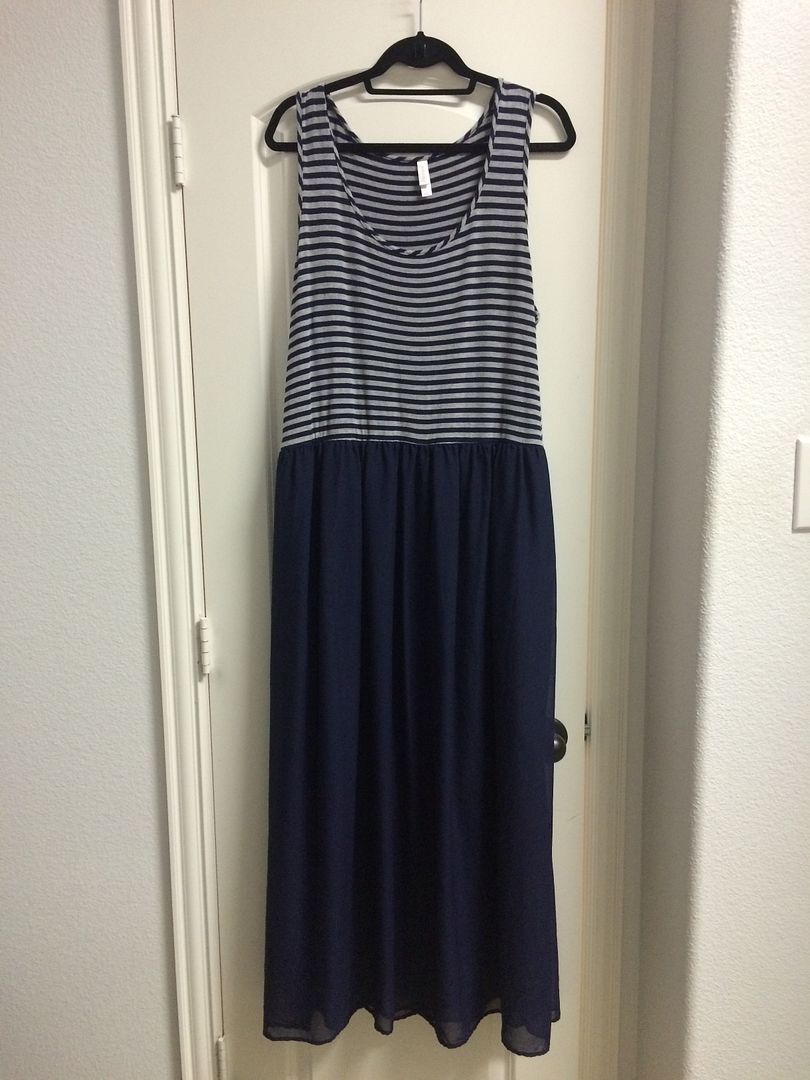 Left: (42) Lane Bryant 18/20 black and white cowl necked dress.
This dress is dressy but ridiculously comfy, and I wore it even when I was pregnant. It looks best with a black belt or sash but could be worn without. It was a staple in my wardrobe for a couple of years and has held up wonderfully.
Right: (43) Xhilaration 2 plus navy and gray striped dress.
This dress looks so great in person. The top is stretchy cotton-ish, and the bottom is a opaque slip that goes to your knees with an ever-so-slightly sheer overlay. You can really tell that the overlay is sheer in the sun, and then it looks really neat. This is more casual, but I dressed it up with jewelry and shoes for work.
Have fun shopping, friends!