If we're Instagram friends (
and we totally should be
), you may have noticed that I cleaned out my closet this weekend. I had been holding on to things that no longer fit for a lot of reasons, laziness being numero uno. But also, I think I was subconsciously resisting the urge to purge because my weight has yo-yo'd so much over the years; I didn't want to get rid of something only to need it again down the road.
But then I realized that I wasn't thinking like a rational, frugal person.
I was thinking like a defeated person.
So the clothes have to go.
I donated a lot of them because there were so many. But I saved my favorites in the hopes that I could pass them on to someone who might need some things to make them feel as fabulous as I did wearing them. I had a couple comments on Instagram asking if I might be willing to sell them, and I figured this would be the easiest way.
So here's how we're going to do this. We'll start with tops and sweaters because I didn't get my ish together on pants and dresses yet.

All of the tops listed below are $5 plus $2 shipping. The sweaters are $7 plus $2 shipping. (I'll discount shipping if you want to order multiple things.) If you want something, just shout out the number in a comment with your PayPal email (or, if you'd rather, send me an email at lovedandlovelyblog@gmail.com), and I'll send you an invoice.
Ready?
Set?
Go!
Left: (1) Forever Fashion Woman 1X sheer tan, black, and navy top. This is gathered at the waist, and I loved it with a nude or navy camisole, skinny jeans, and boots.
Right: (2) Soulmates 2X black and white polka dot top. This fits more like a 1X, and so I put it away for later and then forgot about it until after it was too big, so it still has the tags. It's stretchy, and the tie in the back accentuates the waist in a cute way.
Left: (3) Forever 21 Plus 1X black and white aztec print top. This one looks boxy on the hanger, but it's much cuter on. I put it under a black open cardigan with skinnies (or black slacks for work) and black flats. SOLD.
Right: (4) Lane Bryant 18/20 white top. This top goes with everything (long enough for leggings!), and the silver buttons add some fun interest. It's slightly sheer and looks fab with a white tank or cami underneath.
Left: (5) Intro Woman 2X top.
I wore this for our family pictures last April/May with skinnies, and I love the way it fits.
SOLD.
Right: (6) Lane Bryant 14/16 hot pink top.
I bought this for my trip to London a couple of years ago. I love the gathered detail at the shoulders, and the top flares out ever so slightly. It's long enough for leggings, too.
SOLD.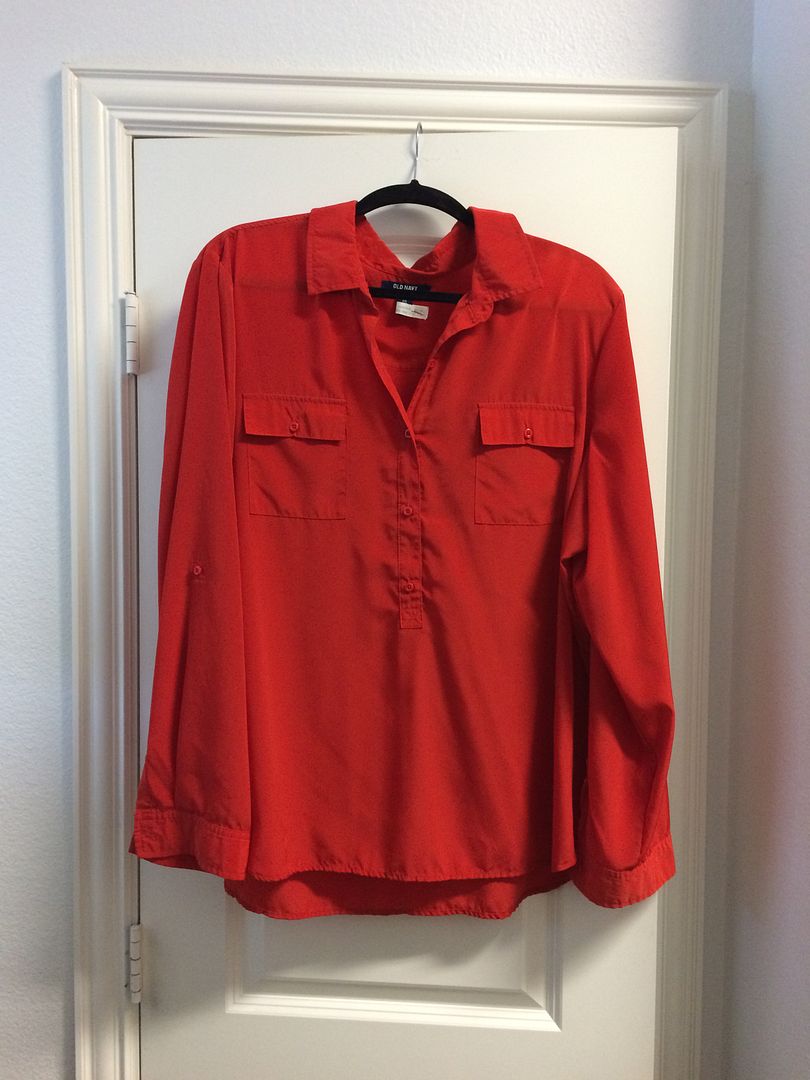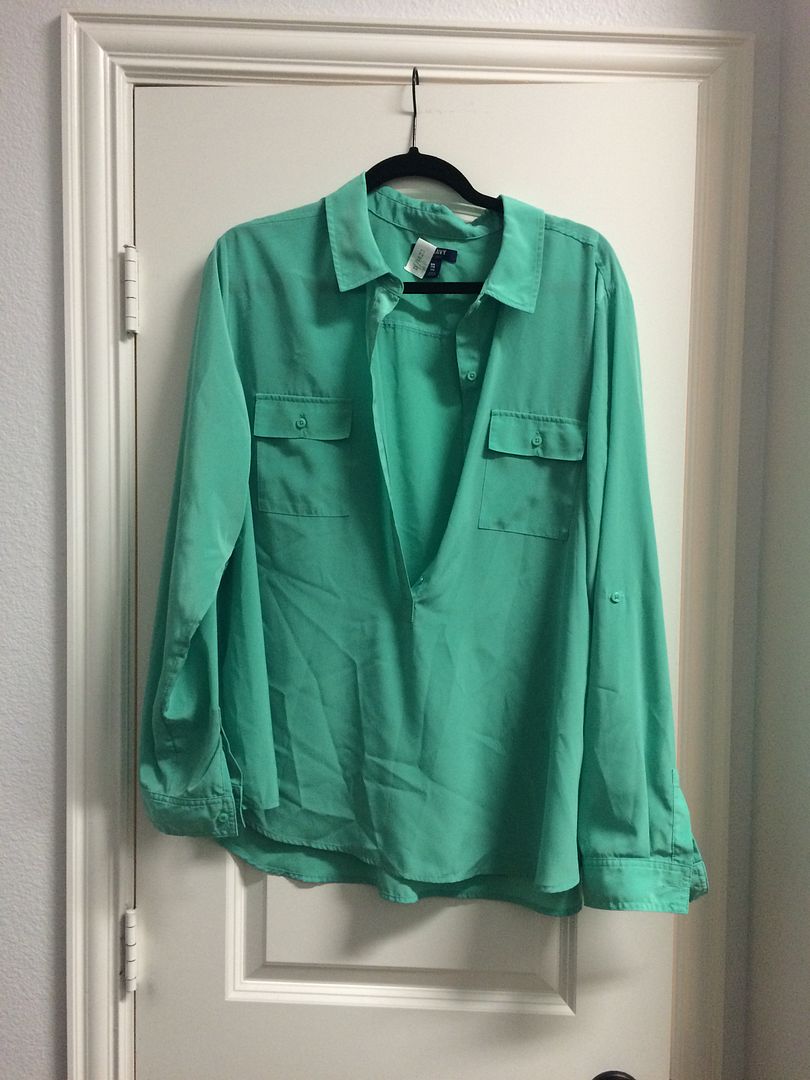 Left: (7) Old Navy XXL rusty red top.
This shirt is really roomy, super silky, and great to dress up a pair of jeans. The color is fabulous, too.
SOLD
Right: (8) same in mint green.
What can I say? When I like things, I really like them. :)
SOLD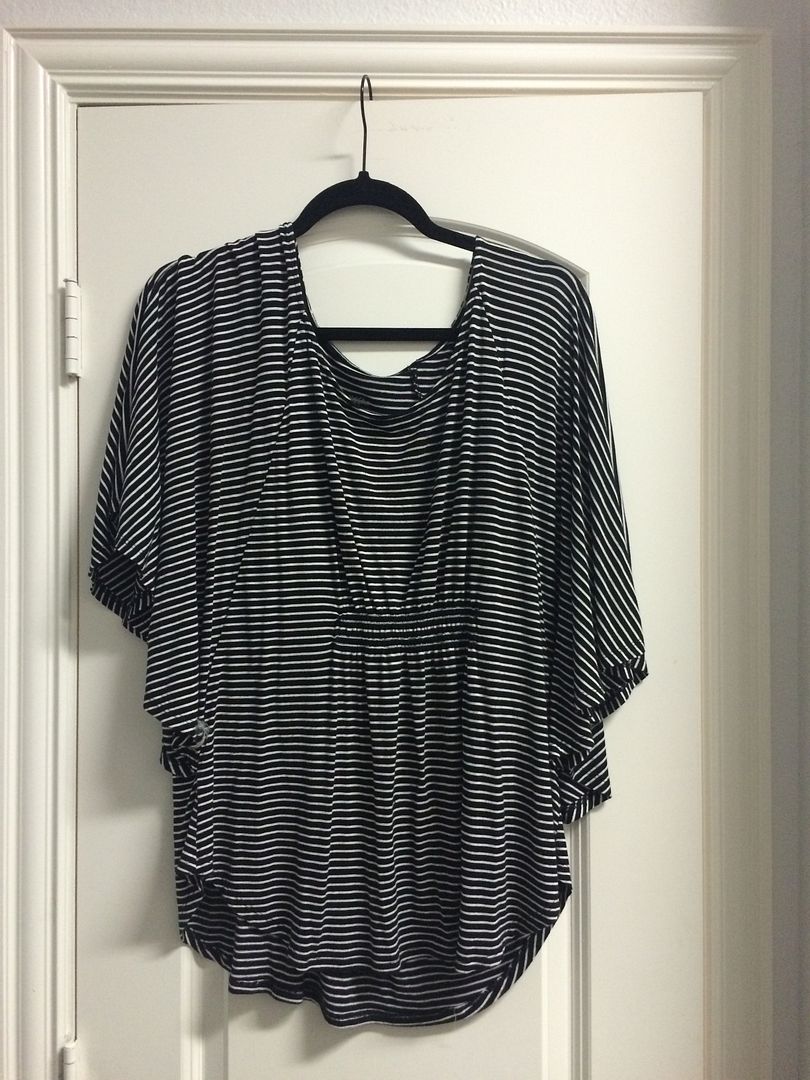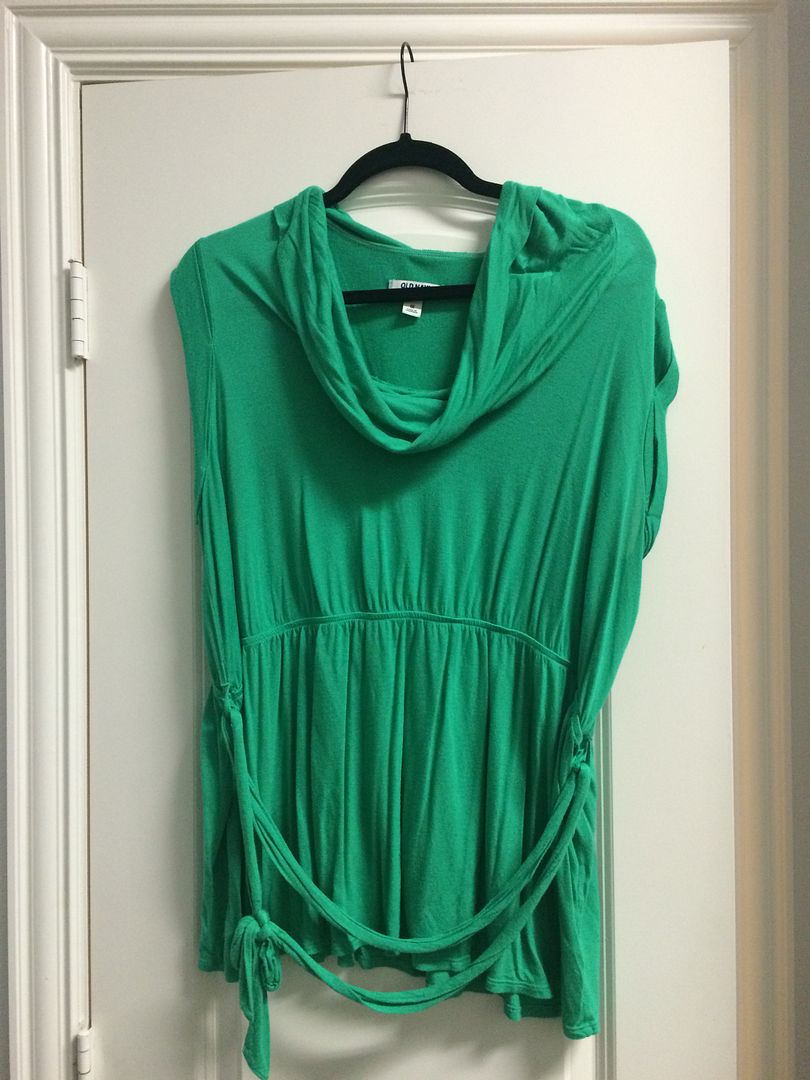 Left: (9) Mossimo XL black and white stripped top.
I love this shirt because it fits sort of like a pancho, but the sleeves are totally closed up underneath, so you can wear it without having to wear anything else under it. It's super lightweight and probably technically long enough for leggings, but I wore it with skinny jeans and skinny black slacks for work.
SOLD.
Right: (10) Old Navy 1X cowl-necked, teal top.
Perfect for fall with jeans and boots. It's hard to tell, but this shirt has short sleeves and ties (either in front or in back).
SOLD.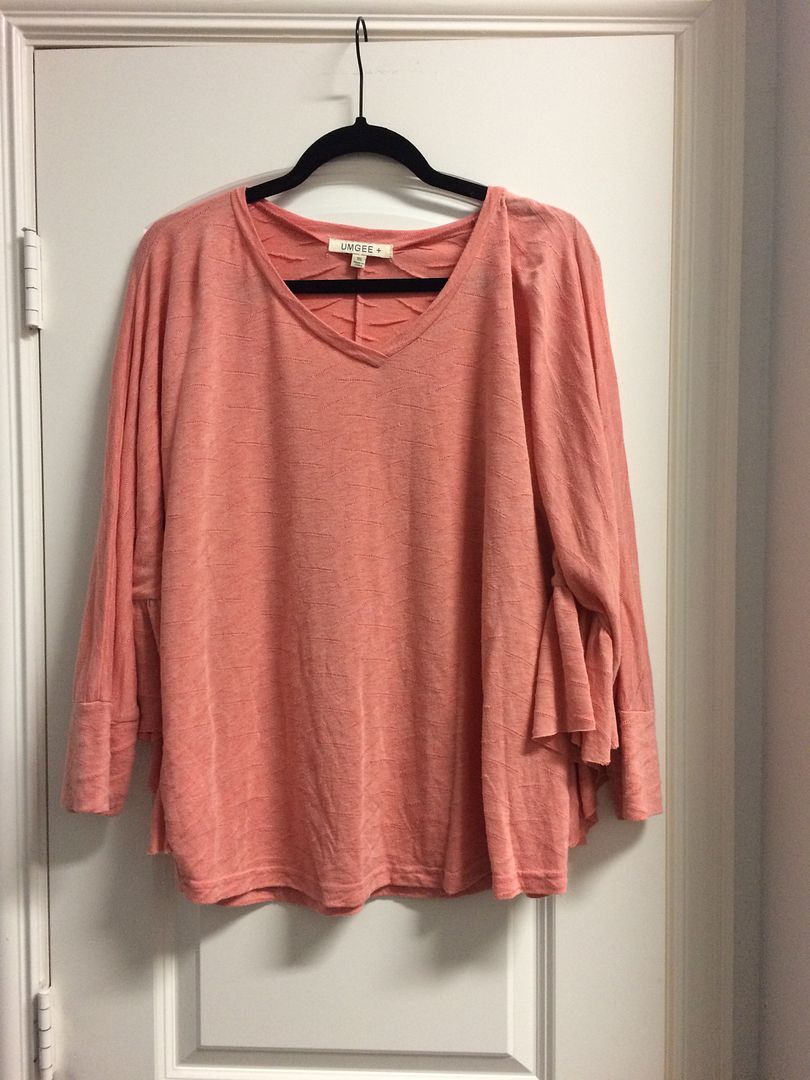 Left: (11) Umgee 1XL peach top.
This top is hard to describe, but it's very cute and comfortable. The sleeves are real sleeves, but the connect to the side of the shirt, giving a pancho look. This is fairly roomy and not super long.
Right: (12) Merona XXL black and white polka dot top.
This shirt was a lifesaver during the first half of my pregnancy because it's so versatile, stretchy, and comfy. I wore it at least once a week under a black cardigan with black dress pants. It's hard to see, but it has the most adorable ruffle accent at the neck. LOVE.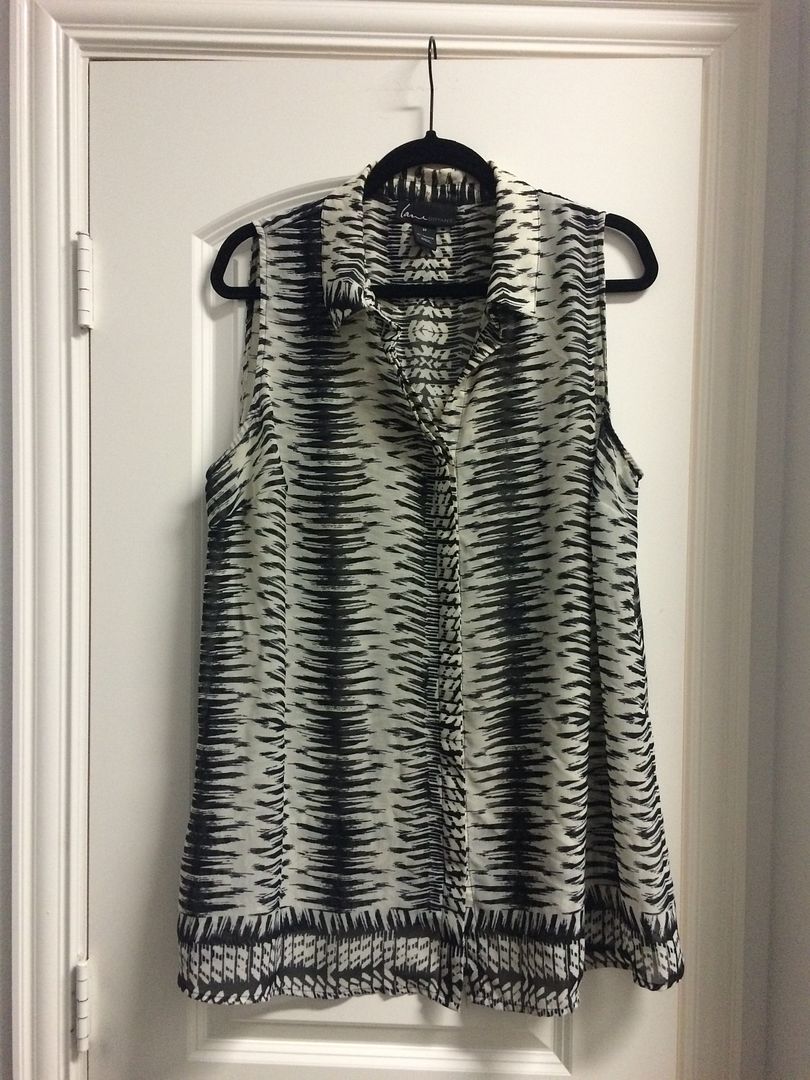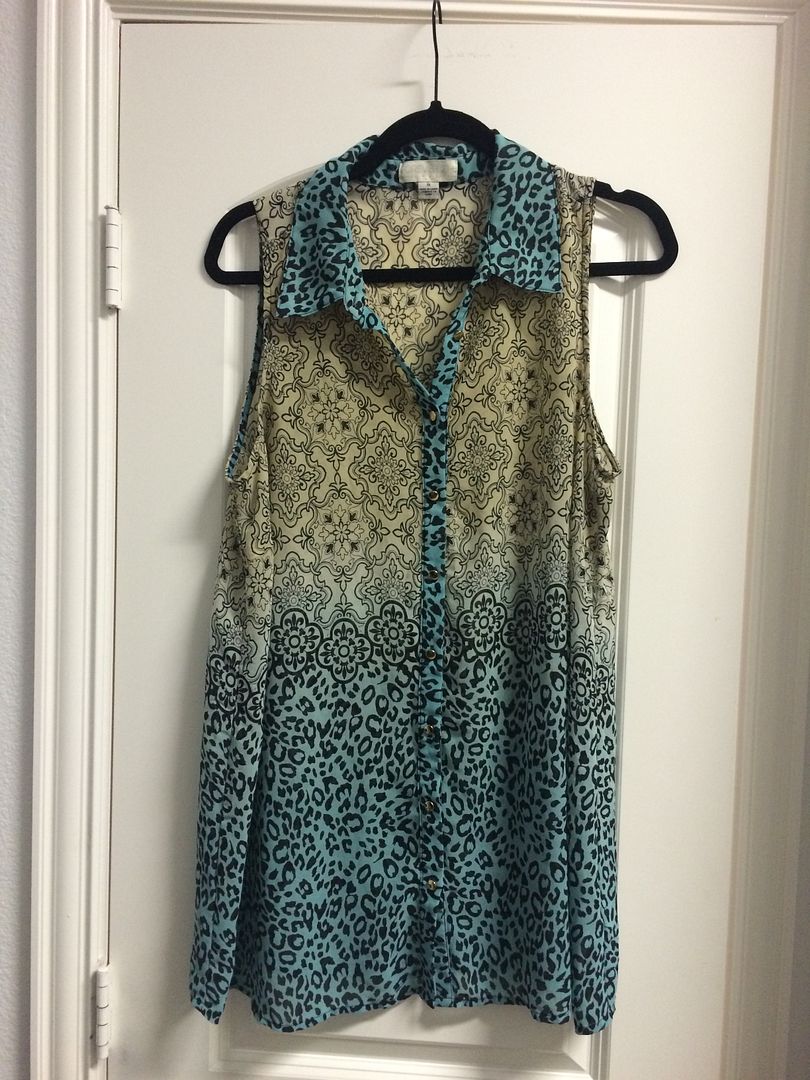 Left: (13) Lane Bryant 20 black and cream aztec print sheer top.
Loved this top with a black cami underneath (it's slightly sheer) and black skinny slacks.
SOLD
Right: (14) Forever 21 Plus 1X cream and turquoise sheer top.
This was my FAVORITE. I always got compliments when I wore it, and it fit like a dream. Definitely long enough for leggings, and I always wore it under the tan open cardigan listed below with brown boots. Love, love, love.
SOLD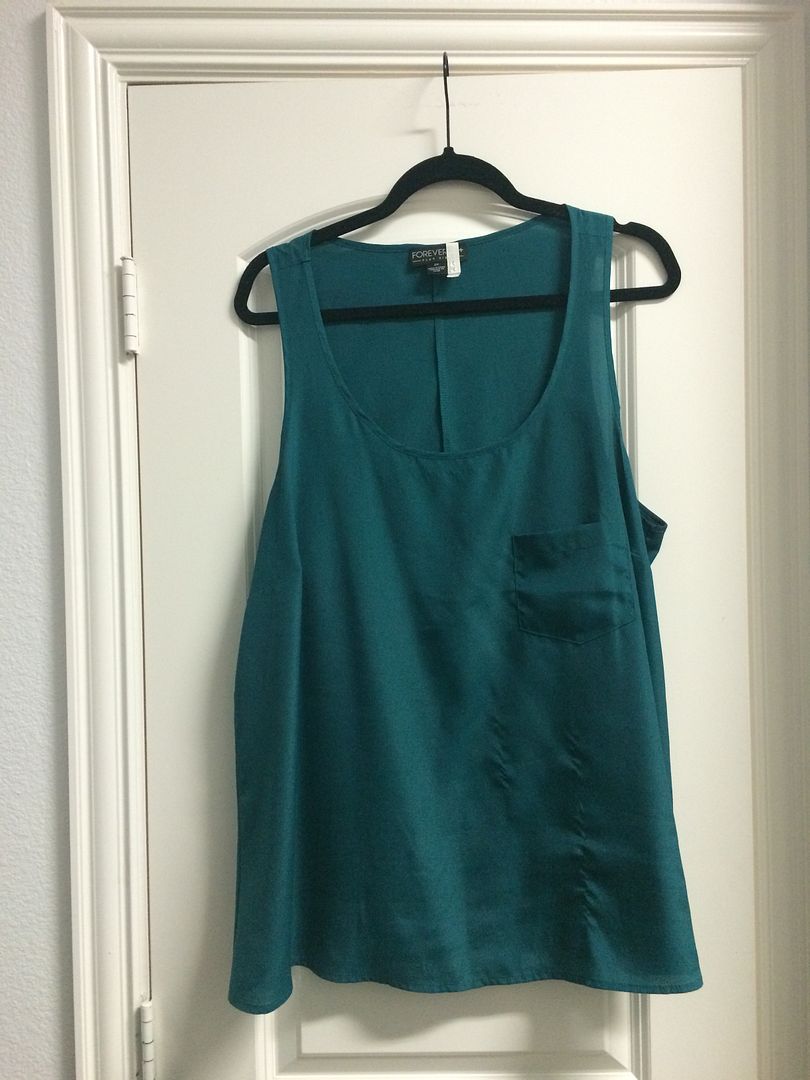 Left: (15) Forever 21 Plus 2X teal top.
This was my go-to with leggings and the high-low black cardigan listed below.
Right: (16) Forever 21 Plus 2X black and cream top.
It's hard to see, but this top spells "hope."
This is stretch cotton and super casual. I wore it with the sleeveless open aztec print cardigan listed below.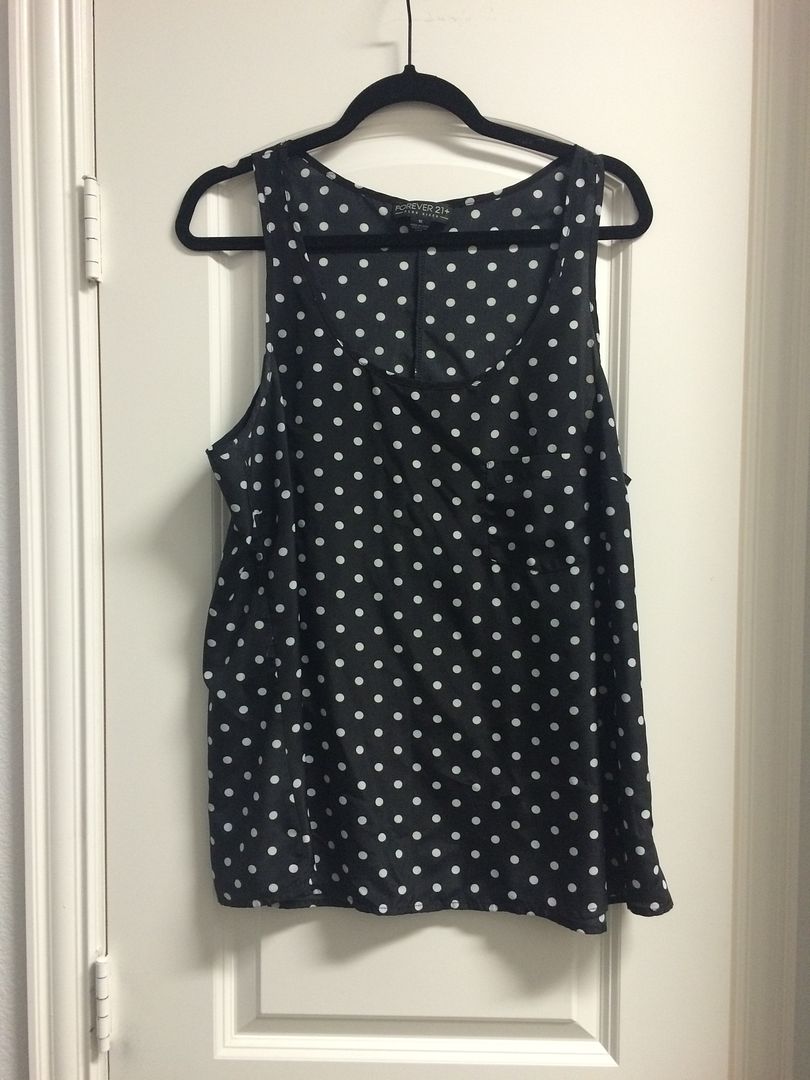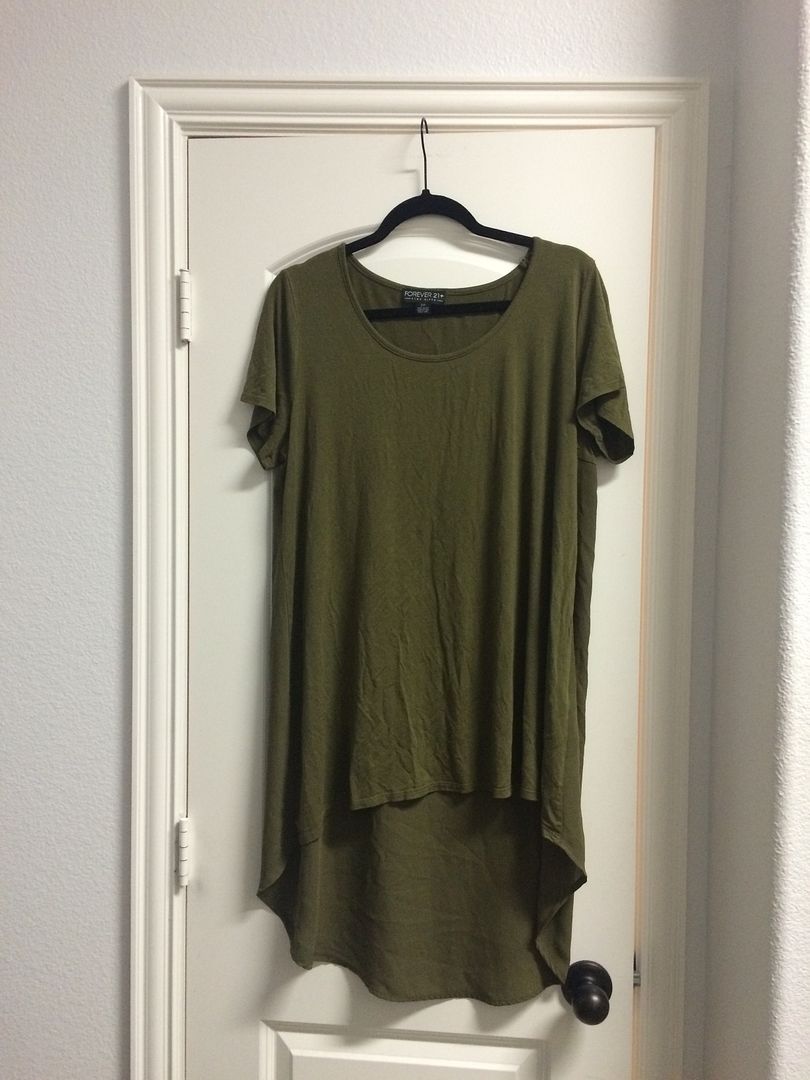 Left (17): Forever 21 Plus 1X black and white polka dot top.
I held on to this one as long as I could, y'all. This fits just like the teal sleeveless top above (15), but it's a size smaller. I wore this a lot for work under an open cardigan and black slacks. I clearly wear a LOT of black.
Right (18): Forever 21 Plus 2X army green, high-low top.
LOVED this shirt with leggings and heels. The front is stretchy cotton-ish, and the back is polyester, maybe, and dresses it up some. Super fun top.
SOLD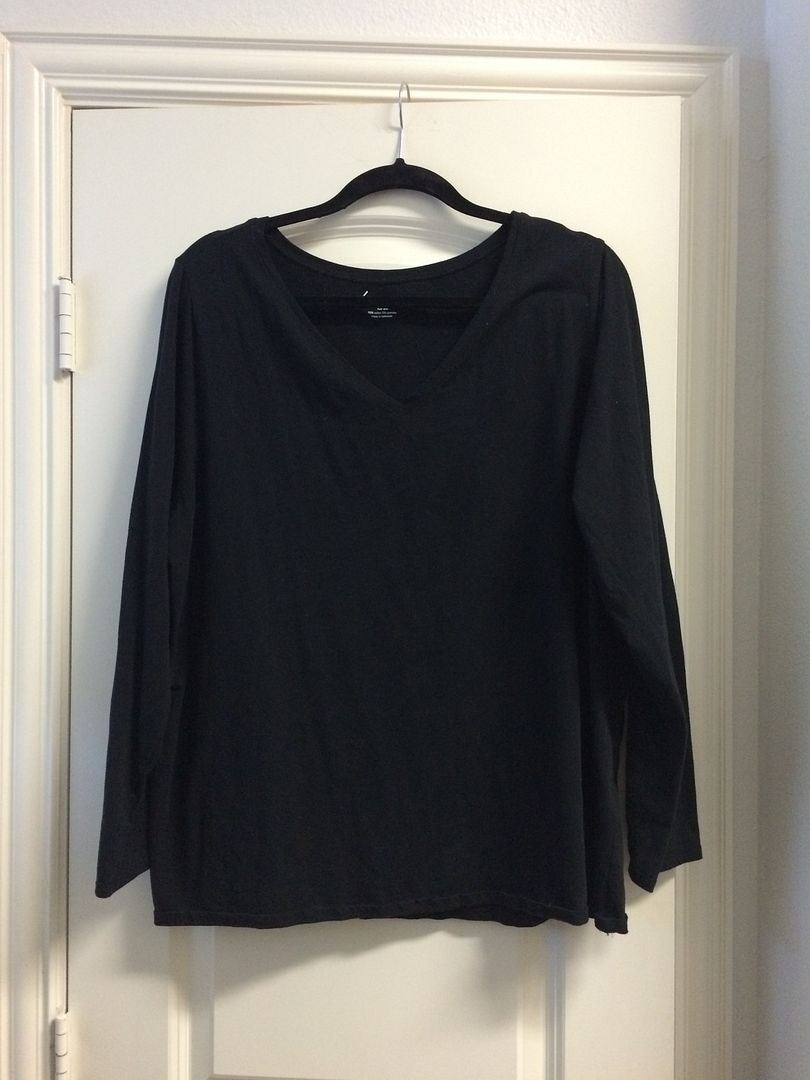 Left (19): One size fits all black and white aztec print open sleeveless cardigan.
This "vest" probably still technically fits because it's really forgiving in size. It'll look super full if you're on the smaller side, and it'll feel more fitted if not. It hangs in a really pretty way in front, and I always wore it over a long-sleeved black tee like the one to the right.
Right (20): Lane Bryant 18/20 v-neck, long-sleeved black tee.
I love long-sleeved tees. So, so much.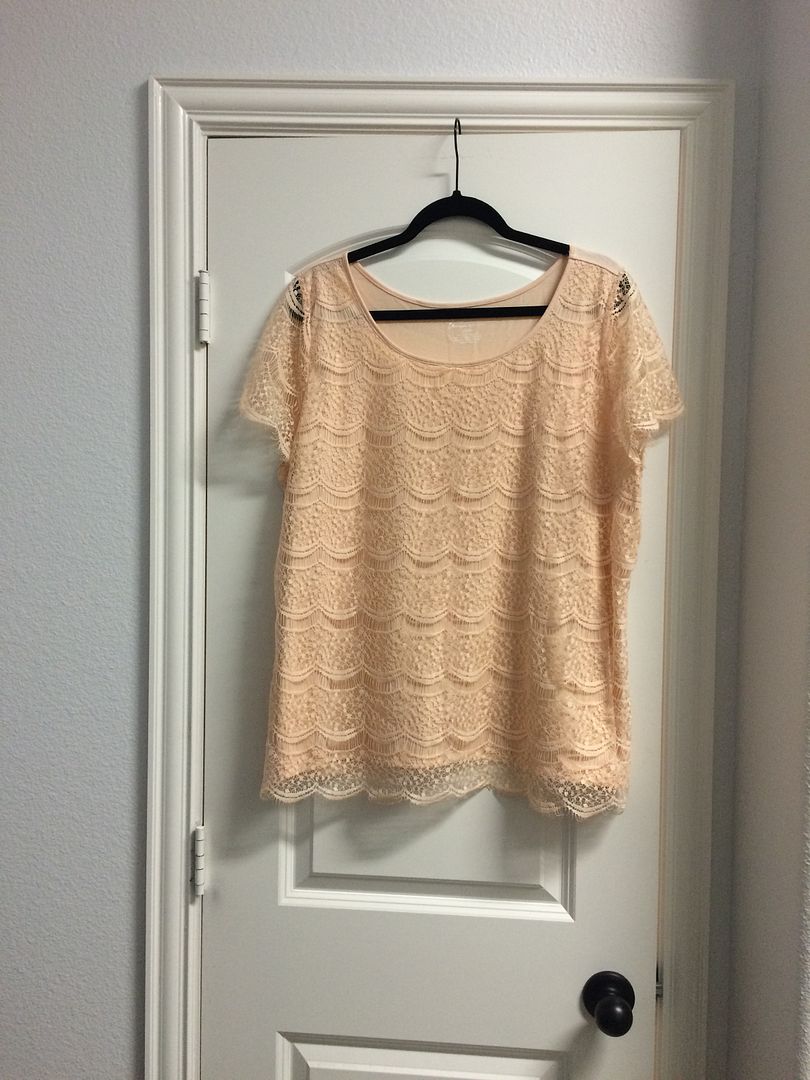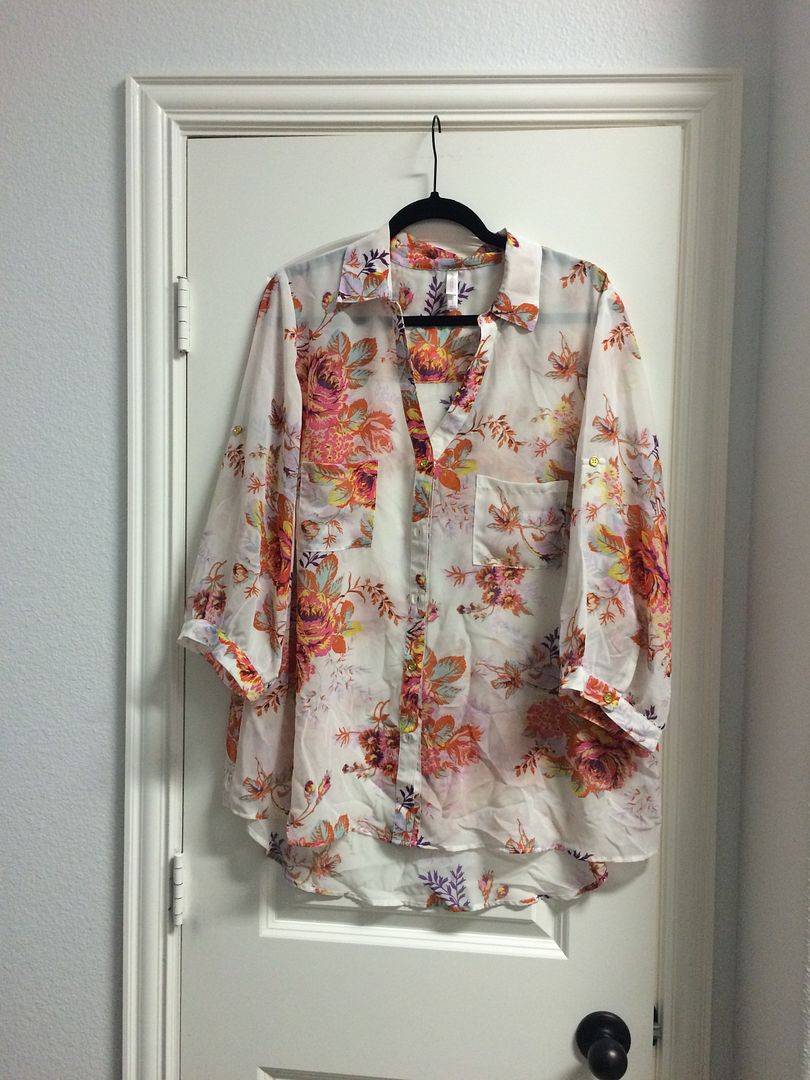 Left (20a): Lane Bryant 18/20 peach top.
This top is gorgeous, y'all. The sleeves are sheer lace, and the lace overlay is fabulous. I wore it for Grace's birthday party and loved it. It isn't super long, so it looks good with jeans either by itself or under a cardigan. It's fitted, but not tight.
SOLD.
Right (20b): Xhilaration 2 sheer top.
I wore this over a hot pink tank with skinnies and flats. It could be dressed up with heels, but it's also perfect for a more casual look. The pattern and colors are so pretty to me.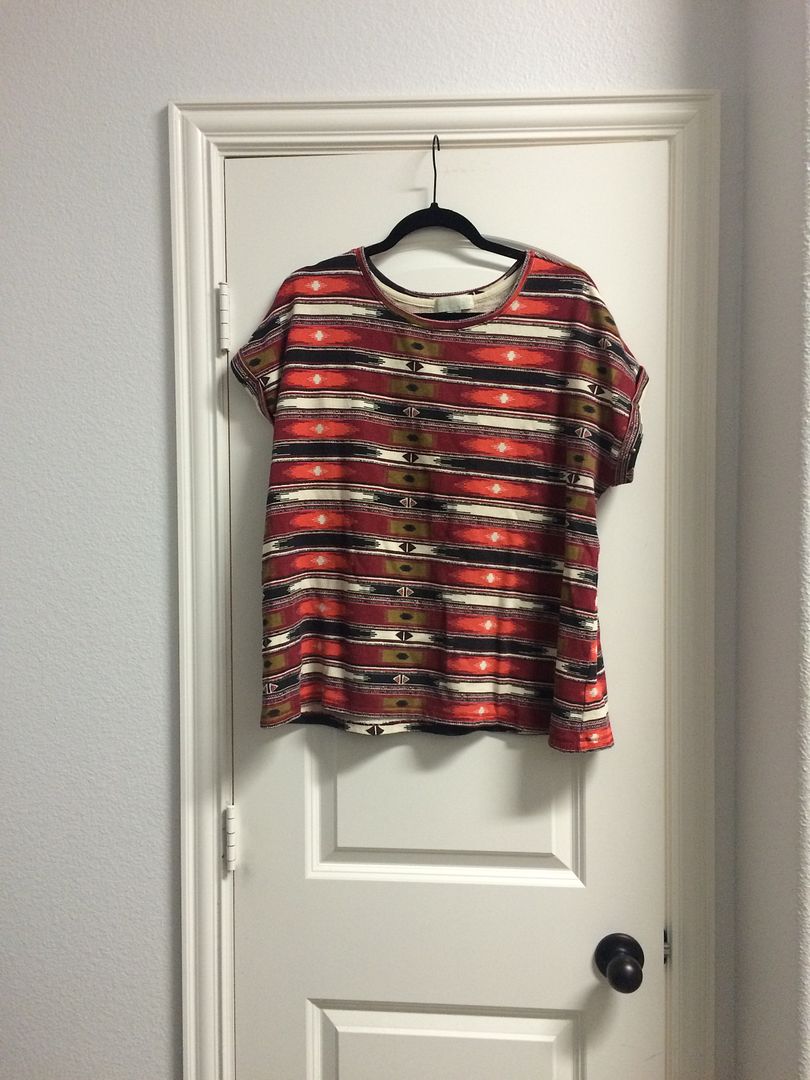 (20c): Forever 21 Plus 2X maroon, red, and black aztec print top.
I bought this for Vegas and wore it with jeans and brown riding boots. It's a good length, and it's sort of sweatshirt-y material, so it's really comfy.
SWEATERS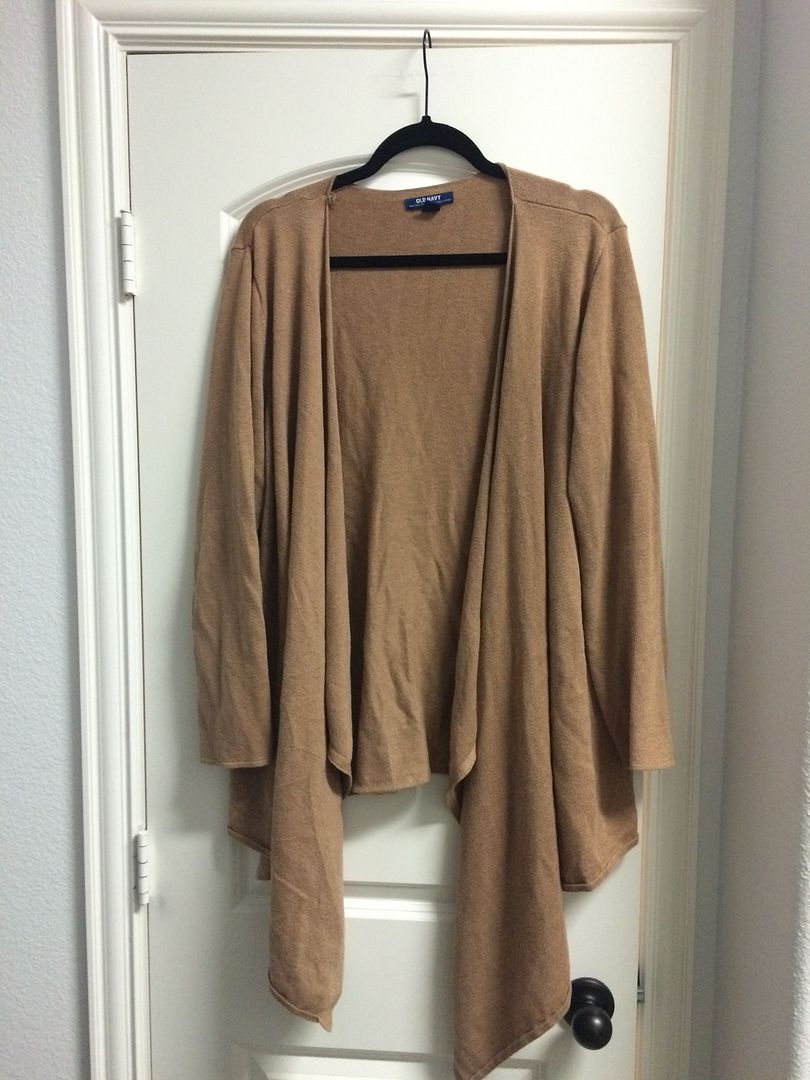 Left (21): Old Navy XL tan open cardigan.
Y'all. This is probably my FAVORITE article of clothing I've ever owned. I wore it all over Paris, in my maternity pictures, and in so many of my favorite memories with Grace. It goes with EVERYTHING, and I wore it at my heaviest, so don't shy away if you're normally a 2X. If you end up with this piece, you'll seriously be buying a piece of my heart. :)
SOLD
Right (22): same in charcoal. SOLD.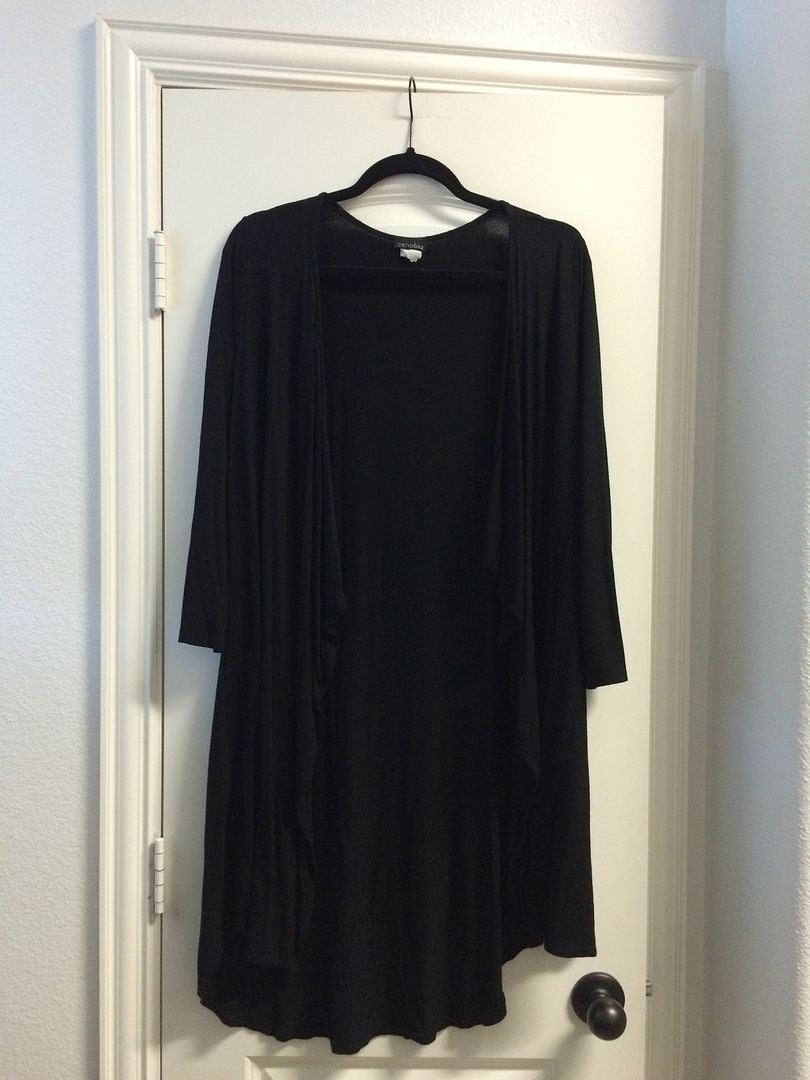 Left (23): YoungThreads XXL cream open cardigan.
I got this on Modcloth for ~$60 and loved it so much that I sized down when it got too big! So if you buy this, we can be twins!
SOLD.
Right (24): Zenobia 1XL black open, high-low cardigan.
It's hard to see in this picture, but this lightweight sweater is striking. It's nearly a duster, but it's shorter in the front. I wore it with so much at work, and it's lightweight enough to pull off in early fall.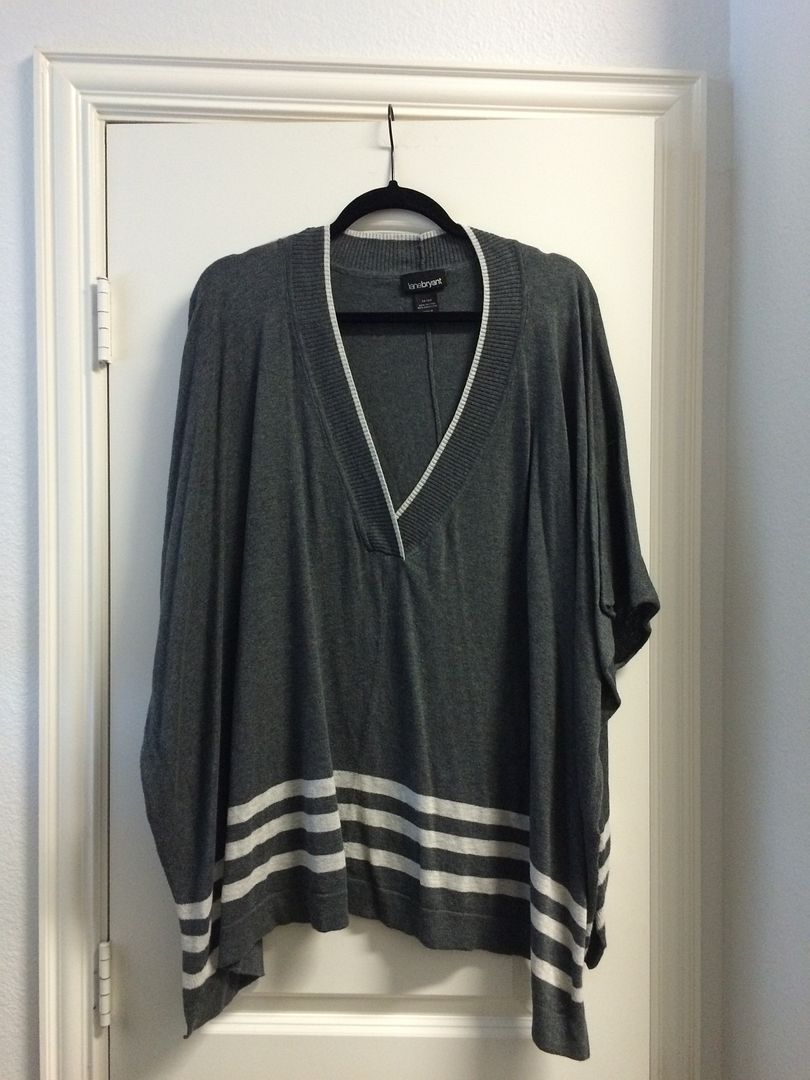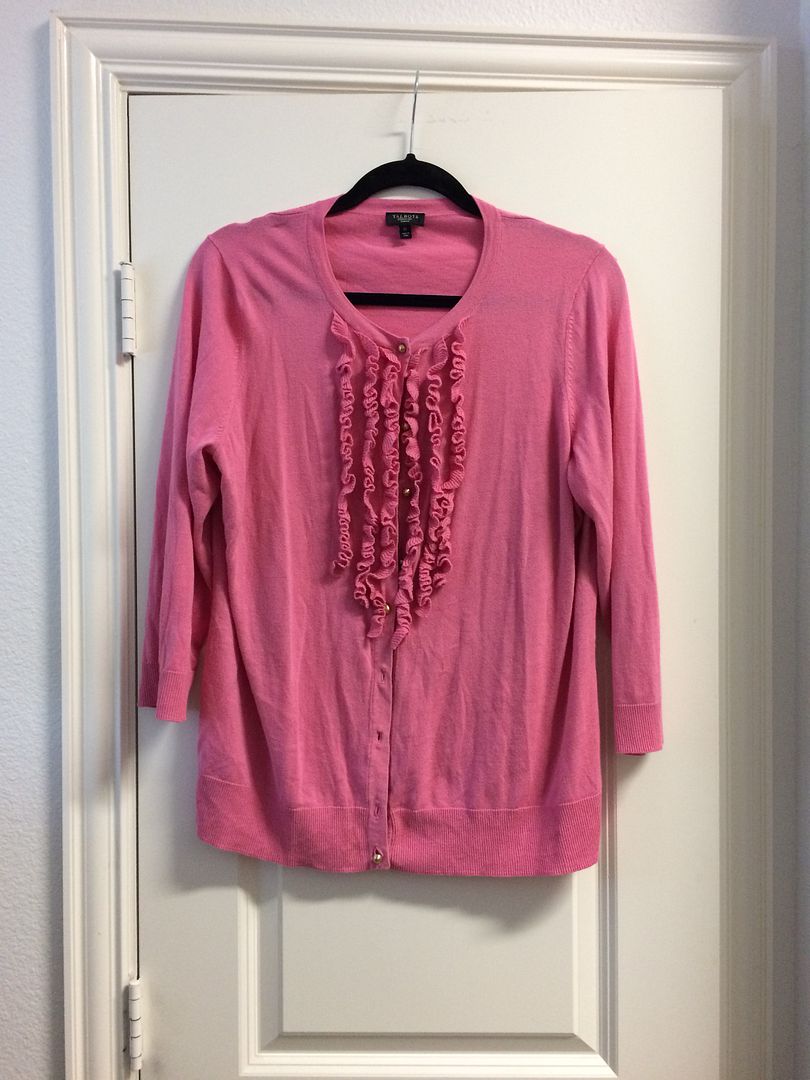 Left (25): Lane Bryant 14-20 grey pancho.
I wore this when I was pregnant and long after. It's open, so you'll need a cami underneath, but it's perfect in the winter with leggings and boots and a scarf. You'll seriously love this.
SOLD.
Right (26): Talbots 1X pink cardigan.
This sweater has the most fabulous gold buttons and the prettiest ruffle detail. You could do a lot with it, and it's semi-fitted without feeling restricting.
SOLD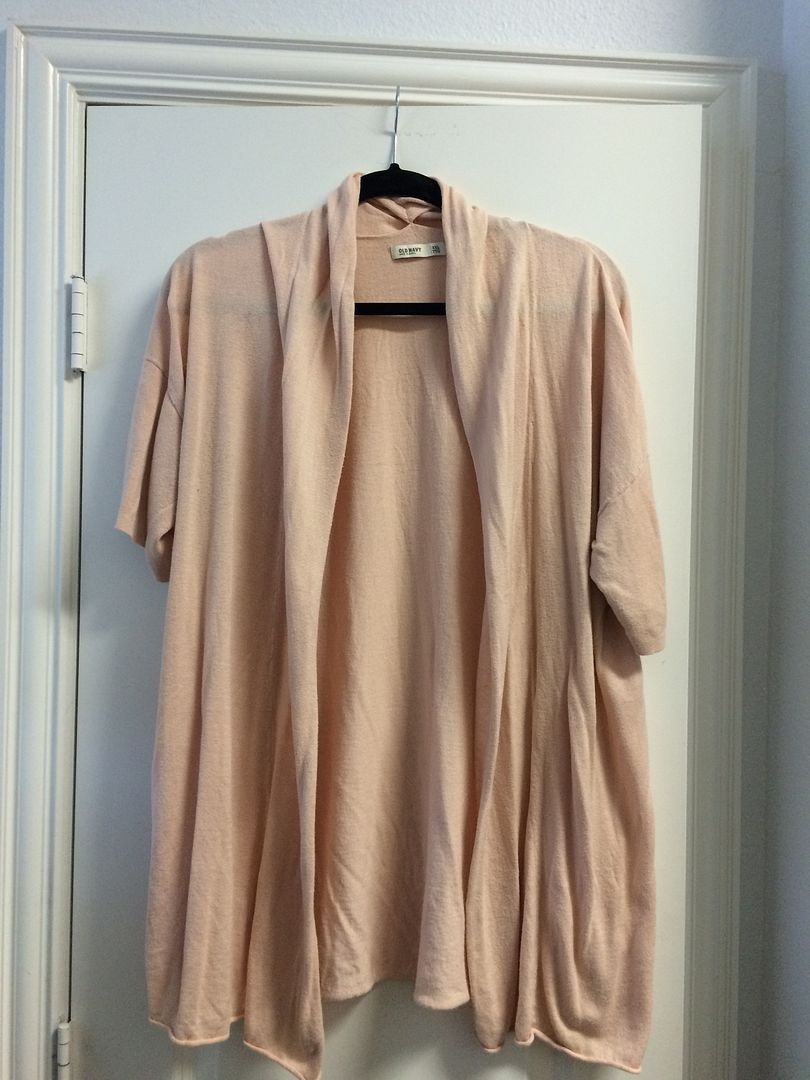 Left (27): New York & Co. XL charcoal 3/4 length sweater.
This thing is PERFECT with leggings, boots, and a scarf. It's loose enough to be comfy, but it's got some shape, too. I have the exact same sweater in a pretty red if you're interested in that color!
SOLD.
Right (28):
Old Navy XXL pale pink open, short-sleeved cardigan.
I loved this with a cream tank over jeans or khakis for work. It's super soft and looks fabulous in spring or summer.
(29): Ambiance Apparel 2X beige cardigan.
This is really, really lightweight and semi-sheer, so it's good over anything at any time of the year. It's got fun pockets in front, which I loved.

I'm clearly emotionally attached to these things. Another reason why they need a new home with YOU!