I was fortunate enough to have my talented best friend/photographer in the delivery and operating rooms, so I want to wait to post Grace's full birth story until I have those pictures (which I know I'll cherish forever!). I promise I'll get it up as soon as possible!
Whew! The last five days have been such a whirlwind! After three great days in the hospital, we left for home on Saturday afternoon with our little Gracie in tow. I followed the advice of many moms and sent her to the nursery between feedings at night, so I left feeling tired but not completely worn out. And both she and I left with a clean bill of health. Praise Him!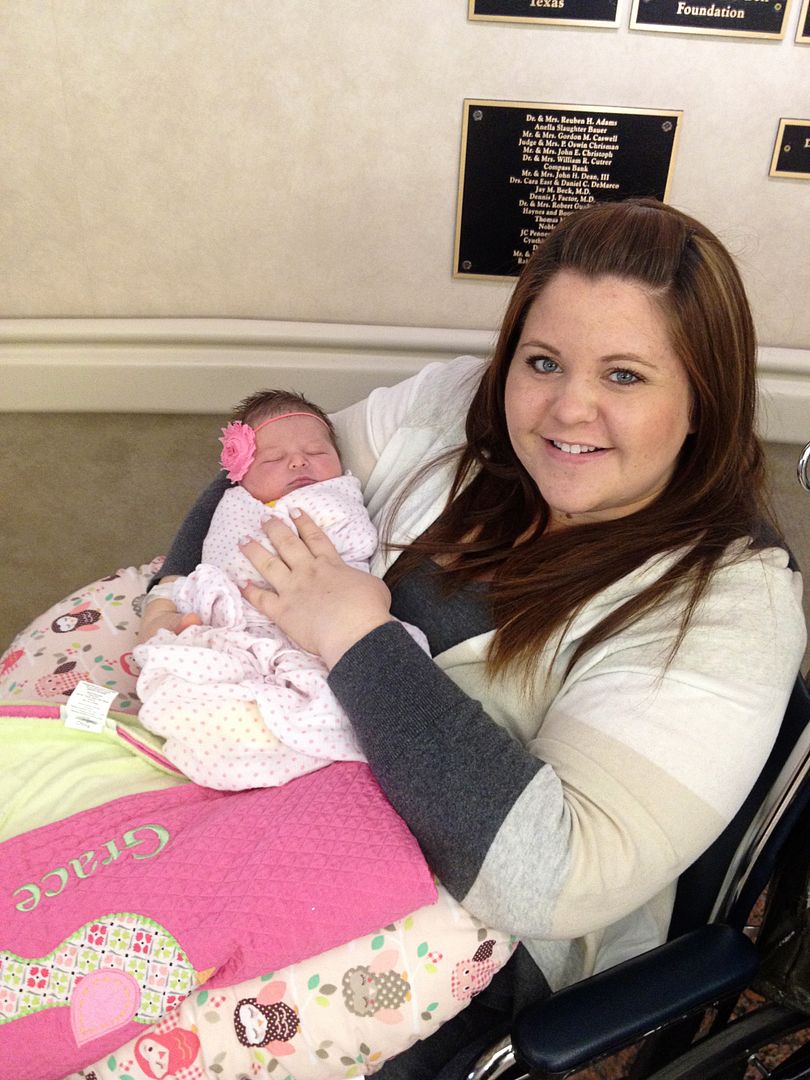 My mom stayed with us the first night, and Micah's mom stayed the second night. I can't even explain how wonderful it was to have them with us. And Miss Priss has been doing pretty great. We're breastfeeding, and she's doing pretty darned good, although she's a bit of a sleepy eater. But she's lost a lot of weight since birth and my milk still isn't in yet, so our pediatrician suggested that we supplement with some formula until she gets back up to her birth weight. I won't lie... the weight loss has me pretty stressed out, but I know it's very common and that she'll start growing like a weed soon enough. :)
The c-section hasn't been as much of a drag as I thought it would be. I'm more mobile than I expected, and I'm getting better every day (but thank heaven for pain medication!). I won't be cleared to drive or pick up anything heavier than Grace for another week and a half, but Micah has been incredible in making sure I'm comfortable and happy. I can't even think about how wonderful he's been, to me and to Grace, without crying (although I cry tears of joy at just about anything these days... these emotions are insane).
And our friends and family have been equally wonderful. We've been so fortunate to have wonderful vistors at the hospital and people bringing us meals. I'll probably write an entire post about what a blessing the people we love have been to us already...
I'll check in again soon, I promise. For now, I'm just fighting the urge to go wake her up from her nap for cuddles. But I know we've got plenty of time for that. :)