I've had a crack sprawling across my car windshield for about a year now. It started out as a tiny chip from a rock thrown at me by an 18-wheeler, but as time went on it began to spread. I kept putting off getting it fixed, and it continued growing. One day I hit a bump on the highway, and it shot across my view like lightning. Just like that, my windshield was ruined.
And it has stayed that way for months now because I'm too darned lazy to do anything about it.
The other day, I was driving in a storm, and between the rain, windshield wipers, and the crack, I struggled to see where I was going. As I slowly made my way home, I started thinking about my life and this blog, in particular.
I feel like I've been so preoccupied lately with doing and going and accomplishing that I haven't really reflected. And when I sit still long enough to catch my breath, here's what I want you all to know:
My desire is that you guys can look through all the stuff that seems to preoccupy my thoughts and life and see Him, clear as day.
If my life and blog are a windshield, I fear there are far too many things obstructing your view of my Lord. The upcoming arrival of our baby girl has taken front and center, and I don't regret that one tiny bit, but I hope you know that we are praising Him for this gift. That I see every tiny kick as a blessing poured out on me.
And, while I love showing you how our house is coming along, I pray that my gratefulness that God has given us a place to sleep at night is apparent. (If I'm being honest, I know that it's not.) Even
Thankful Thursdays
, the days I've set aside for praise, have become entirely disconnected from His many blessings in our lives.
So, while I still want to document our lives here and will obviously continue to do so, I want to be abundantly clear that He is the reason that we're going to meet our baby girl in less than a month. He is the reason I can wake up smiling every morning. (Because it was God's providence, and not my mediocre atheletic abilities or penchant for rainbow eyeshadow, that drew my smoking hot quarterback of a husband to me all those years ago. And it is God's grace that allows me to wake up next to him every morning.) He is the reason that I have a job that I adore. And He is the reason that I feel as though my life has been filled with so much goodness my heart might burst.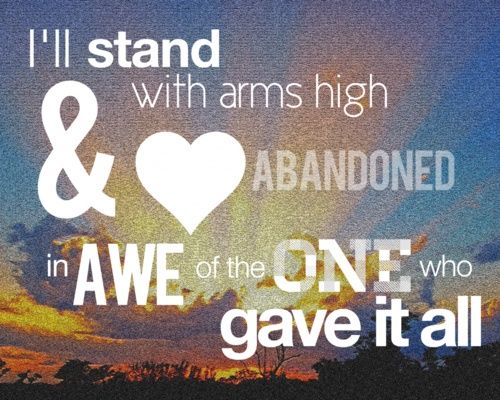 So if you can, try and look past the cracks and rain and windshield wipers sprawling across my life and see God's goodness and faithfulness. I'm going to try and do the same. :)