We've been working on our game room for awhile now. And although it's definitely not done, I figured I could at least give you guys an update on our progress so far. Thankfully, we've nailed down all the big things. I just think it needs some softness - some fun throw pillows for the couch, curtains, cozy blankets, and whatever other pretty things I find for it down the road.
So come on in, y'all...
The first thing we bought for the game room was the pool table. It was a Craigslist steal, and hopefully we won't regret getting it later. (It just seems like so many people buy pool tables and end up getting rid of them after a few years...)
Next, we found the couch (also a Craigslist purchase), which was a great bargain and exactly what we were looking for. It came with the throw pillows that you see in the picture above, but I sort of hate them. I've searched the world over for some that are acceptable to me and I haven't had any luck yet. But I haven't given up... :)
At some point, I decided that a "travel" theme would be pretty cool for up here. Shortly thereafter, I found the subway wall hangings at
Home Decorators
, and I couldn't pass them up. They were SUPER cheap and went well with the slightly industrial feel I was going for.
I also liked the travel theme because it gave me a place to display at least some of the pretty pictures I took in Paris and London. I bought a few Groupons from
Canvas on Demand
at the recommendation of my photographer best friend (who indicated that they had great quality for great prices).
Lauren edited these pictures that I took of London and Paris to make them black and white, and then I placed the order with Canvas on Demand. I absolutely adore how the canvases turned out. It's sort of hard to tell, but they're massive (24 X 36), incredibly sharp and crisp, and totally look like something you'd find in the art section of Z Gallerie.
Love.

Here's a better glance at what's on the other side of the pool table.
The media center is a dresser that I bought and had painted and converted to a media center by removing the top drawers. Ideally, I'd like a tree of some sort on one side of it, as well as some fun, knick-knacky things on top, but we haven't gotten there yet.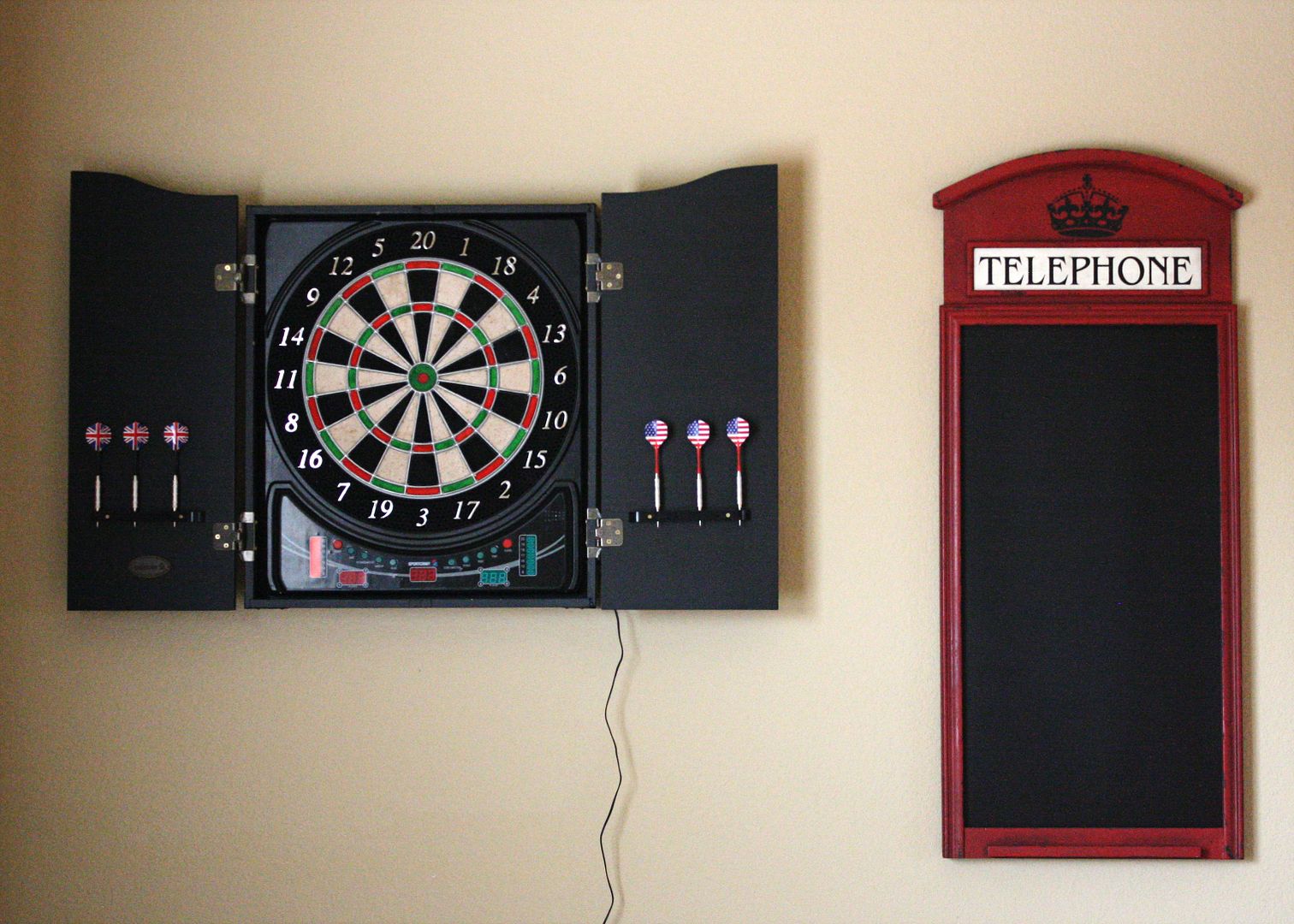 The dartboard was Micah's idea, and the London-ish chalboard was a Hobby Lobby clearance find. I like the splash of red in the room, which isn't like me, as I'm not normally drawn to red in my own home (although I LOVE seeing it in other people's homes).
Spinning back around toward the couch...
I found the clock on clearance at Hobby Lobby and just loved the pocketwatch look of it. The frame next to it has resulted in some
serious
conflict between Micah and me.
I made this collage of all the Instagram pictures I took while I was in London and Paris (and am considering doing a tutorial on how I did it - would anyone be interested in that?). I think it gives the fairly serious room some much-needed whimsy, but Micah hates it. He thinks it crowds the wall above the couch and that we should move it to the hallway. I literally started crying the other day during an argument we had about whether it should stay or go (I may or may not be
slightly
hormonal right now...).
As of now, I'm winning. :)
Again, we're definitely not done up there, but I'm pleased with how it's looking so far. I have a slight suspicion, though, that this space will end up filled with toys and stuffed animals here before I get around to finishing it...
Linking up with
Rolled Up Pretty
and
Works for Me Wednesday
.