Looking at these pictures makes me realize how badly I need a real lens for my camera. I adore my 50mm/1.8 prime lens, but it's just not practical for shooting pictures of my house, so I'm stuck with the stupid kit lens for now. I'm thinking a new lens would be a fabulous "push present" from Micah. Who agrees?
Anyway, I wanted to share just a few things we've updated around the house lately. Having the nursery at our house was a fabulous incentive to finish up several projects we had been meaning to get to but never did. For starters, here are a few shots of the little landing at the top of our stairs.
It's kind of an awkward space, so I struggled with what I should do up here for a long while. I found the table at the Wisteria Outlet here in Dallas (if you haven't been, you should definitely check it out). I bought it intending to put it somewhere else, but it didn't work there. So we stuck it here, and now I think it's just perfect!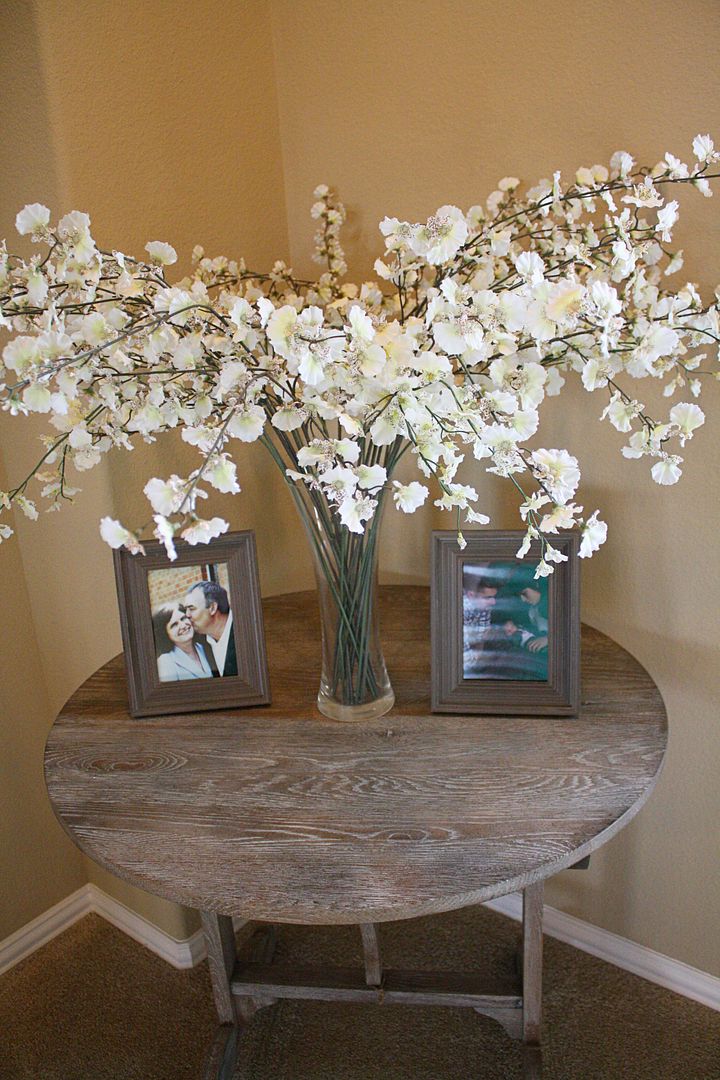 The flowers and vase are from Pier One, and the frames are from Hobby Lobby.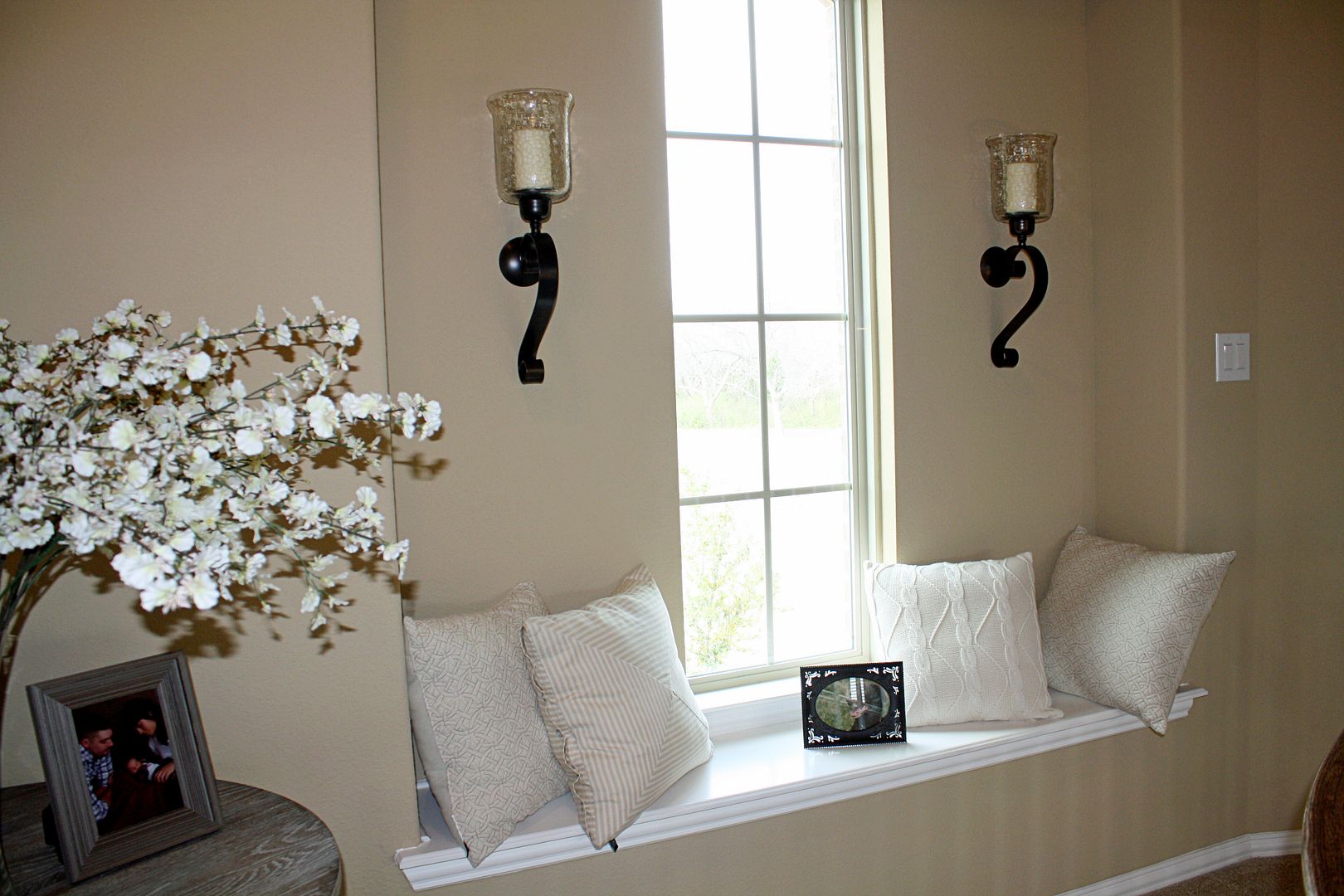 The window seat was one of my favorite things about the house when we first saw it. I adore window seats. I had originally planned on having a cushion made for the space, but when I priced them, they were about $250, so I opted to throw some pillows on there instead. (Truth be told, the ledge isn't quite wide enough to sit there comfortably, so it's all for looks anyway.)
So I scoured HomeGoods/Marshalls/Hobby Lobby for cheap pillows and ended up with this assortment. The sconces are also from Hobby Lobby.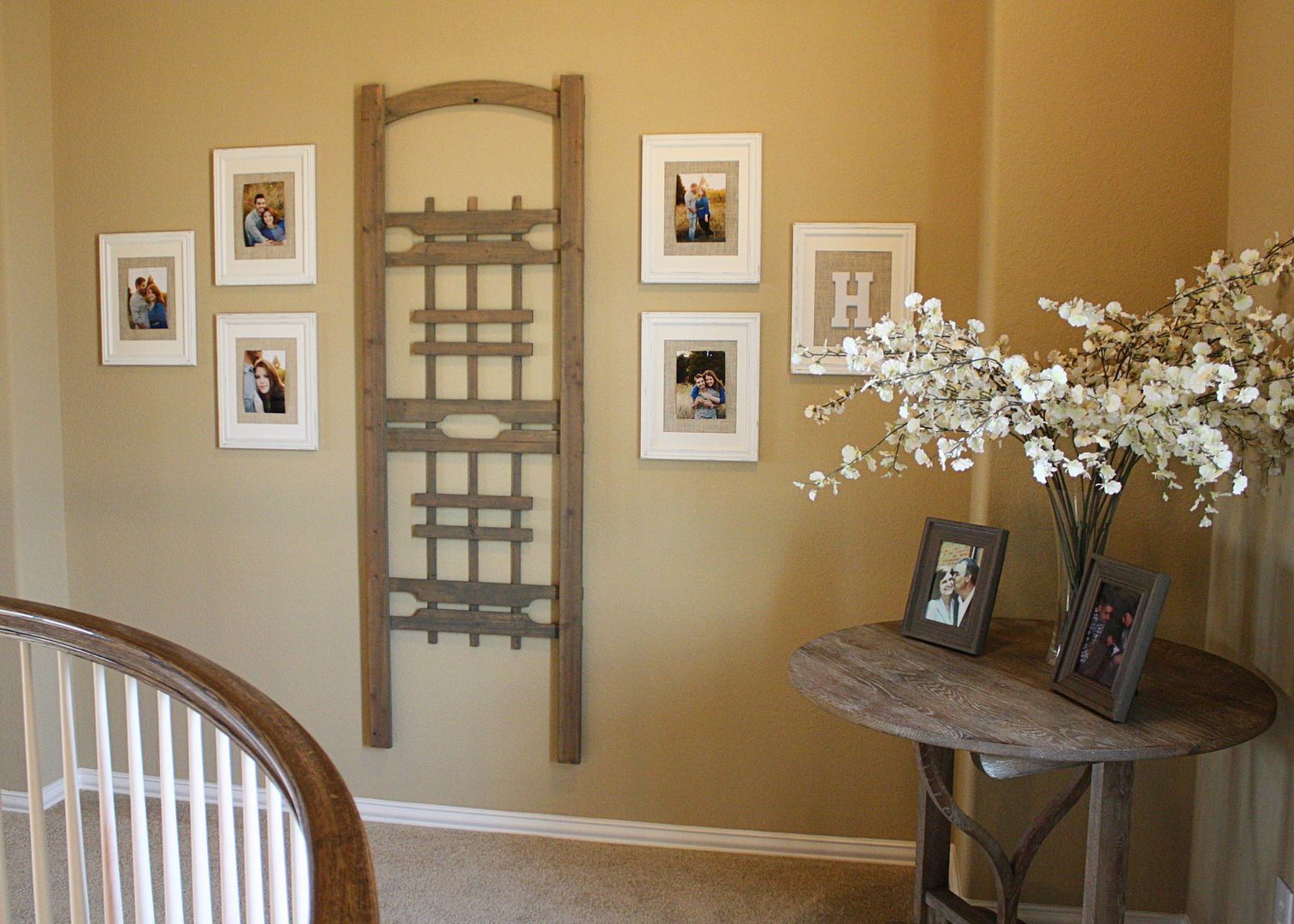 Lastly, here's the project I promised you pictures of a month ago. It's in an awkward place that makes getting a straight on shot impossible, so this was the best I could do.
The centerpiece is actually a garden fixture that I found on clearance for $14 at HomeGoods about a year ago. It had been leaning up against the wall all by its lonesome since then, and Micah suggested mounting it to the wall. I ended up liking the way it looked, so I decided to arrange the frames around it.

For the frames, I tried to find more weathered gray ones like those in the picture (and the ones sitting on the table) at Hobby Lobby but never did. But I'm glad I didn't because the frames I ended up with are from Michaels, and they ended up working perfectly (and were SO cheap!). They were already the perfect creamy white, so all I had to do was remove the glass, wrap the backing in burlap fabric, and then distress them a bit with some gritty sandpaper.
Getting the pictures attached was a teensy bit more complicated. I searched heaven and earth for the adorable clips from the inspiration photo but couldn't find anything that would work. So I got real simple and decided to use pushpins. It was harder to get them straight, and I feel sure something else would probably look better, but I was ready to be done. The "H" was in the raw wood section at Hobby Lobby. I spray-painted that sucker white and slapped it onto the burlap with a hot glue gun.
Here is a (blurry iPhone) picture that shows the frames up close: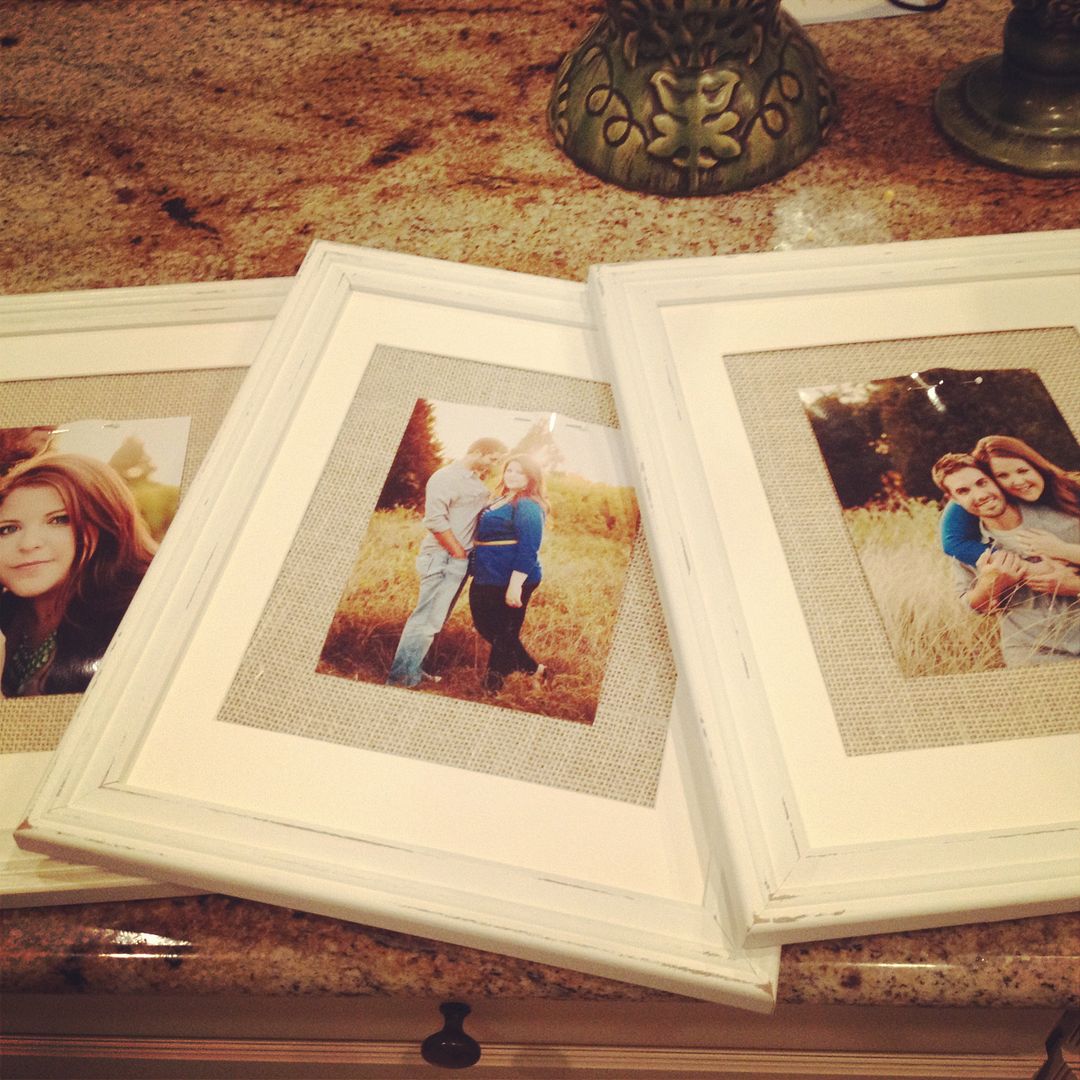 And there you have it! Our thrown together upstairs landing that almost no one ever sees! :)