Yay for Friday!
One. Miss Grace and I started our weekly appointments today. It's so surreal that we're already at this point. I am 70% effaced (TMI?) but not dilated at all. I won't complain even a teensy bit because, as far as I'm concerned, she can keep baking away in there. We've still got a lot to do before she arrives!
Two. The girls at work (and several of the male attorneys' wives) threw me the most lovely shower. It was at an adorable tea room in Dallas, and they went all out.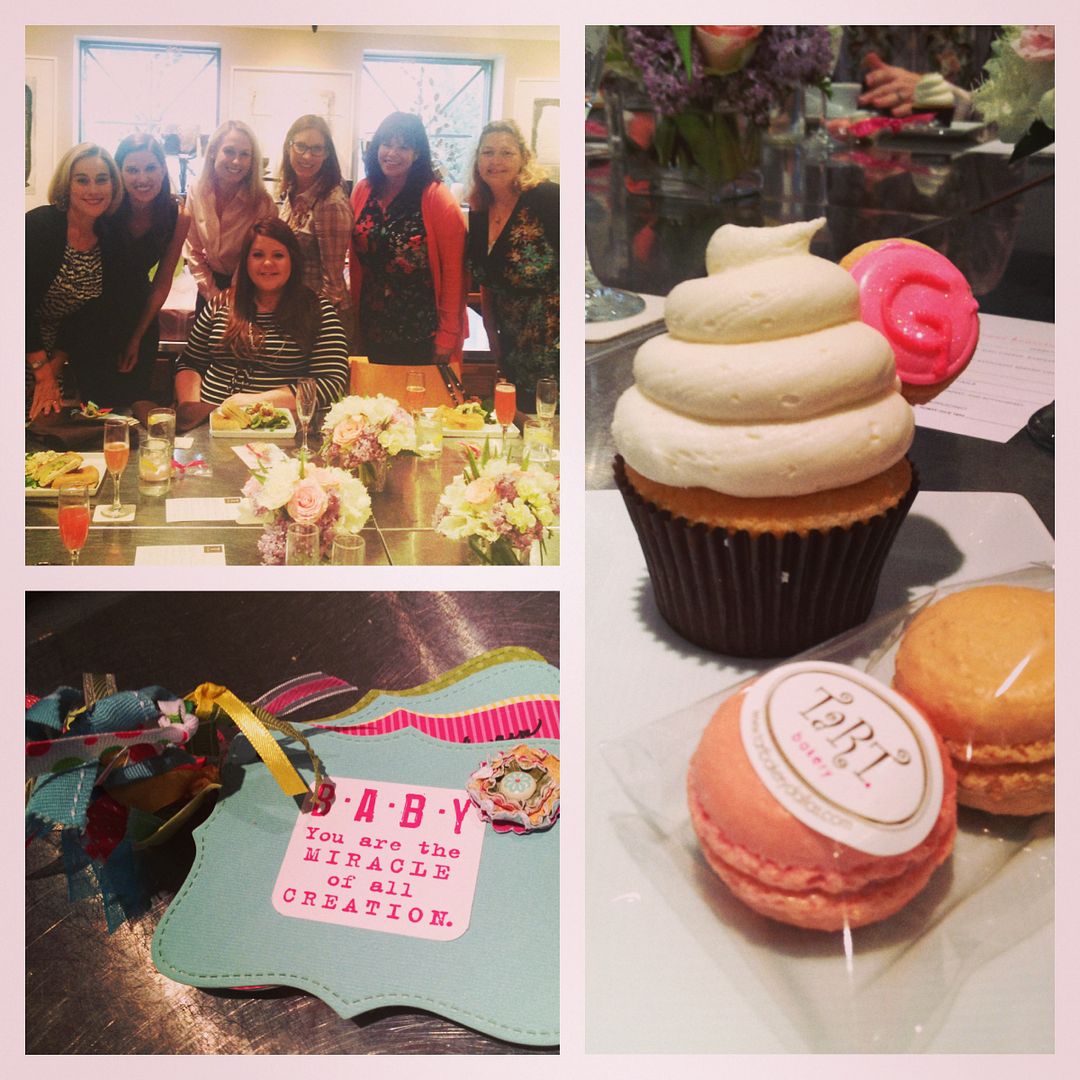 More macaroons (have I mentioned how much I
adore
them?), delicious food, and sweet, handmade touches.
And, by golly... in addition to all of the ADORABLE cute things they got me (including several lawyer-themed onesies - one says "Attorney Work Product" on it.
I die.
), the hostesses went in together to get me the City Mini Jogging Stroller I registered for. I'm so thankful for these girls. They make long hours and stressful days so much more bearable. :)
Three.
I just ordered some headbands from
here
for Grace.
I've looked all around Etsy for pretty, handmade headbands and bows, and most of them are SO expensive. These look like great quality for (relatively) decent prices, and I can't wait to see them on our sweet girl.
Four.
Wouldn't you know it... not an hour after I posted the
nursery reveal
yesterday, I got a call from Buy Buy Baby telling me that our glider is in. So it looks like we'll be heading to Frisco tomorrow to pick that up and (hopefully) grab the last few things that we're going to need before Grace gets here.
Five.
I saved the very best for last. I had told you guys about a month ago about my sweet Mimi having
lung cancer
. Over the past few weeks, she's been to a series of doctors, had multiple biopsies, a PET scan, and all kinds of other un-fun things. But we found out today that her PET scan was CLEAR! The cancer hasn't spread anywhere else, and it looks like the tumor is going to be treatable with a few rounds of radiation, which she should start soon.
To understand what a blessing this is, you'd have to know that Mimi was adamantly opposed to doing any sort of chemo, and the doctors had already told her that she wouldn't survive an operation to remove the tumor. So radiation was really the only shot, and we were so worried that she might have a kind of cancer that couldn't be treated with radiation. Needless to say, we're all jumping for joy at this wonderful news! :)
What are you guys high fiving about this week? Link up with
Lauren
and
Joy
and let us know!