Well, I survived my first day back to work, y'all.
I spent last night getting Grace's bottles made, packing extra clothes, and labeling anything and everything with her name (with durable stickers from
here
- love them!). When it was time to put her to sleep, I rocked her and just bawled until she passed out in my arms.
And then this morning was a complete cluster-eff.
Poor little princess hadn't been eating very well yesterday (which is very unlike her - Miss Thing likes to eat!), and when she started rubbing her face and ears, I thought she might have an ear infection. Thank goodness, my dad came to the rescue and offered to take her to the pediatrician for me so that I could still go into work.
So I did my best to get all of my stuff and her stuff together before she woke up. Then I got her fed and put her in the crib to play while I got the car loaded. I even waited to put on my clothes until the last minute so that she wouldn't spit up on them. I was so freaking proud of myself, you guys.
As I was buckling her into her carseat, she looked at me and gave me the cutest little grin.
And then she went all poltergeist on me.
Projectile vomit of epic proportions went
everywhere
. All down her cute little onesie. Inside her matching socks. All over the carseat. Everywhere.
I sat there for about 30 seconds, overwhelmed by the sheer volume of yuck. I finally realized that the best place to start was probably the baby and tackled the carseat after that. It was a mess, y'all, and the carseat now smells like death. (Don't worry, we're going to wash it. Eventually...)
I finally did get her dropped off at my dad's and off to work. He took her to the doctor, and she does, indeed, have an ear infection. Plus a cold. So girlfriend hung out with Dad for the day instead of going to daycare, and I left work at 2:30. (Work will be slow to get going again, anyway, so no one missed me.)
In all honestly, I think the commotion throughout the day kept me from missing her too much. Even if I did stare at her cute little face on my screen saver all day long.
And speaking of her cute little face, I snapped these picture when she was supposed to be napping yesterday.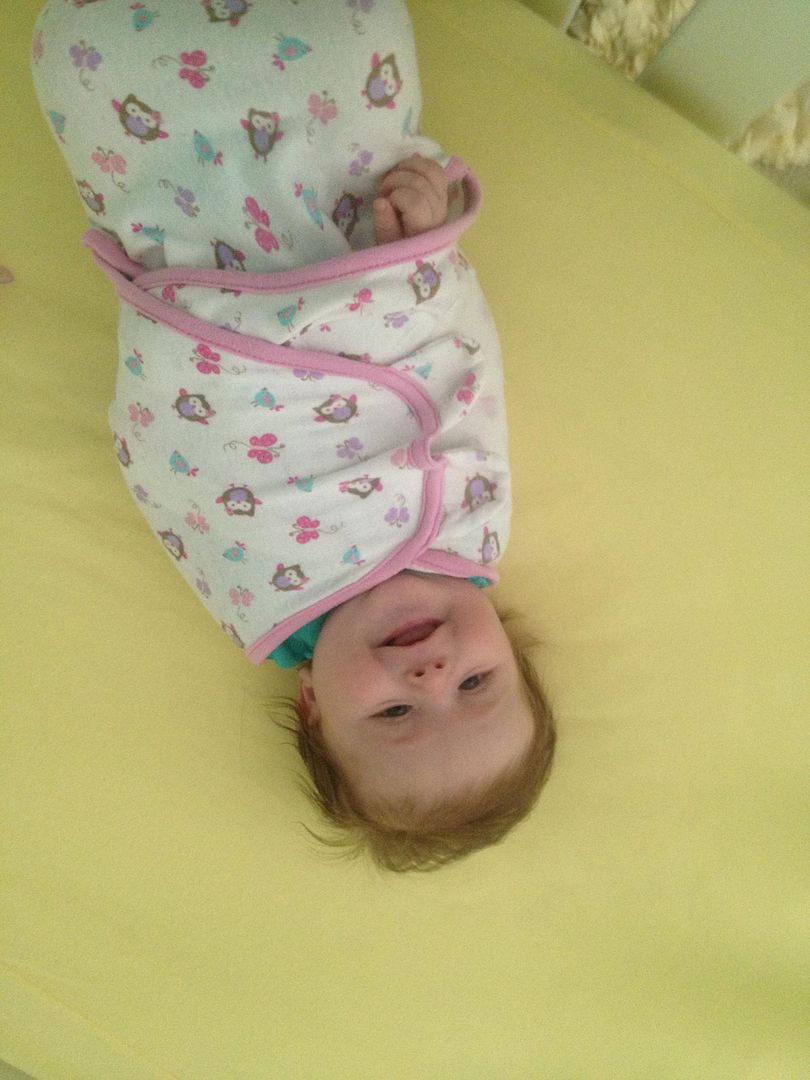 I know, right? Perfection.
So, the moral of the story is that the first day back was terrible, and I did miss her, but I'm hoping we'll all adjust to our new normal relatively quickly.
(Oh yeah, and we had a fantastic time in Chicago! Maybe I'll eventually get around to posting a picture or two... :))