I'm going to shamelessly steal a fabulous blog post idea from my girl,
Anna
, today. (If you guys aren't reading
Anna's blog
, you totally should. She's a country girl after my own heart, and I always love reading what she posts.)

Reading:
Divergent by Veronica Roth. Y'all, I honestly haven't read a fiction book since before I got pregnant. I just haven't had any desire, and if you know me at all, you know how very, very out of character that is for me. But I think I'm finally getting back in the swing of things. I started Divergent on Monday night and could hardly put it down! It's sort of Hunger Games meets Harry Potter (without the magic), and I'm really, really loving it! Like, maybe almost as much as I love Hunger Games...
Listening to:
Like
Anna
, I've been hooked on Miley's new song. I also
just
realized that the super catchy "When I'm Gone" song I've been humming to myself for the last week or two is actually the sung by Anna Kendrick (the only decent actress in the
Twilight
movies) and is the song she sang in
Pitch Perfect
in her audition for The Bellas. I'm probably the only idiot who didn't know that, but I really love her voice.
Loving:
Annie's Organic Chocolate Chipper granola bars. Banana-blueberry smoothies. Extra-long baths. Air-dried hair. Matte actions for Photoshop Elements. And these gorgeous flowers my mom sent me for an early birthday present.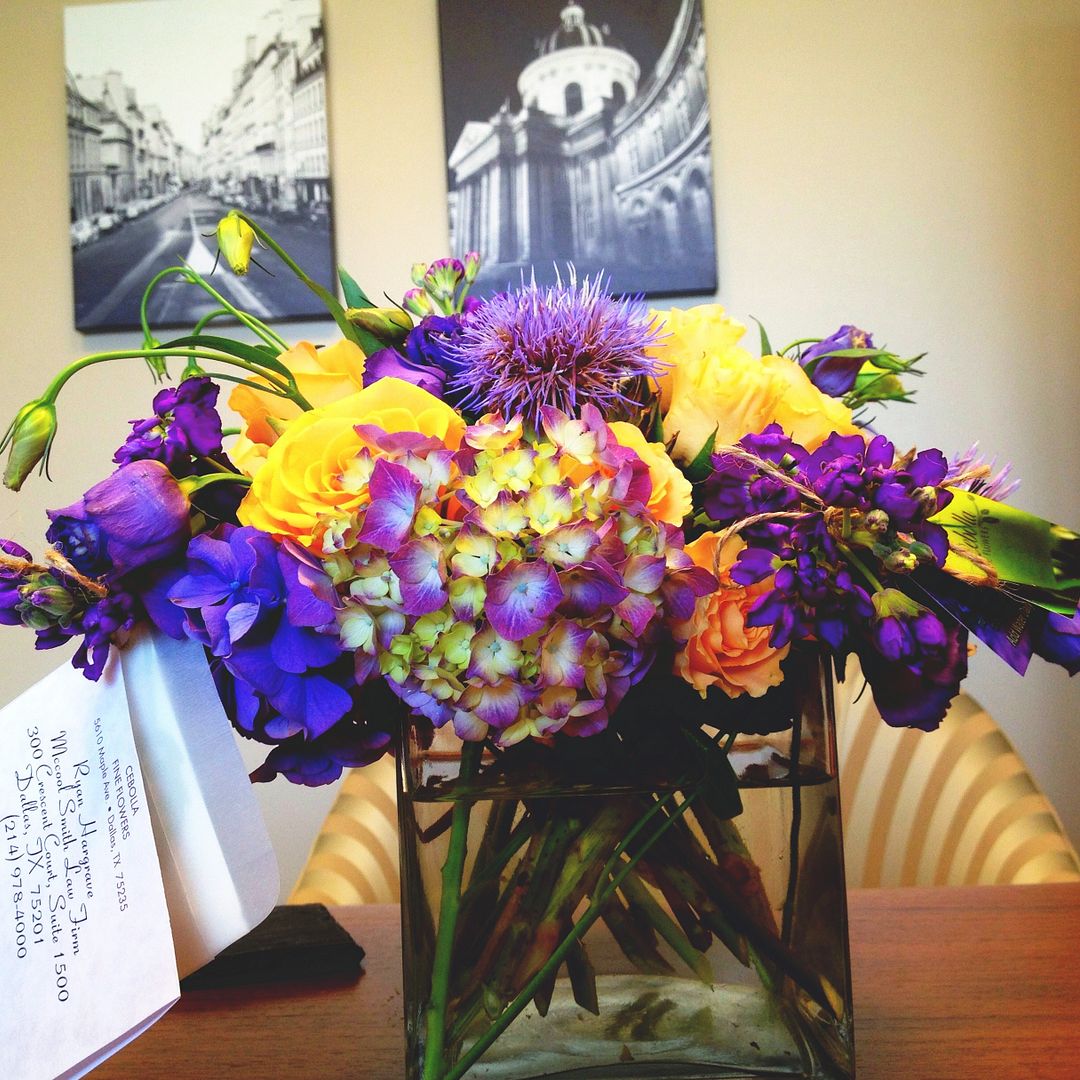 (This matte image happens to have been taken and edited on my phone - isn't it amazing how the quality of cell phone pictures has improved over the years? Heck, isn't it amazing we can even take pictures on our cell phones?)
Wearing:
In real life: black (maternity) dress pants (just keeping it real, y'all), a black and white-striped tank, and a royal blue open sweater. In my heart: pajamas.
Looking forward to:
Well, tomorrow is my birthday. And I wouldn't say I'm
looking forward
to turning another year older, but aging is a privilege denied to many, and I won't ever take it for granted.
Cooking/Baking:
My grocery list for Saturday has all the ingredients needed to make these dishes on the
SkinnyTaste
blog
: Zesty Lime and Shrimp Salad, Greek Salad Sandwiches, and Banging Good Shrimp.
Wishing:
That it wasn't so freaking cold in my office. I'm not usually one of those cold-natured girls who is always cuddled up in something warm, but I swear it feels like a meat locker in here. I'm wrapped up in a blanket (probably so tacky), and my fingers are still icy. Although I guess it's better than the alternative...
Alright, friends? What are you currently up to?