So we talked
face products
last week. This week, it's all about the eyes.
I own entirely too many eye makeup products, y'all. I think I have twenty-five M.A.C. eyeshadow palettes, alone. But my list today is short because I use the same stuff 95% of the time. I've definitely shared about most of these products before, but now they're all in one place.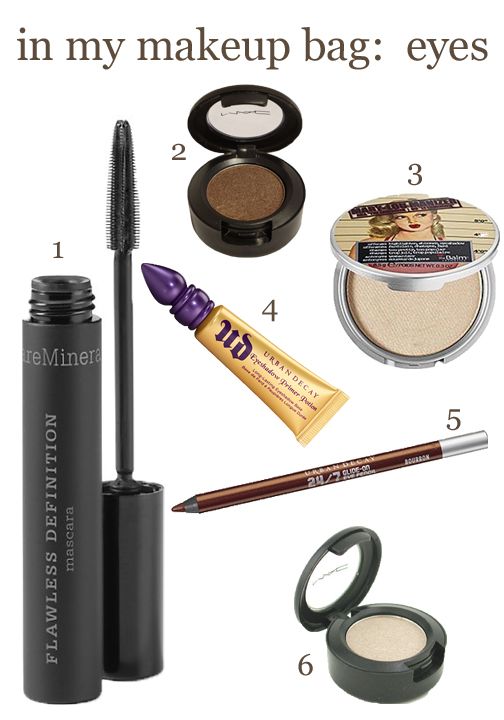 BareMinerals Flawless Definition Mascara.
If you try just one thing from this post, it should be this mascara. I have tried so many things to lengthen and volumize my lashes without making them clumpy. I was a fan of
Maybelline's Volum Express the Colossal Mascara
for years, but I noticed that after a few hours, it started flaking. I've also used
DiorShow Blackout
, which is fabulous, too. But this stuff, y'all. It really does define and lengthen my lashes better than anything else I've tried. And it
never
clumps. Ever. I recently tried
Benefit's They're Real Mascara
, and I really did like it -- it definitely gives you a false eyelashes look, and the brush is great. But it's just too darned clumpy for me.
M.A.C. Eyeshadow in Tempting.
I've been in love with this shade for about 10 years now. I use it in my crease (when I'm doing full eye makeup) or all over the lower part of my lid (for a quick-and-dirty approach), and it's pigmented enough, but not too much. I think the warmth and slight shimmer really accent blue eyes, in particular.
the Balm's Mary Lou Manizer Luminizer.
I gushed about this double-duty product last week. For me, it's the perfect all-over eye color. I like warm colors, as I think cool colors wash me (and most people, actually) out. It stays on amazingly, and it's a great base for layering.
Urban Decay's Eyeshadow Primer Potion in Greed.
After
fourteen hours of labor and two hours of pushing
, the nurses were preparing me for a c-section. My adorable momma looked over at me, as I was gripping the side of the bed in pain because my epidural had worn off, and said, "Ryan, how is it that your eyeshadow still looks fabulous?" Swear to God. (And you can totally still see it in some of the
pictures
.) This primer is totally the reason that the rest of my face makeup might be totally gone, but my eye makeup is still hanging on. It also provides a fantastic base color for the days when I don't have a lot of time to spend on my eyes. I've told you guys about this stuff before, but right now is the perfect time to buy it - it's 50% off!*
Urban Decay's 24/7 Glide-On Eye Pencil in Bourbon.
This stuff goes on amazingly, is easy to blend (but stays put if you don't want to blend), and lasts forever. This color, in particular, is gorgeous and goes so well with the other warm colors I gravitate toward.
M.A.C. Eyeshadow in Retrospeck.
To the extent you're not into the highlighter/eye shadow duo, this color is a fabulous alternative. I've used it forever, and it's almost identical to the Mary Lou Manizer - maybe just slightly more pigmented.
* Same as before, I have definitely
not
been compensated to tell you about any of these products. I just totally dig them and wanted to share. Over and out.