We got home yesterday afternoon from our very first vacation as a family of three. And forgive me for bragging, but we pretty much nailed it. Minus a few diaper blowouts, my fear of giving Gracie a sunburn, and the fact that the island was so ridiculously crowded we could hardly find a place to eat.
We drove down Thursday, grabbed some dinner, checked into our hotel, and promptly crashed. I had forgotten how noisy Grace is when she sleeps, so Momma didn't sleep very well. (Although we may or may not have snuggled her up in our bed with us for a little while, which more than made up for the sleep we lost.)
We spent Friday at the beach, which was a blast. Apparently you can't put sunscreen on babies until they're six months old (thanks so much,
Emily
, for the tip!), so we spent most our time under a large pop-up canopy we brought with us to keep the little love out of the sun.
We did venture out into the water for a few minutes, and sweet girl loved it.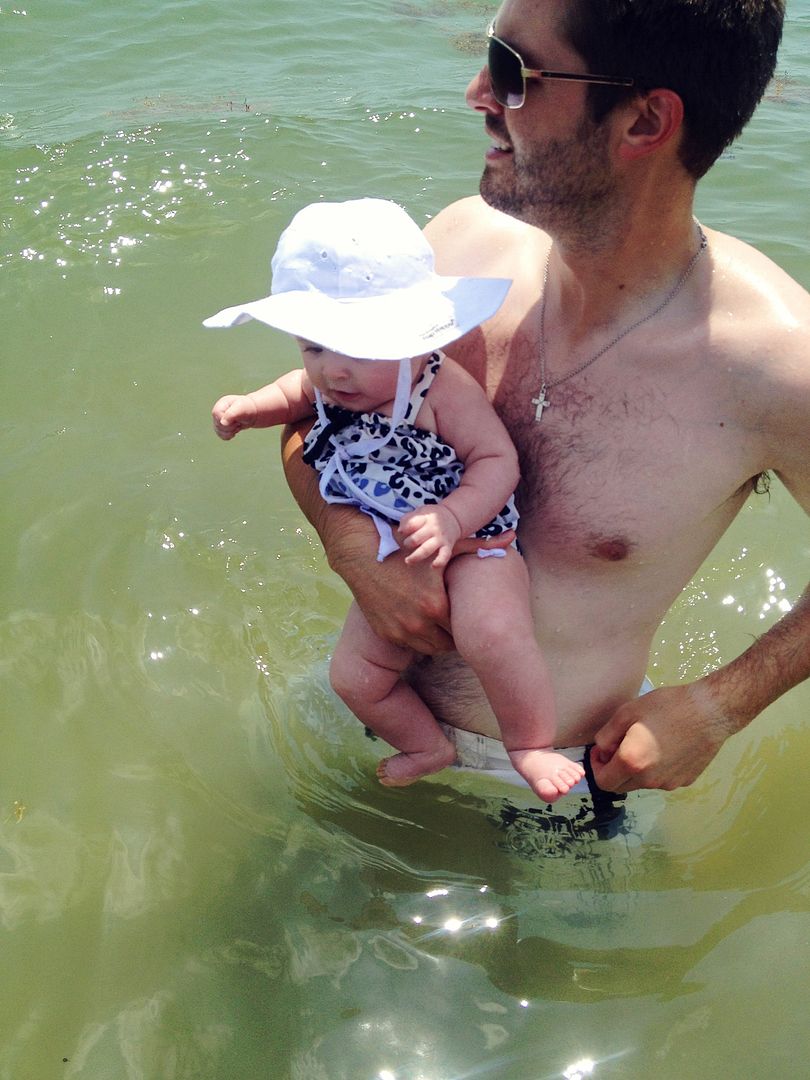 Doesn't she look absolutely delicious in that little floppy hat? Kill me...
It didn't take long for the breeze to send her into dreamland, so she snoozed away in her Rock 'n' Play while the rest of us played around in the water.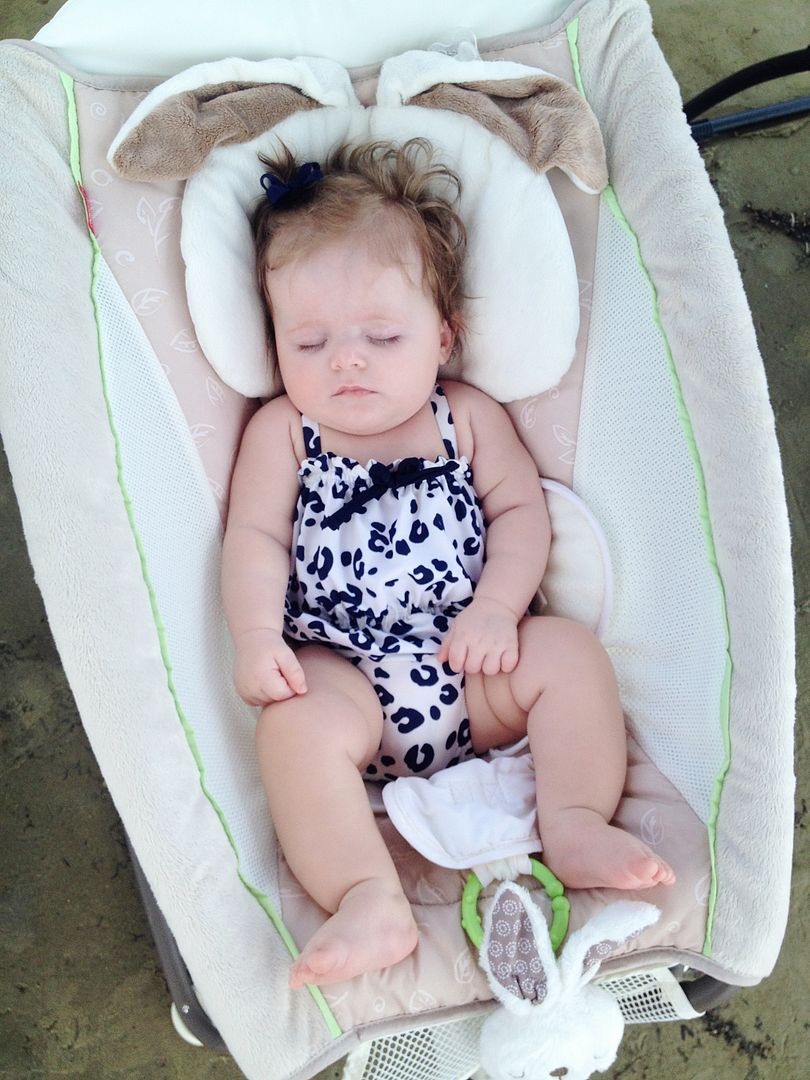 After a surfside diaper change (not as bad as I had feared), we stripped her down to her diaper, stuck her in my beach chair, and let her continue to doze.
Micah's brother's little boy had a blast shoveling sand and tossing it into the ocean.
(Aren't they such an adorable family? Landyn's got that serious face mastered, y'all.)
And Micah and his dad and brother fished and managed to actually catch a few.
After we got back to the hotel and managed to get cleaned up, the restaurants along the seawall had already begun to fill up. So we ended up at one of the fancy restaurants (in some not-so-fancy clothes) and enjoyed some delicious seafood. (I swear, if I could live on fresh shrimp and scallops every day, I'd be in a perpetual state of bliss.)
The girls left the boys to fish the next day while we headed to the aquarium and rainforest at Moody Gardens. If you've never been and you find yourself in Galveston, you should totally go. The rainforest, in particular, was super cool. I was so enthralled with all of the animals (who, incidentally, were just hanging out in the trees completely unrestrained. I almost ran into a monkey and realized that it probably wasn't smart to bring my four-month-old to a place where she might get pooped on my a flamingo. Oops!) that I forgot to take any pictures.
Well, except for this one.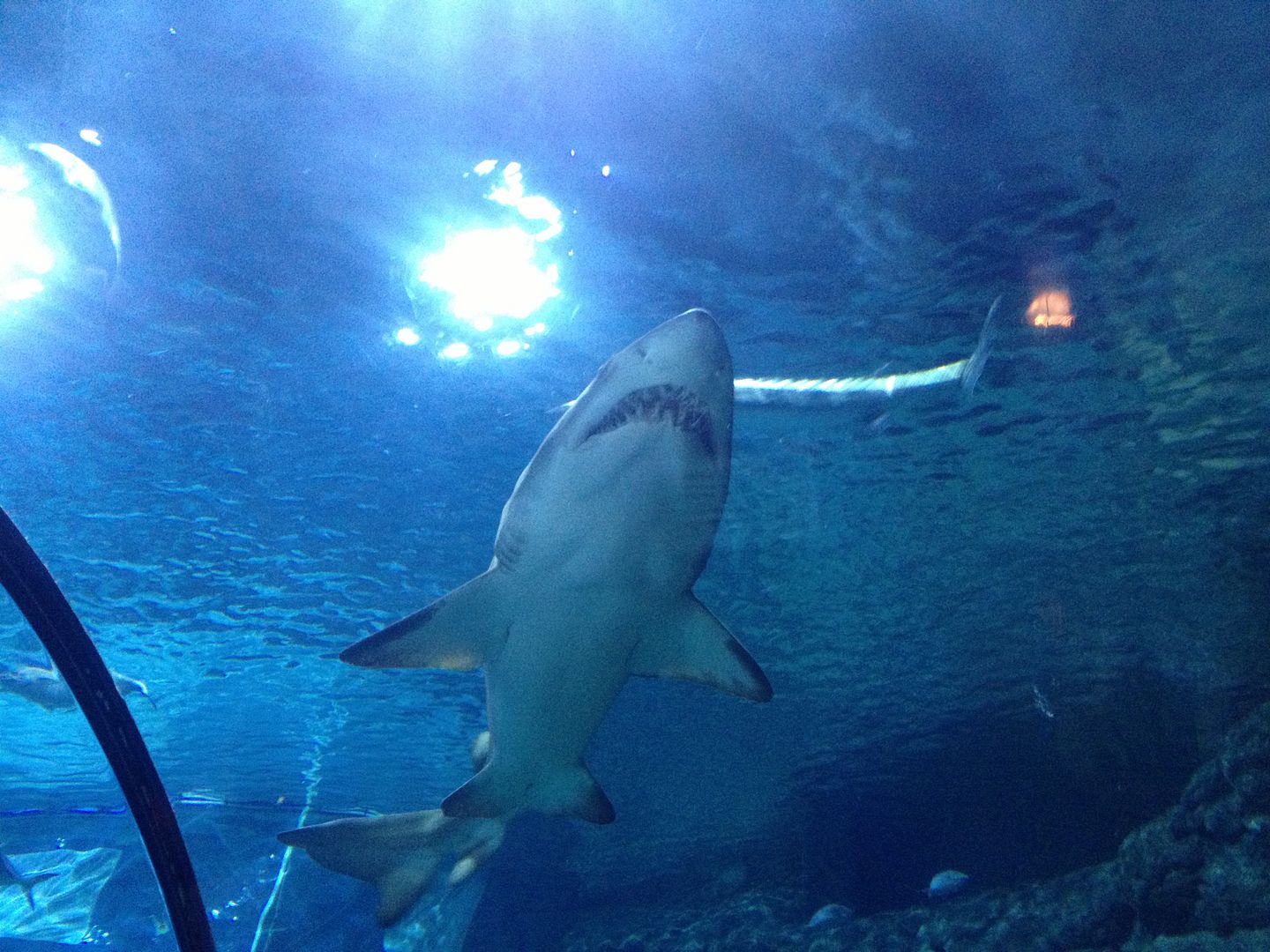 I apologize if I just gave you a heart attack.
(Actually I'm not. That was totally the point. :))
I have this weird love/hate relationship with sharks. I'm so fascinated by them, and they don't make me fearful of the water, but when I see them up close, or even on TV, I'm completely terrified. Something about that pointed nose and those teeth.... so creepy. I can't even begin to handle Shark Week.
Saturday's dinner experience was a repeat of Friday's, so we ended up ordering in and hanging out in Micah's parents' hotel room. I swear, you guys... if there was an in-law lottery, I totally won. They're the most wonderful people on the planet, and we had such a good time visiting with them.
We headed home on Sunday and made it home (after only one diaper blowout - so very un-fun) with just enough time to get all of our clothes washed, wash some bottles, and catch the new episode of Dexter (holy. cow.).
Overall a fabulous weekend and a great little getaway. But I think it'll be awhile before we venture out of town again. Vacations with babies are
exhausting
!
(P.S. Today is my eleven year date-i-versary with Micah. You can read all about how we got together
here
and
here
. I'm a lucky, lucky lady, you guys.)