This picture.
She was actually doing really great at first, but then Santa pulled his beard out of her hands and she turned into the spawn of Satan. Because
obviously
beards are for pulling.
Tarte Amazonian Clay 12-Hour Full Coverage Foundation.
I've been a fan of MAC and BareMinerals foundations for years, but I had been hearing great things about this foundation, and I decided to give it a whirl a few months ago.
Y'all.
There are no words to adequately convey the depth of my love for this foundation. The coverage is great, the finish is flawless, and they have a zillion shades, so you should definitely be able to find one to match your skin. Plus, it stays put. At least as well as the
MAC Pro Longwear
that I've been using. Consider me an official convert.
After trying it out in the store and finding my shade, I've been buying it online from Sephora or Ulta (yay, free samples!), but if you buy direct from
Tarte
, they've got it on sale for
30% off
right now! If I hadn't just ordered two more tubes last week, I'd definitely be taking advantage of that.
And if any of you find that you're a Light Honey, let me know. I bought that one and used it for a few days before realizing that it was the WRONG color for me. I'll send it to the first person who comments that they want it. :)
Pandora's Peaceful Holidays Station.
Amen. That is all.
Liz Earle Cleanse and Polish.
This came in my very last
Birchbox
(I suspended my subscription for awhile), and I fell in love the first time I tried it. This is, by far and away, the
BEST
face cleanser I've ever used. It's a thick, creamy cleanser that you massage onto dry skin. Once you've massaged it all in and loosened up the makeup/oil/etc., you take the muslin washcloth that comes with the kit, run hot water over it, and then buff it over your face in small circular motions to gently exfoliate and cleanse.
I'm telling you guys... my skin has never felt softer.
PLUS
, the other products I use on my face seem to work much better now that I'm applying them to a more uniform surface. My acne has subsided, and my pores look smaller, and it's all just very, very good. It's pricey-ish ($24.50 for the starter kit that comes with the waschloth, and then $21.50 for the cleanser thereafter), but you don't need much, and for me it's just worth it. I have normal to oily skin, though, and a friend with dry skin wasn't in love with it. So keep that in mind.
Rewined Candles.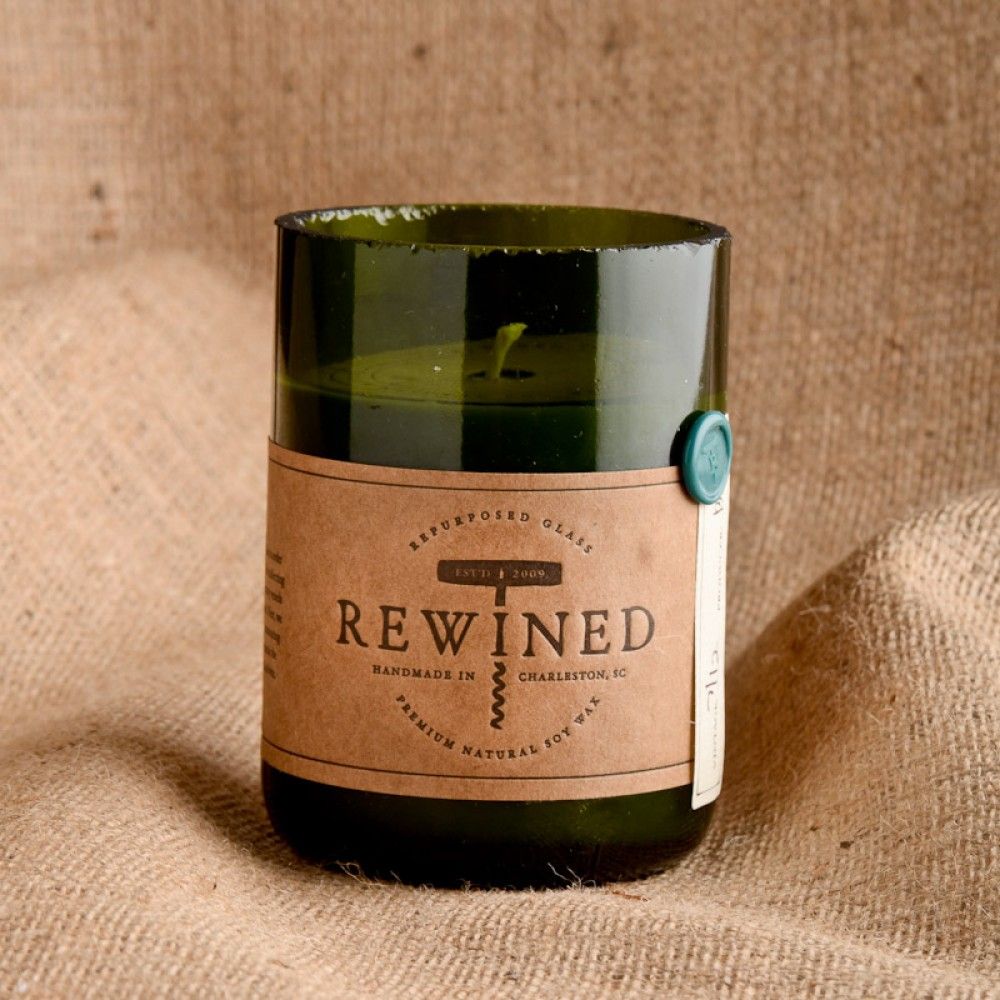 These are "wine"-scented candles poured into recycled wine bottles, and they're just so much fun. Plus, they smell fabulous. I'm a fan of the Riesling and Champagne scents.
So those are the things that are floating my boat right now. What are you guys loving lately?