*** First of all, I can't thank you guys enough for your sweet comments in response to Tuesday's post. Seriously. Y'all are the very best. Mimi's still in ICU for now, and I will definitely keep you all updated on her progress.***
You guys thought I had forgotten to tell you about our Vegas trip, didn't you?
I totally did.
But then I remembered. That counts for something, I say.
Truthfully, you weren't missing out on anything scandalous. Micah and I are so very un-Vegas, so we kept things pretty tame. We mostly just ate a lot of (admittedly overpriced) food and walked up and down the strip. I sometimes remembered to bring my big camera, but I often forgot. So here's what I ended up with.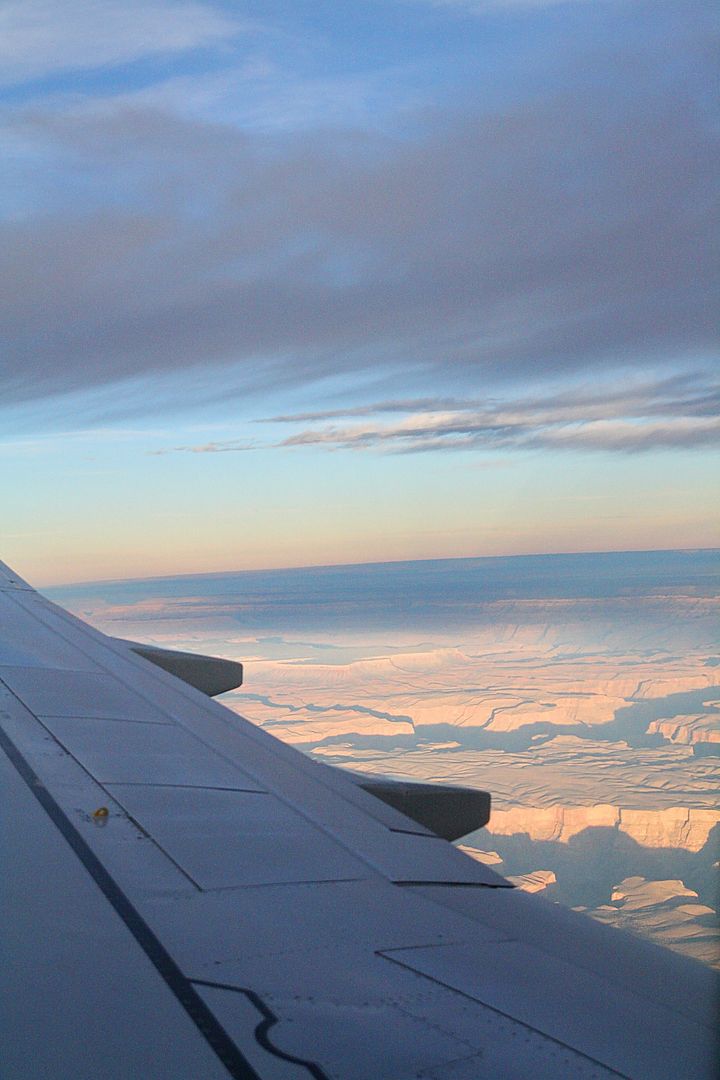 As we were flying over portions of the Grand Canyon, I made Micah get my camera out of the overhead bin so that I could snap a few shots through the window.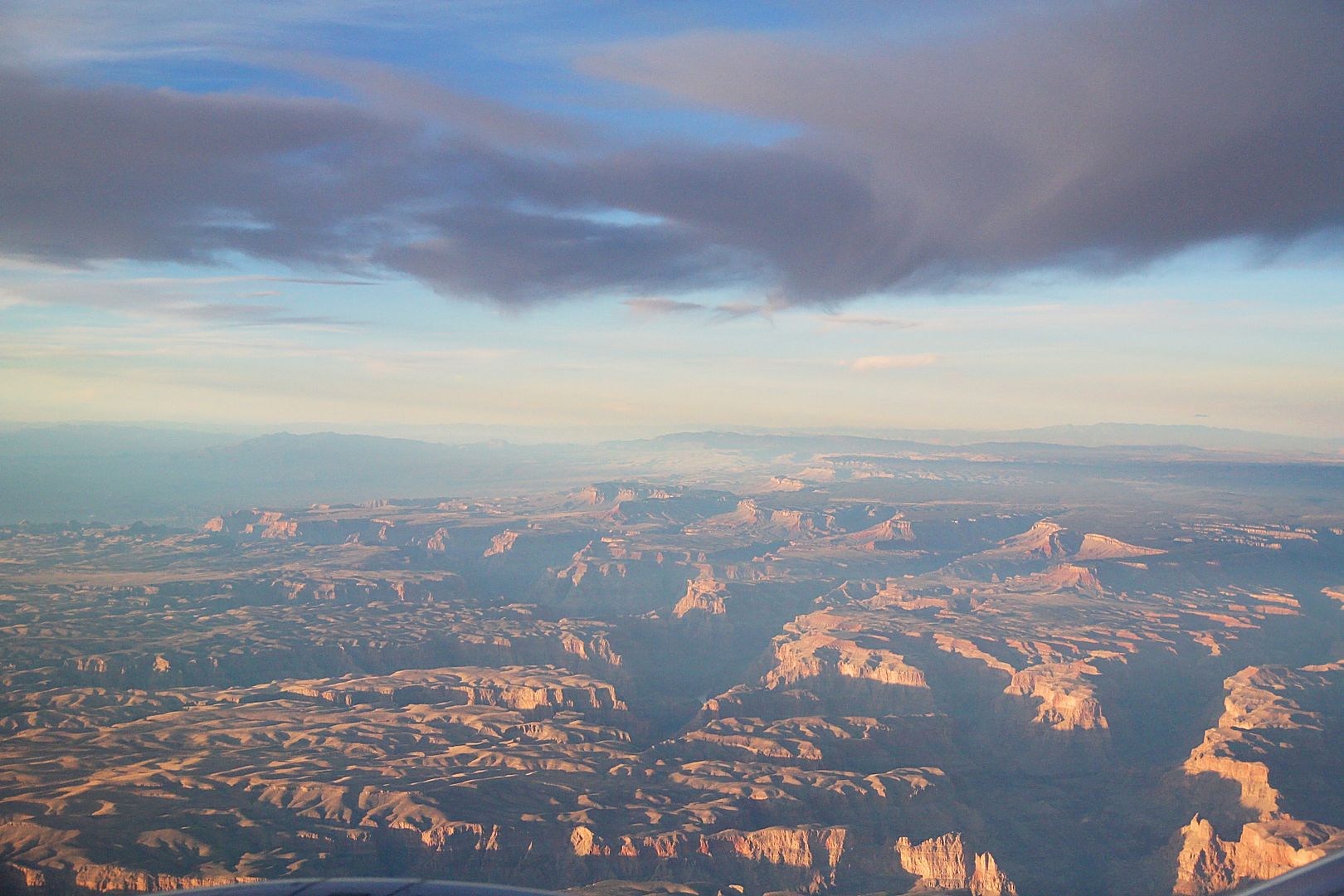 Isn't it insane?
I'm not sure why I wasn't expecting this part of the country to be so beautiful, but I was
enamored
. For a girl who lives in a place where everything is flat, the mountains were just breathtaking.
Enough with the landscape. You want slot machines.
When we landed, we headed to the Hilton Elara. (In exchange for our excellently-priced, fabulously large hotel room, we had to sit through a timeshare pitch, which was fairly entertaining.)
This was the living room portion of our suite.
It had electric shades and a projector TV, plus a kitchen and a jacuzzi in the bedroom. Ha.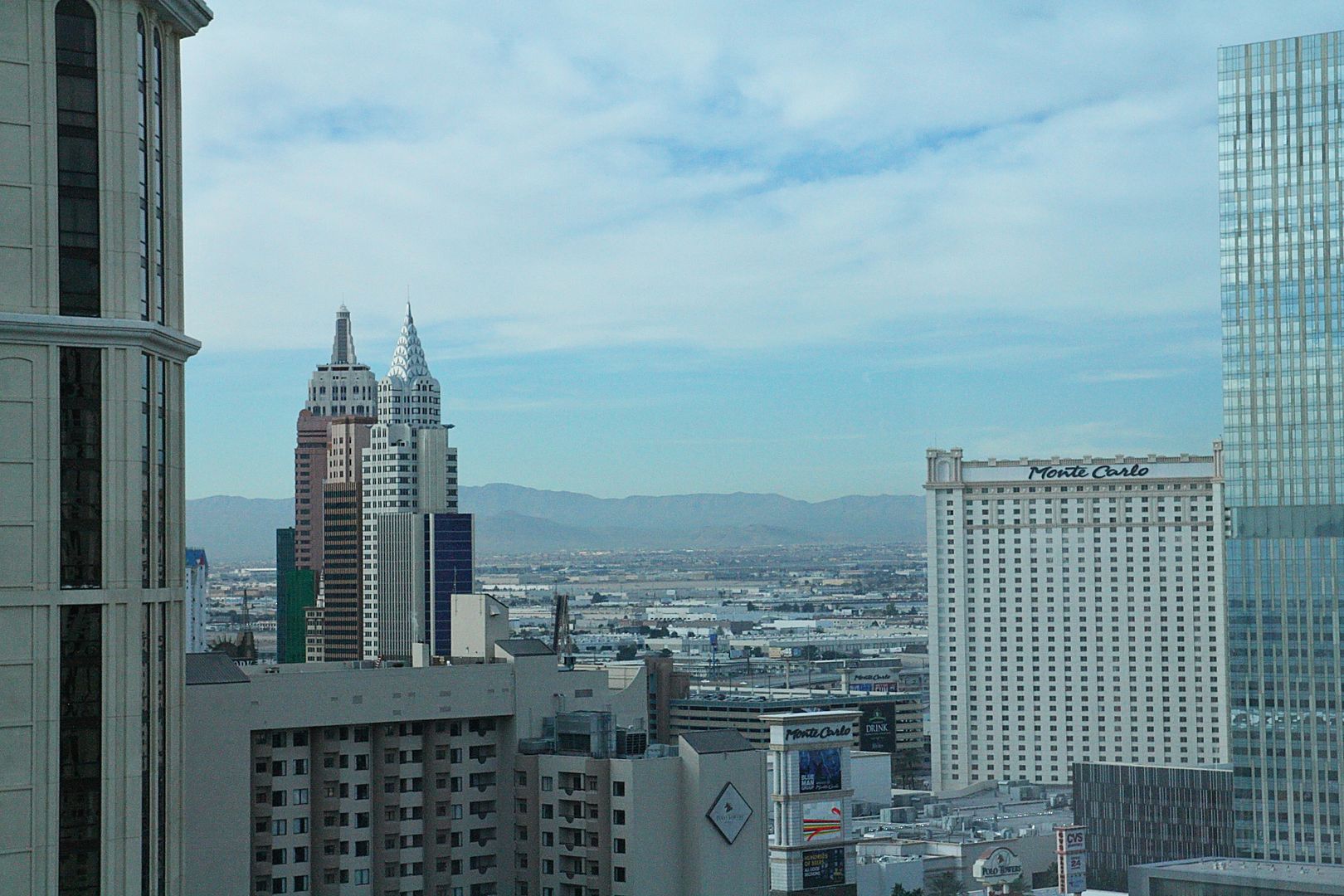 Our view gave us another peek at the mountains, which surrounded the city. Again... insane. (I feel sure that those of you who live in this kind of a landscape probably take it for granted, but take it from me... it really is beautiful.)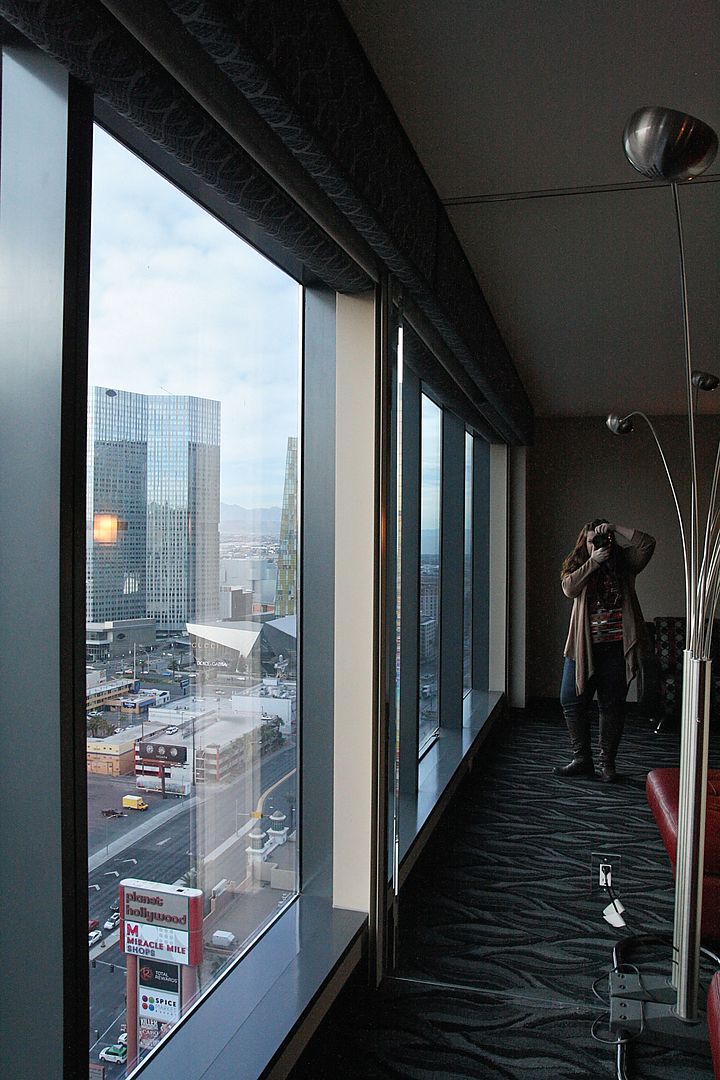 (Well, hello there.)
We basically just dropped off our stuff in our room and then headed back downstairs to go explore. The Elara is connected to the Miracle Mile shops, which were fun.
(Loved the fake sky ceiling.)
Since it was already dark outside, I didn't think it'd be worth lugging my camera around, so I didn't. Sorry for the iPhone pictures, y'all.
The first stop was The Bellagio. Obviously.
In Terry Benedict's hotel, someone's always watching.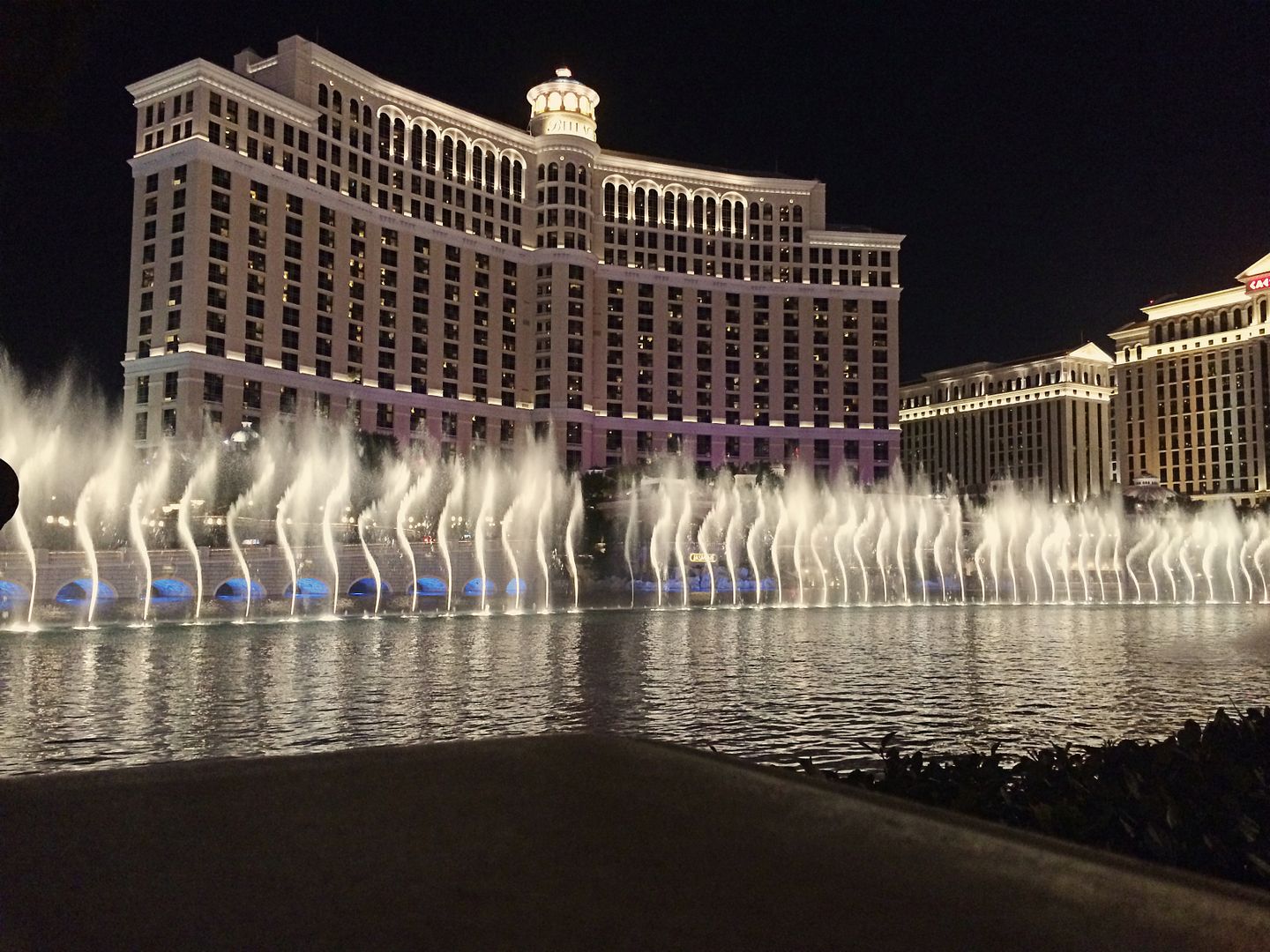 The fountains were every bit as wonderful as I had imagined. The first time we saw them, "Luck Be a Lady" was playing, which was just perfect. And I felt so Ocean's Eleven, it's not even funny.
When we walked inside, I snapped a shot of the incredible Chihuly display in the entrance.
So beautiful.
We walked around and took it all in. The only casinos I've ever seen were dark and dank and smoky and nothing like the bright, beautiful, coffered-ceilinged extravagance of the Bellagio.
We had dinner at Fix, which was only okay. Micah had steak, and I had scallops.
At this point, things get pitiful. I was still battling a cold at that point, and a headache, my cold medicine, and the time difference hit me like a brick. It was only 8:00, but I could barely keep my eyes open. So we hightailed it back to the hotel.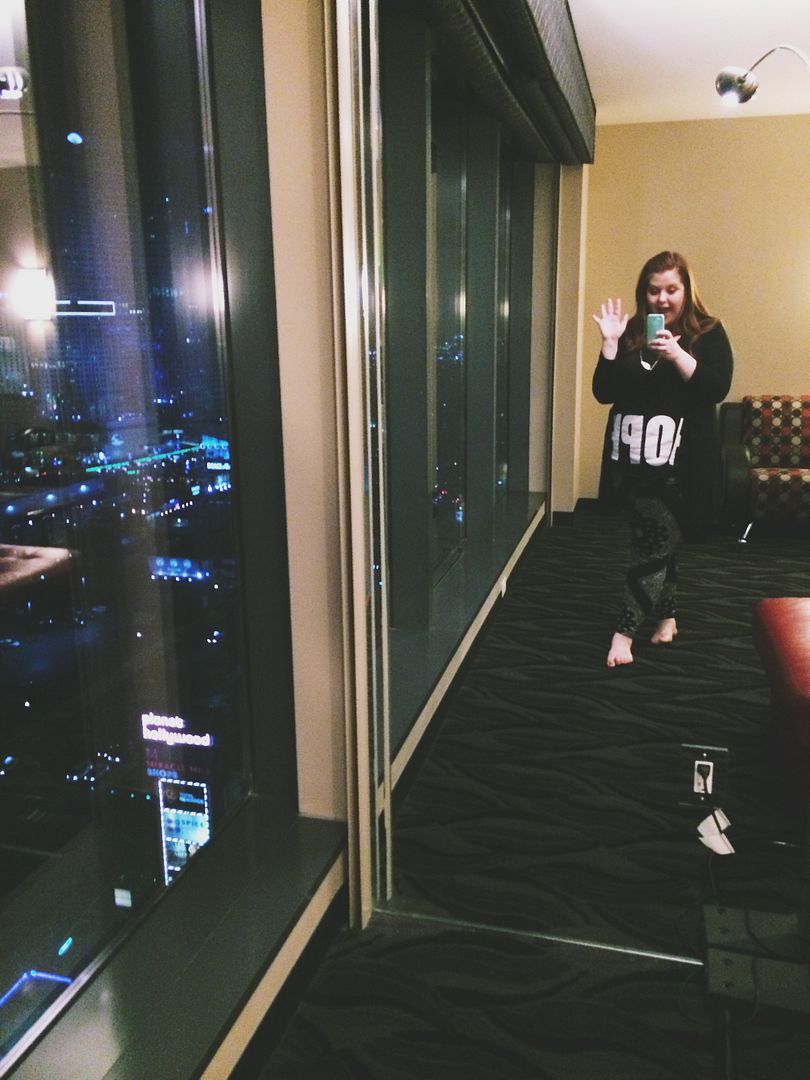 I managed to stay awake maybe another 30 minutes before I crashed. (I do realize that this makes me an eighty year-old.)
The next morning, we woke up and headed to Paris for breakfast.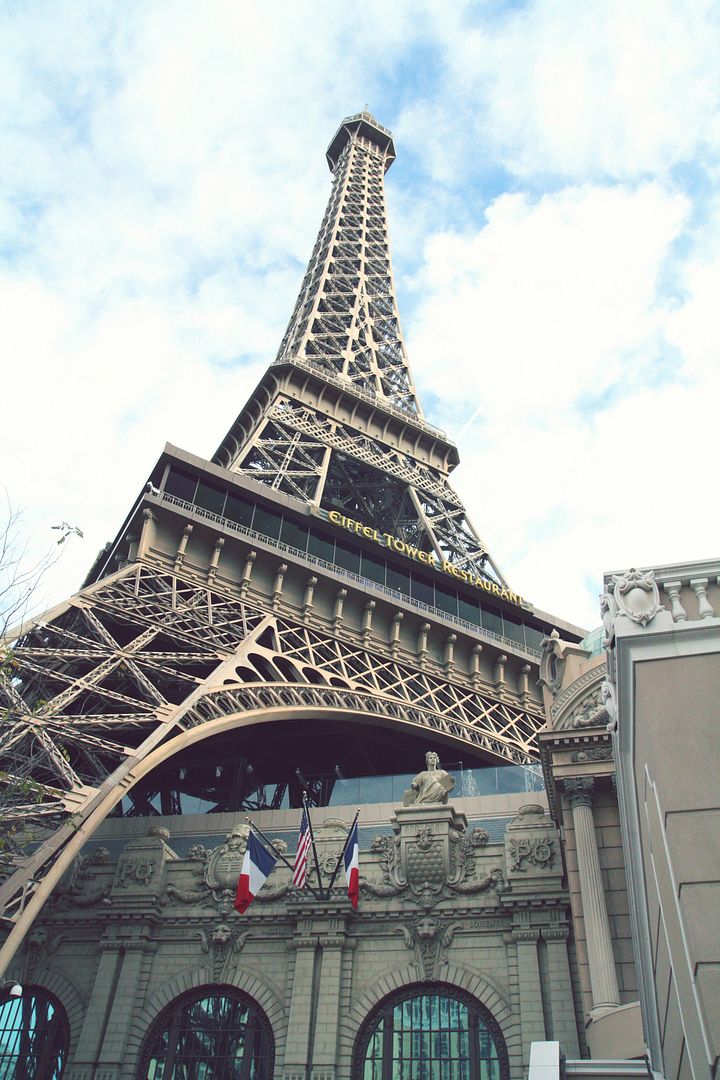 Vegas's version of the Eiffel Tower wasn't
quite
as impressive as the real thing. But almost. ;)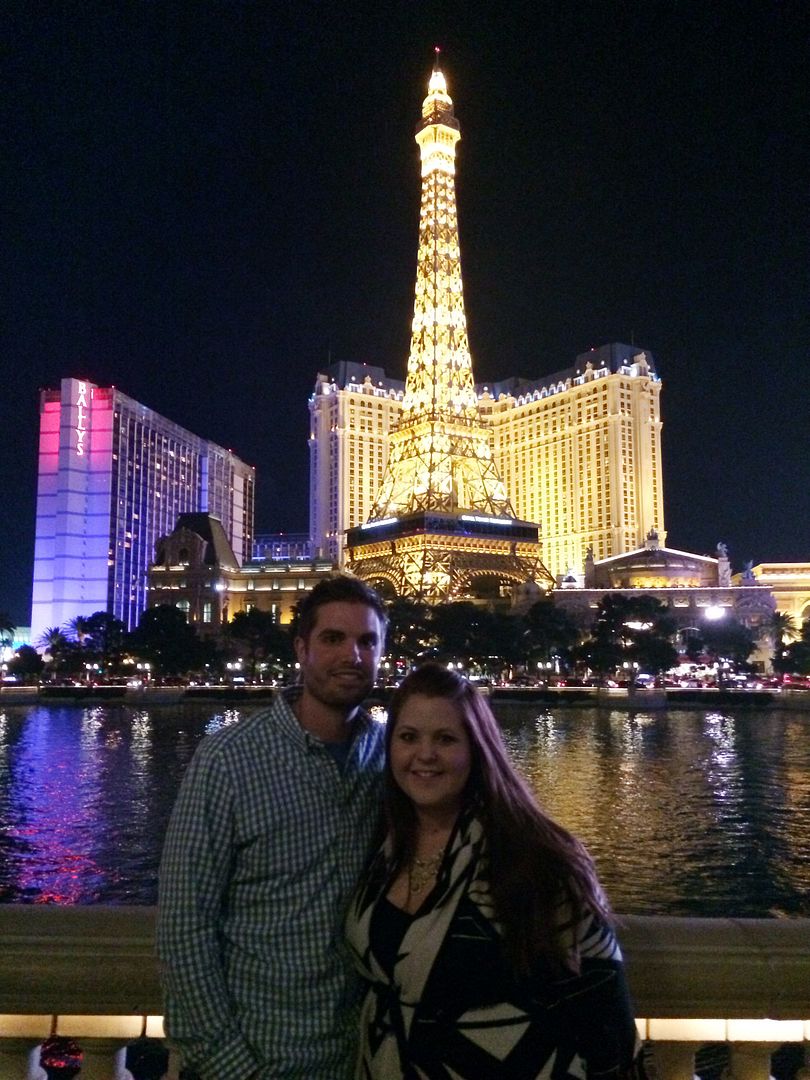 (Here it is at night.)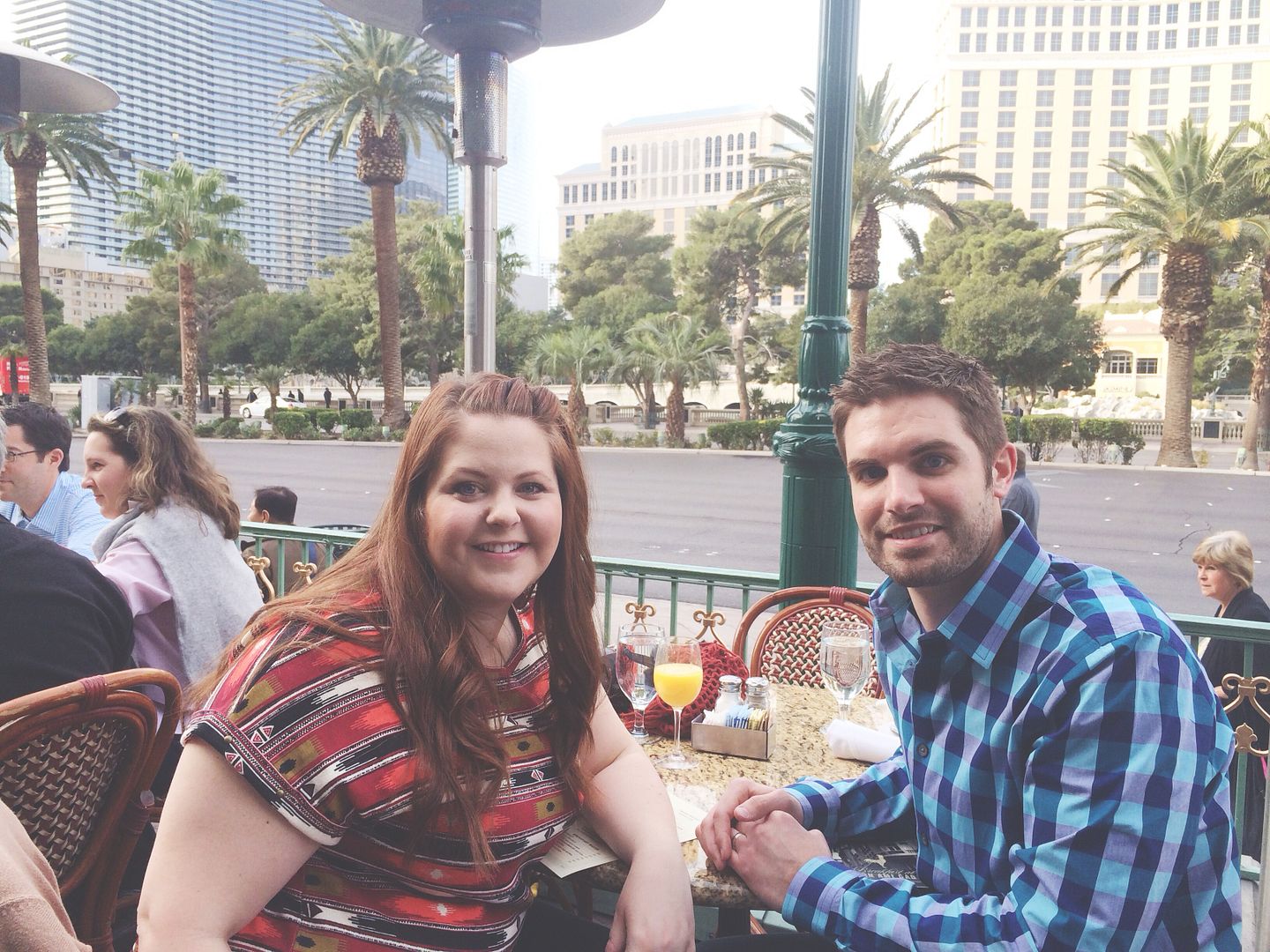 Breakfast was the best meal of the trip: Nutella waffles for me and blueberry french toast for Micah. If you're ever in Vegas, you seriously
have
to have breakfast at Mon Ami Gabi.
After breakfast, we pretty much just people-watched and explored all of the hotels.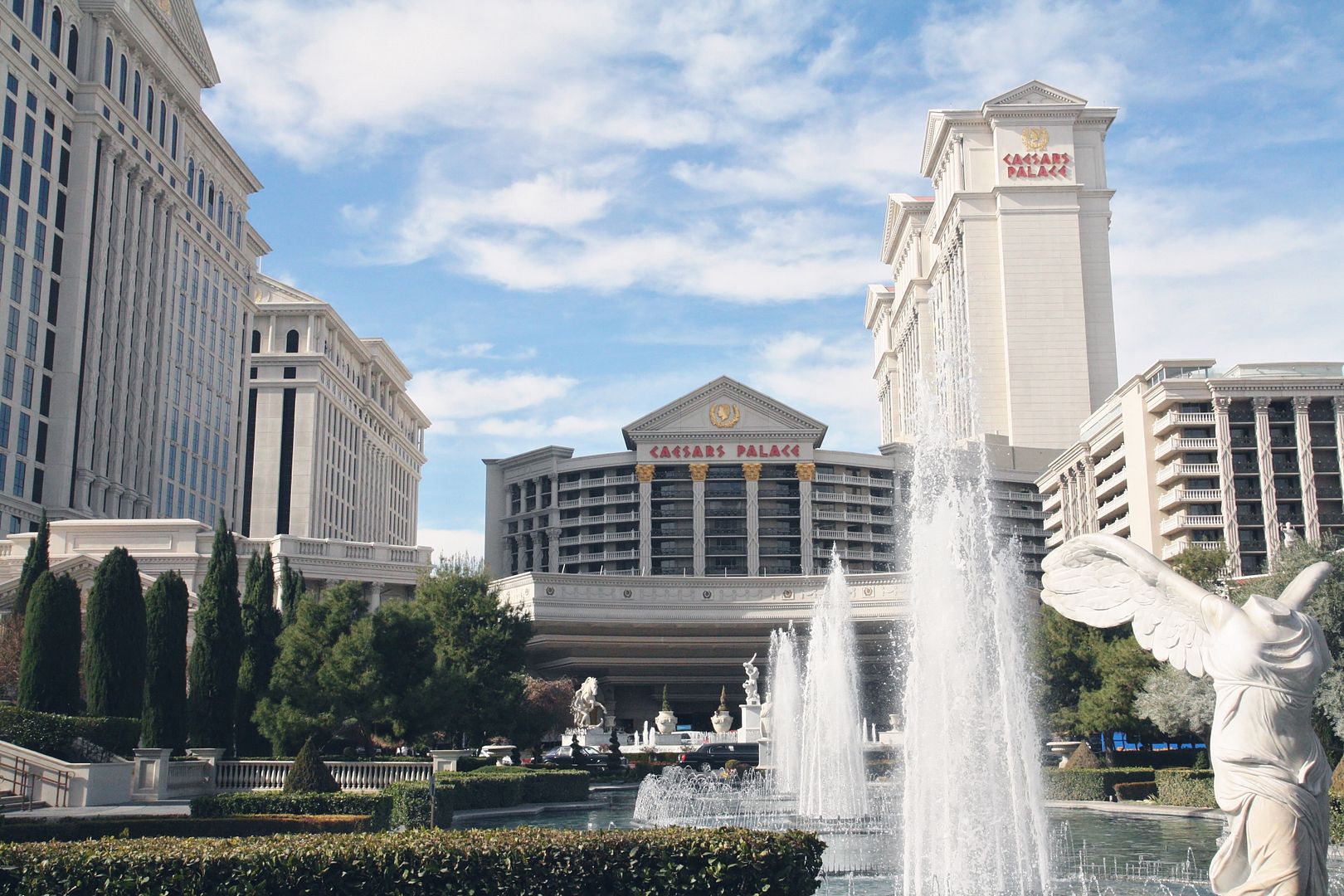 Caesar's Palace was shockingly large. It was so big that I got overwhelmed and didn't even go in. This was unquestionably an error in judgment and a result of pure laziness and hunger. Plus, why are there no benches along the strip? Sometimes a girl just needs a minute to
take it all in
.
The strip really is a fun place to be. The buildings are pretty to look at, and the people are... entertaining. I never snapped any shots of all of the... performers, but people dressed up in costumes (most completely PG) lined the strip, soliciting money for pictures. (And probably other things, although I never was able to identify any prostitutes. I'm sure I saw them, but there were plenty of tourists dressed in next to nothing, particularly at night, so they blended in.) There were tons of families because Vegas during the day really is pretty family-friendly.
For lunch, we went down to the other end of the strip to New York, New York.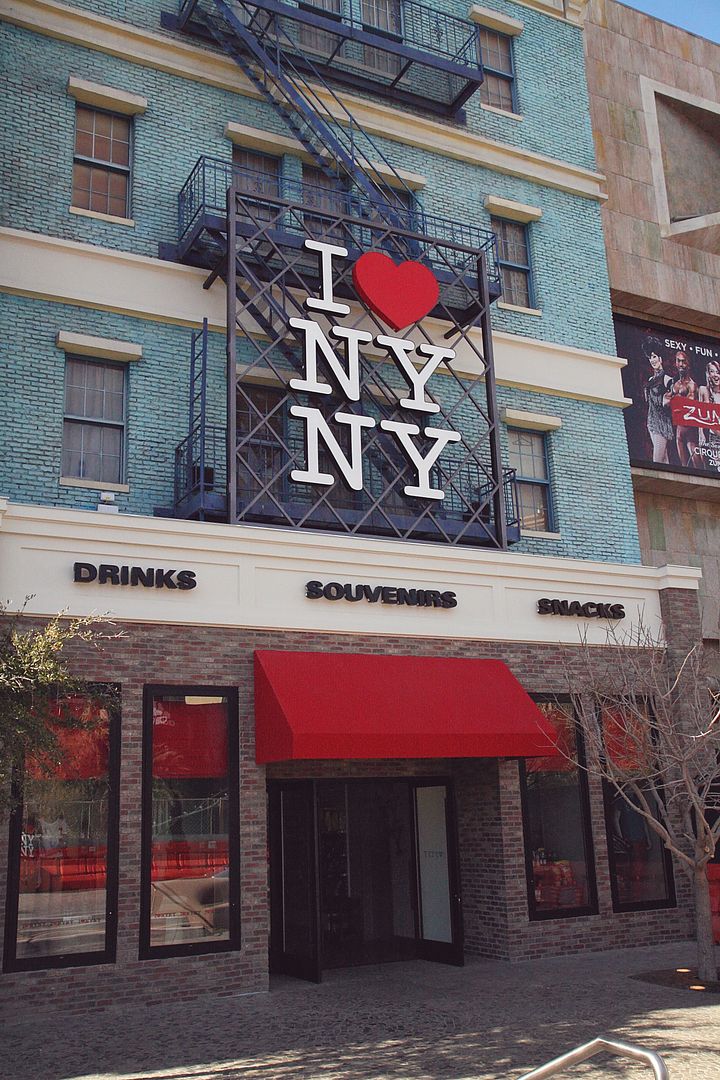 (This isn't the hotel - just a souvenir shop.)
This casino was really fun, with different areas corresponding to different parts of Manhattan. We ate in Little Italy (which was a
far cry
from the actual Little Italy... ick).
After that, we had to head back to the hotel for the timeshare pitch. After standing firm for nearly two hours, we rested a bit, got dressed, and headed back to the Bellagio for dinner again. This time, we ate at Jasmine, which overlooks the fountains and boasts pretty good (yet still overpriced) Asian fusion.
After dinner, we made our way to the theater for the "O" Cirque du Soleil show.
(We were making our O faces. Get it??? Ha.)
Y'all.
It was one of the most incredible things I've ever seen. I heard great things about most of the other Cirque shows in Vegas (a lot of recommendations for Love, but I'm not a huge Beatles fan), as well, but we picked O because it has a water element, and I had a sneaking suspicion that it'd be pretty epic. It totally was. The tickets were pricey, so be warned, but I thought it was more than worth it.
After dinner, it hit me that my
30 Before 30
list required me to actually
gamble
in Vegas.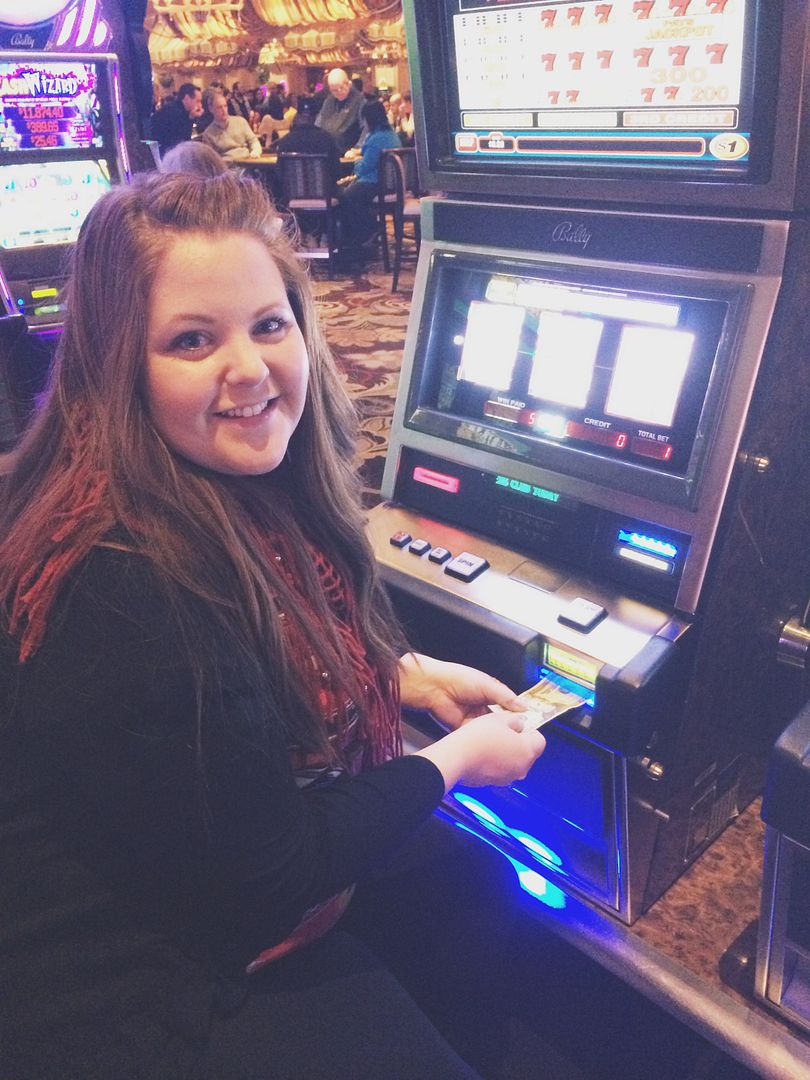 Mission accomplished! We spent a grand total of $30 in the casino. Ha.
We spent the rest of the evening (I think we may have made it to 10:30?) walking around, avoiding the plethora of people trying to hand out flyers for nightclubs and other
adult
establishments and services, and gawking at people. We had an 8:00 flight in the morning, so we really wanted to get to bed at a reasonable hour.
All in all, it was a very fun trip. Vegas is a cool city, and I know it has so much more to offer than what we saw in a day and a half. Maybe next time, we'll even venture past the strip. :)