My office and Gracie's daycare were closed yesterday, so we spent the day in our PJs playing and giggling and snuggling. (And I squeezed as much work as I could during naps because it was just one of those days. Law firms never really close, even when the doors are locked.)
I got caught up on Downton Abbey and... Keeping Up with the Kardashians (yes, I do realize that I'm what's wrong with America). I did not watch The Bachelor because, for the first time in SEVEN YEARS, I have zero desire to tune in on Monday nights. None. And I'm pretty okay with it.
What I'm not okay with?
How ridiculously adorable this little girl is when her daddy plays peekaboo with her from upstairs.
I mean, ridiculous, right? That little giggle just kills me. I hope the sight of her parents always makes her so happy. (Although I have a feeling we'll be getting entirely different looks from her in about twelve years.)
It hit me yesterday that we're only three months away from her first birthday. After I stopped sobbing (totally kidding... or not), I realized that I'd probably better start planning her party. I'm not super theme-y, so we'll probably just pick some colors, order a cake, and call it a day. Someone punch me if I start getting silly. I always told myself that big, elaborate soirees for one-year-old children were needless and that I'd never drop thousands on a party she won't remember. But dadgum, y'all. I spent, like, an hour last night looking at paper straws. PAPER STRAWS. Save me.
I also wanted to share this little thing I've been doing every day since the start of the new year.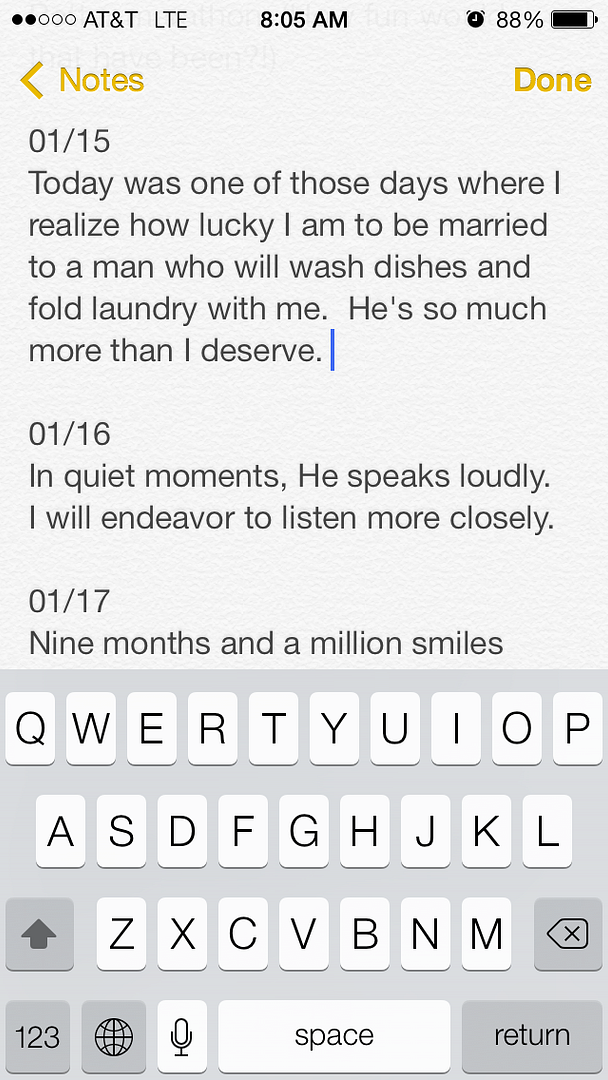 I've been jotting down just a short, sweet thought each day in the notepad feature on my iPhone. Every week, I email them to myself, and I'm hoping I'll have 52 weeks' worth of thoughts at the end of the year. With respect to compiling them all together, I'm contemplating a paper journal, a Project Life notebook, or a photobook (inserting photos in between some of the entries seems like a nice touch). But mostly I'm just trying to stick with it each day. Do any of you have fun, little rituals like this?

Alright, friends. Go forth and make it fabulous Tuesday. Or something like that. :)