I am a terrible party planner. I've said it before, and I really mean it. Without my two co-hosts, the sip-and-see we threw for my sister-in-law this past weekend would have been a colossal flop. Thankfully, it was a team effort, and everything turned out really sweet.

So... a few pictures.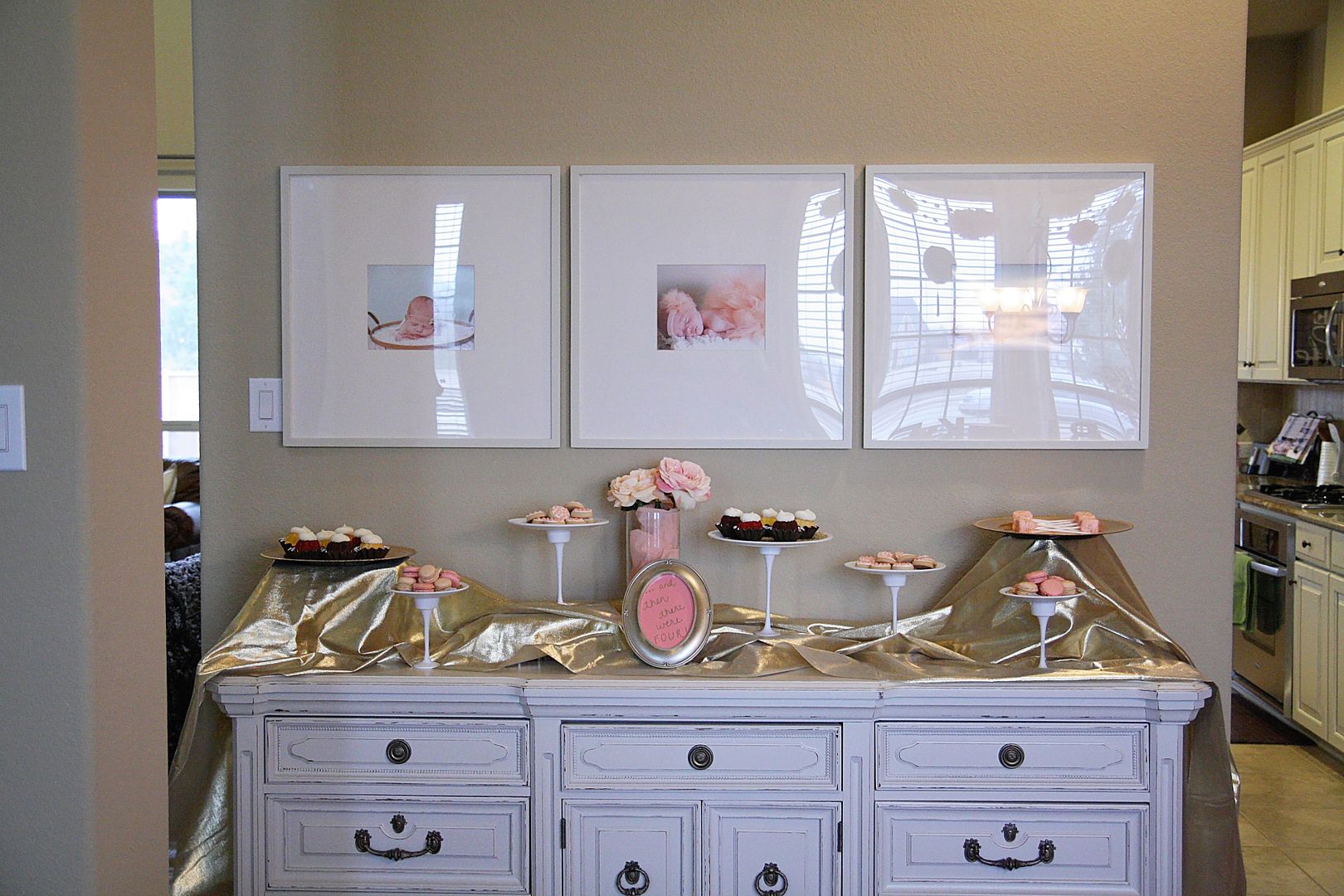 Pardon the insane glare from my windows.
We went for a super girly dessert buffet because who doesn't love French macaroons? And mini bundt cakes. And coated marshmallow pops. And iced shortbreat cookies.
I actually made the cake stands out of Dollar Tree candle holders and $2 plates from Target. I attached them with some epoxy and then primed and spray-painted them. Hence the gold doilies... apparently you're not supposed to serve food on spray-painted surfaces? :)
My stupid chandelier made it ridiculously hard to get a picture of the cake and punch table. It really was adorable. (Also, apparently it's still Christmas... I forgot to switch out my "Peace" letters. Ha!)
We served pink lemonade mimosas with fresh fruit. They were really pretty and
so
delicious. And these plastic flutes made them really festive.
I found these peach and gold paper straws on
Etsy
. And then I dipped a mason jar in some gold glitter at the last minute to make a festive container. My table runner is still
covered
in gold glitter. :)
Aren't these letters so adorable? My friend Lauren made them. We had originally planned on making them into a banner, but they were too cute standing up like this.
It's not a baby shower without tissue paper poms and paper lanterns.
I dropped the ball and totally forgot to get pictures of the precious favors Faith's sister, Rachel, brought - E.L.F. nail polishes! We put them in a fun peach polka-dot bucket and reminded guests to grab a couple on the way out.
I also forgot to get pictures of the food, but it was
really
yummy. We did chicken salad on Hawaiian rolls, potato salad, broccoli pasta salad, deviled eggs, cornbread, and sweet peach tea. Lots of southern food for our "Georgia" peach. (Georgia is Blakely's middle name.)
Anyway, it was a blast, even though the crazy weather kept a lot of people snuggled up at home (Blakely, what is it with you and the weather, girl?). Thanks again to everyone who braved the ice to stop by!
And now that this party is in the books, I've got to get my kid's first birthday bash planned. Too bad I won't have my wing-girls to help with that one... :)