This post isn't at all sponsored. Just wanted to share this crazy thing I did with you guys because I figured you'd find it entertaining at worst and informative at best.
About six months ago, the signs that I am approaching 30 (two days, y'all!!!) became extra apparent. I mean, obviously the
gray hair
. My complete disdain for the majority of Top 40 music and new country artists (
ahem
, Florida Georgia Line). And the crow's feet.
Boo.
I already have a
fairly consistent skincare regime
, but I asked the girl who does my facials one day what I could do to get the most bang for my buck for my skin that wasn't super invasive and wouldn't require upkeep (i.e., no Botox). She suggested I get a
SkinPen
treatment, which is more generally referred to as microneedling. The awesome thing about microneedling is that you're not introducing any harmful or foreign chemicals into your body like you do with Botox and fillers. Instead, microneedling is basically a souped-up version of microdermabrasion. It's generally performed at med spas, and they run a pen-like tool (hence the name), which has a bunch of tiny needles on its tip, across your skin repeatedly. It simulates injury, so your immune system responds by pumping growth factors, collagen, and elastin to your skin to "heal" it. It was developed to help heal burn victims' scars, and some genius figured out that it could help all of us really vain selfie-takers stay younger a bit longer with no real downside (apart from cost).
The result is overall improved skin, but specifically:
Minimized appearance of fine lines, wrinkles, and acne scarring
Reduced pore size
More even skin tone
My skin has definitely
come a long way
and was much clearer than it used to be, but I still had some acne scarring, an uneven, ruddy skin tone, and I really just wanted my skin to
feel
smoother to the touch.
So my friend from work and I made appointments for a SkinPen treatment at a place here in Dallas for the Friday of Memorial Day weekend and went for it.
I'm the world's worst blogger, so I only remembered to take a "before" picture as we were in the parking lot of the spa.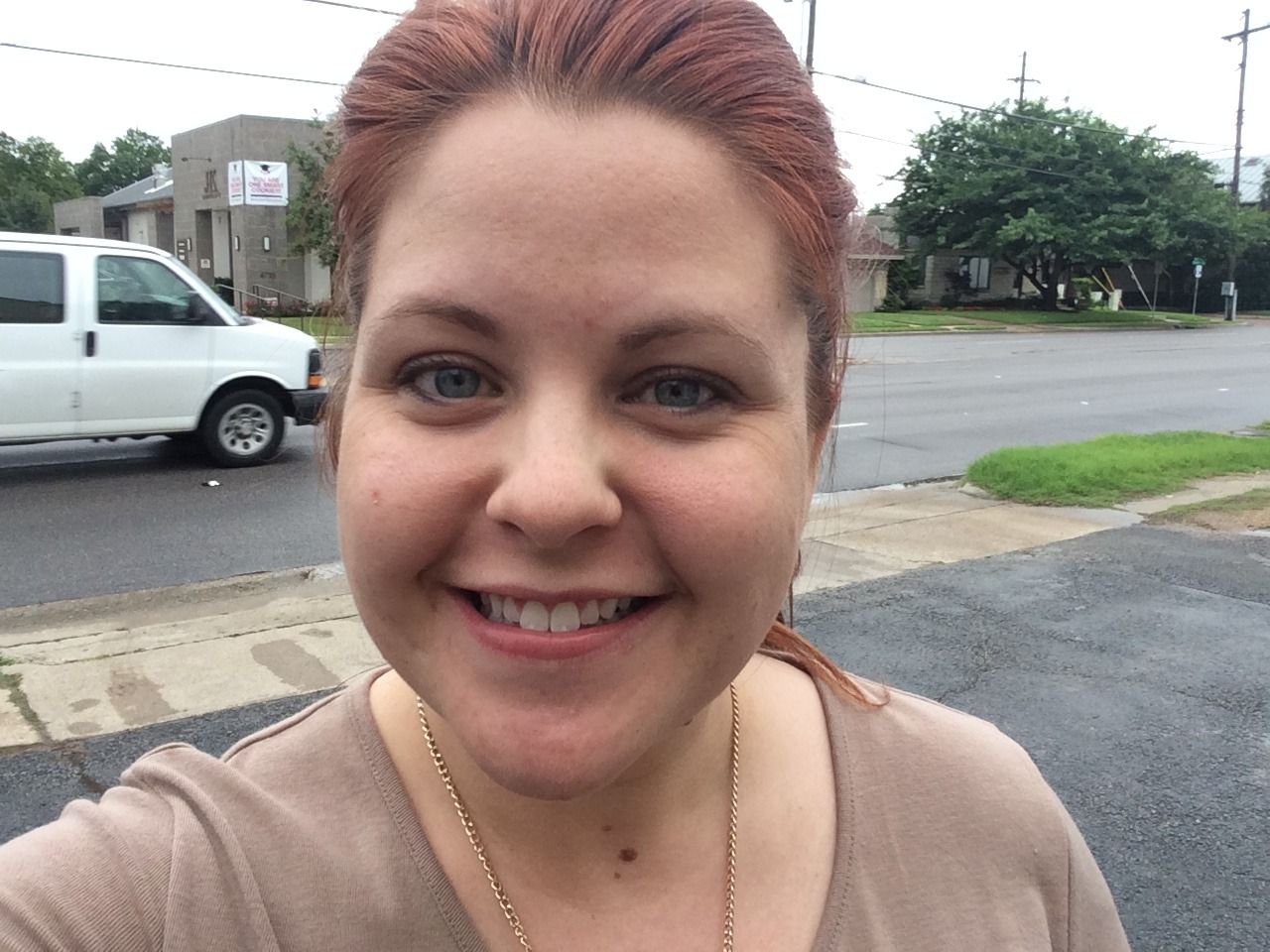 (Geez. I'm so sorry, y'all. But you can see that, while I didn't have many breakouts, my skin was very reddish and uneven looking, and my pores basically needed their own zip codes.)
When we walked into the spa, they ushered us in and applied a topical numbing cream to our faces. As you can imagine, needles freaking hurt, so they apply the cream about 15-30 minutes before your treatment to help ease the discomfort of the procedure. And it really does help, but the numbness of my face felt
so
strange.
After we were completely numb, they took us into what looked like little massage rooms, had us disrobe and slide into a comfy bed, and cover up with blankets and sheets. I honestly could have fallen asleep. This particular place applies a peel along with the SkinPen to help amplify results, so I think my esthetician did that first. Then she started the procedure.
She began systematically running the SkinPen across my entire face in lines. To be fair, it really doesn't hurt much at all on most parts of your face; it feels a lot like a Clarisonic or some other exfoliator. When she got to my nose, I got a very strange urge to sneeze, which is fairly common. And then she hit my forehead, and it began to get a little painful. Apparently, the forehead is usually painful for most people because there's less skin and more bone there. I think the numbing cream was wearing off by that point, too, and it really wasn't pleasant. But the whole process only took about 20 minutes, and my esthetician told me I must have a very high pain tolerance (I've never been told that before in my life, so do with that information what you will). One thing to note is that the procedure is customizable in that they can adjust the depth of the needle penetration depending on what kind of results you're looking for. I told my esthetician to be as aggressive as she wanted, and I'd just deal with the pain. (Again, though, it wasn't bad, I promise.)
After she finished, I got dressed and followed her to pick up some products. They recommended a growth factor serum, hyaluronic acid (which is a GREAT GREAT GREAT moisturizer to use after procedures like this or sunburns), plus a Vitamin C and E cream.
And let me tell you, this stuff wasn't at all cheap. The procedure was $250 (plus tip), and the products were about $125 total. So you're looking at over $400 after tip if you buy all the products. I just figured that if I was going for it, I might as well do it right. And this was my Mother's Day gift from Micah.
I was told the down time was "minimal" -- I'd be red and swollen for a day or two but that by day three, I'd be back to normal. And that was mostly true.
This was me right after the procedure.
Very red, very swollen, tight, and my skin felt hot to the touch.
You're instructed to ABSOLUTELY stay out of the sun, Micah wanted to take Grace "fishing" that night, so this was my solution.
Ha. I'm sure the people driving by thought I was out of my mind.
The next morning (Saturday), we had to go to my niece's recital. I was still
very
red and swollen, but I slathered on some foundation and went anyway.
Not awesome, but workable.
The next day (Sunday), I started peeling like nobody's business. So, so gross.
This picture's a little blurry, thank goodness, but it was bad. I stayed home from church and basically avoided leaving the house for the entire day.
The next day (Monday), I was still a bit red, but most of the peeling was gone, and my skin began to feel really smooth.
If I had had to go to work, I could have. Thankfully, my firm was closed that day, so I had an extra day to heal.
By the next morning (Tuesday), I was good to go. No more redness, no peeling, and a definite improvement in skin texture. But the thing about the SkinPen is that, because it requires your body's own inflammatory cascade, the results can take up to six weeks to see. I remember thinking at four weeks that the procedure wasn't really worth it because I noticed
some
improvement to fine lines, but no significant change. And the texture of my skin, while vastly different in the first two weeks, seemed to get subsequently less smooth.
BUT.
At the six-week mark, I could see major change. My pores were smaller, the fine lines definitely reduced, and the surface of my skin was truly transformed. One of the things about the SkinPen is that it's said to help the products you're already using work better. I'm definitely going to preach the wonders of glycolic acid to you guys at some point, but I began using these
Bliss That's Incredi-Peel Daily Glycolic Resurfacing Peel Pads
a few months back at the recommendation of a friend, and they are the HOLY GRAIL. Hands down my favorite product right now. And I KNOW they're working better because of the SkinPen.
So I know you've been waiting patiently for the "after" picture. I will now oblige.
So much better, right?! I haven't edited any of these pictures -- they came straight from my crappy iPhone (as did the before and progress pictures, which were also (clearly) not edited).
Definitely less red, smaller pores (though they could still be smaller), and a DEFINITE reduction in my wrinkles. The acne scarring was also reduced.
Let's do a side-by-side, shall we?
I'll take it.
And the SkinPen isn't something you have to keep doing on a regular basis. It has now been almost three months, and my skin still looks great. The girl who does my facials told me about a week ago that my skin is the best she has ever seen it. I'll probably go in for treatments twice a year or so, just to see how much more improvement I can see. The way I see it, if I take small measures to take care of my skin now, maybe I'll avoid the need for anything more drastic later. I mean, a girl can dream, right? :)
In sum, I would ABSOLUTELY recommend the SkinPen treatment to anyone looking for an improvement in their skin.
Pros
- Minimally invasive and uses your OWN immune system
- Improves skin texture
- Reduces pore size
- Minimizes appearance of fine lines and wrinkles
- Lessens acne scarring
- Quick procedure
- Minimal down time
- Minimal pain
Cons
- Expensive (but not compared to other comparable procedures, including Botox)
Have you ever done anything crazy to your skin? Would you consider a SkinPen or other treatment to combat aging?