Eeeeek!
I'm about to do something scary, y'all.
It will be scary for you, too (albeit, for very different reasons than it is for me), but I'm hoping it'll be helpful, too. I know I always love a good before and after comparison.
I'm not quite ready to do a weight loss update, only because I'm planning on doing a picture comparison at 50 pounds, and I'm hoping that won't be too far in the future.

But I do want to show you all how much my skin has improved over the last several months.
I promise I'm not selling a darned thing (the makers of the products I list below have no idea I exist), and I also promise that I recognize that my "new" skin isn't even anything special. I know most of you probably already have a much more even and smooth complexion, but for me, the change has been significant. And I don't actually think that the changes I've made have been all that onerous.


So I'm sharing, on the off chance that this is at all helpful to anyone else who struggles with their skin.
This is me, sans makeup (plus wet hair) about five months ago.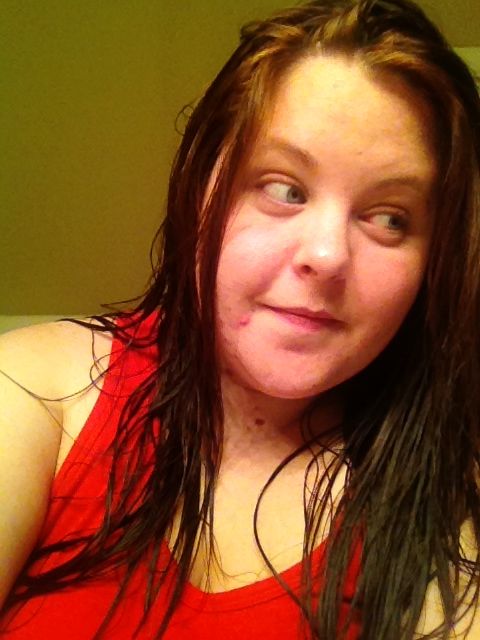 So scary, right? It's a fairly terrible picture anyway (and we've talked all about how I'm completely incapable of taking a non-awkward selfie), but I know you guys can still see the breakouts around my chin, as well as the redness and unevenness in tone. Plus, it
felt
icky. Very rough, even under a full-coverage foundation.
Here I am without makeup now. (Well, technically, here I was last weekend. But you get the idea.)
Still not perfect by any stretch of the imagination, but a vast improvement. And it really feels a
ton
better, too. I'm actually considering switching to a lighter foundation, or even a
BB cream
(even though I am still
obsessed
with my
Tarte Amazonian Clay foundation
), just to see what it looks like.
So what have I been doing differently?
Nope, no prescriptions. I
am
still using my favorite
SkinCeuticals
products:
Phloretin CF
,
A.G.E. Interrupter
(which probably isn't even the right product for me since my skin isn't
quite
considered mature yet, but I'm so in love with how soft it makes my skin at bedtime, I can't stop using it),
Retinol
, and
Daily Moisture
. But I was using all of these things five months ago, too, so they can't be the difference.
(And as a disclaimer, I realize these products are astronomically expensive. I don't pay for mine, as my stepmom gets them for me at a
significantly reduced
cost, and I'll have to find alternatives when she changes jobs.)
Here's what I think
has
made the difference:
WATER
. As a part of my diet, I strive to drink 80 ounces of water a day. That's FIVE POUNDS of water, y'all. And it sucks. I already had the bladder of a small toddler, so the frequency of my restroom visits has become laughable. But it keeps me hydrated, and my skin seemed happier shortly after I upped my water intake, so I'm giving some of the credit to the H
2
O.
FACIALS.
Since September-ish, I've been getting a facial every month or two. Not even the fancy kind, just the one offered by my massage place. (For any locals, I go to Tiffany at the Rowlett Massage Envy. I. am. obsessed. She's adorable, and she does an
amazing
facial. Best I've ever had, by far.) With my membership, it's about $60 (including a $20 tip) every time I go. (Because I already pay for a massage each month, the price of the facial is reduced). I've been skipping my pedicure to offset the cost and painting my nails myself. (I bought one of
these
on Amazon to help keep my tootsies in shape, and it's seriously phenomenal. Gross, but super effective. Like most of the other Amazon reviewers say, use it DRY.)
For me, the facials are making a
world
of difference, and I'm not sure I'll ever be able to go back to not going. The effects seem to last about three weeks for me. After that, my skin's still clear and pretty even, just not
quite
as smooth.
LIZ EARLE.
Lastly, I've been using
Liz Earle's Cleanse and Polish
cleanser (that I shared with you all
before
)
religiously.
Like seriously. I take my makeup off and exfoliate
every single night
, without fail. I also try and wash in the morning, as well. The muslin cloth works significantly better to cleanse (and obviously exfoliate) my skin than the Clarisonic, in my opinion. And getting the makeup off my face before bed seems to be keeping most of the acne at bay. Well, that and the constant exfoliation. I'm not even using any acne-reducing products in any consistent way because I haven't really needed to.
A friend who has dry skin told me that she had tried this cleanser and wasn't in love, so obviously take my recommendation with a grain of salt. But I have normal to oily skin, and it's a miracle-worker for me.
So there you have it. These are the things that are working for my skin right now. What's your skincare regime? Any super-secret tips you want to share with the class?