I know I already shared a few of my newborn must-haves with you guys
here
, but I'm linking up today with
Leslie
for her Moms Know series to share some of our bigger baby purchases.
It can be so difficult to decide what you're going to need, particularly if you are like me and had virtually zero baby experience before you got pregnant. I remember being so thankful when I'd find a compilation of recommendations from veteran moms, so this is a great link-up for anyone who is expecting a little pumpkin anytime soon.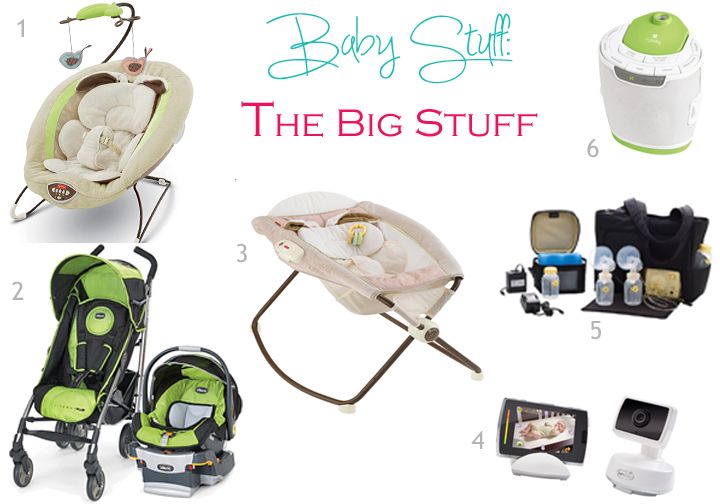 1. Fisher Price My Little Snugabunny Deluxe Bouncer.
We've definitely gotten our money's worth out of this thing. Particularly in the first few weeks, anytime I needed to put Grace down for a little while, I'd plop her down in this bouncer, and she'd stay happy and content. Since we have a clear glass shower, I could even use it to squeeze in a shower when we were home alone. It vibrates and plays music, and she's just now started to notice the cute little bird mobile, as well.
2. Chicco Keyfit 30 Carseat and Liteway Plus Stroller (in Surge).
I
love
this carseat and stroller, y'all. My sister-in-law had recommended the carseat, and we've really loved it. From the very first time we put her in it, I felt like she was safe and secure, and it's super easy to use. I ended up going with the Liteway Plus stroller because it seemed more streamlined and less bulky than the other Chicco strollers. Plus, this one can be used as a travel system with the car seat AND as a standalone stroller for when she's older. Love.
3. Fisher Price Deluxe Vibrating Rock N' Play Sleeper.
I've written about this product before, but I'll say again here: this thing is so convenient. We used it instead of a bassinet, and Grace loved it. It kept her snuggled up those first few weeks, and we could move it easily from room to room so she could nap in different places. It also folds up really well and is super portable.
4. Summer Infant Baby Touch Boost Color Video Monitor.
This monitor was recommended to me by a friend (hi, Audrey!), and we have been so pleased with it. It's pricey, but the quality is amazing. The volume is adjustable (because you won't want to hear every tiny noise after those first few nights of obsessively checking to make sure they're still breathing), and you can even move the camera via the handheld device if your baby moves in the middle of the night.
5. Medela Pump in Style Advanced Breast Pump
. I obviously wasn't able to utilize this after the first month (go
here
to read my very topsy turvy breastfeeding experience), but I think a good breast pump would be absolutely necessary for anyone planning on working and even for most stay at home moms (if only to give yourself a break now and then). This one has been described as the Cadillac of breast pumps, and it definitely seemed to work really well (although I won't lie... I was slightly mortified the first time I used it. I've never felt more like a milk cow than I did in that moment, watching my nipples expand to an ungodly size.)
6. myBaby SoundSpa by Homedics.
Everyone told me not to create sleep props, and I really did try to follow that advice as much as possible. So we tried to lay Grace down while she was drowsy but still awake, even when we first brought her home from hospital. And I only occasionally rocked her to sleep so as not to make her dependent on that motion to fall asleep (although I couldn't resist at times... such sweet moments). But as soon as she started sleeping in her crib, we started using this sound machine to help drown out background noise. She seems to nap much better with it, and I think she'll really enjoy the ceiling projection feature as time goes on. I definitely don't regret using it, and we'll probably continue to use it at night for at least the foreseeable future.
Go link up with
Leslie
to share your baby gear recommendations!