I may or may not have already explained how obsessed I am with
StitchFix
.* You've probably already heard all about it, but just in case: it's basically a fashion subscription service. You fill out a very detailed style profile, and StitchFix sends you a "Fix" each month (you can adjust the frequency if you want) containing five pieces of clothing/accessories that have been handpicked by a stylist based upon your profile, comments, and any Pinterest boards you direct them to. You pay a $20 styling fee for each Fix, and that is applied to any purchase you make. (I've purchased something from each Fix I've gotten.) You get a 25% discount if you buy all five pieces. (I've only done this once.) They send you a pre-paid envelope to ship whatever you don't want back.
I've gotten four or five Fixes, and they're getting better and better. I'm currently in a size 14, so I'm at the tail end of their size range, but they've been able to provide a LOT of things that fit me well and flatter my body type.
Pros
:
– It's super fun. Every time I see the box arrive in the mail, I do a little happy dance.
– It's convenient. I love that I don't have to go back to a store to return the things I don't want. I just drop it in the mailbox at work and call it a day.
– It pushes me outside my comfort zone. The stylists do a great job, in my opinion, of getting a good feel for what you like but also including pieces that you may not have picked for yourself.
For instance, I would NEVER have purchased maroon pants for myself, but my stylist included these in my Fix a couple of months ago. When I put them on, they were super comfortable and really fun for fall, so I went for it, and I wear them all the time now. (The navy cardigan is from StitchFix, too.)
Cons
:
– The prices are Nordstrom-ish. You can specify a desired price range for your items, but I'd say that each piece in my Fix has been about $70 bucks on average, with the tops being closer to $50, and the pants being closer to $80.
– You may not love a single thing in your Fix. I haven't had that happen yet, and I think it's because I make a point to be VERY specific when reviewing the items I receive. But it could, and then I'd lose my $20 fee if I don't purchase anything. To me, the fun of the whole thing is worth it, but it's something to consider.
– They don't offer plus sizes. To me, this is ridiculous, but apparently, they're currently working to offer additional sizes. We'll see...

With all that in mind, here's what I got this month.
Herringbone Vest:
Y'all, isn't it insane that I put this
J. Crew herringbone vest
on my Christmas wish list, and then a nearly identical version (but cheaper!) arrives in the mail just days later? Unfortunately, I just didn't like the way this fit me. I think puffer vests aren't flattering on me. But, in theory, this was a perfect pick.
Eggplant Skinny Jeans: I big, puffy-heart love these jeans and want them in a ridiculously bad way. They were just too small, and I don't think this designer makes them in a bigger size.
Cardigan: When I pulled this out of the box, I fell in LOVE! The fabric was thick and soft and so cozy for winter. But I just didn't love the batwing look the Dolman fit gave me, so I'm sending it back.
Black Wrap dress: If I didn't have almost this exact dress from Banana Republic already hanging in my closet, I would have bought this in a heartbeat. High-quality fabric, excellent fit and length, and super flattering.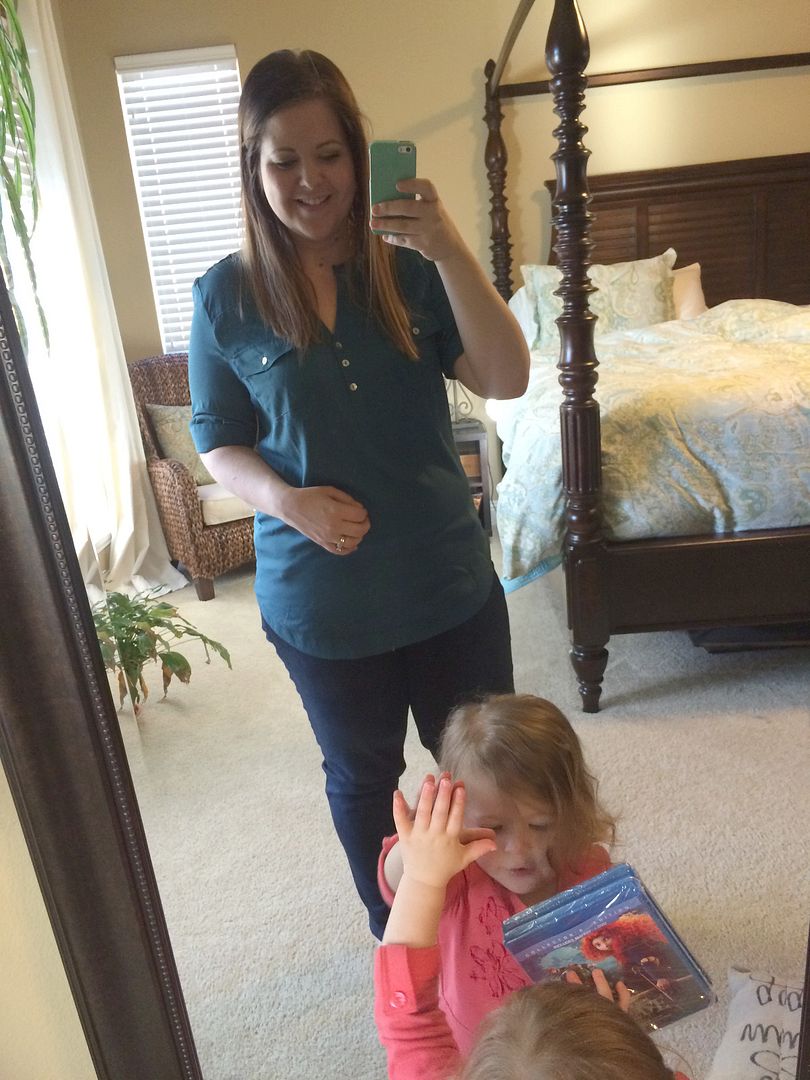 (sorry for the photobomber)
Teal Top: I definitely kept this. It'll be perfect for work, and the fit was great. Plus, teal is always fun.
* Note that these links are referral links. I'll get a small credit it you join, but you guys know me. I won't share something unless I really and truly love it. And if the referral things freaks you out, just go to the StitchFix website to give it a try.