If you missed my recap of our first day in D.C., you can find it here.
Our second day in D.C. was probably my favorite. It was also the busiest, and we were worn out by the end of it.
We slept in until nearly nine, which was glorious. After we got up and ready, we grabbed a quick breakfast to-go at a bakery near our hotel. Chocolate croissants for the win!
Our first stop was Georgetown. Y'all, this was my favorite spot in D.C.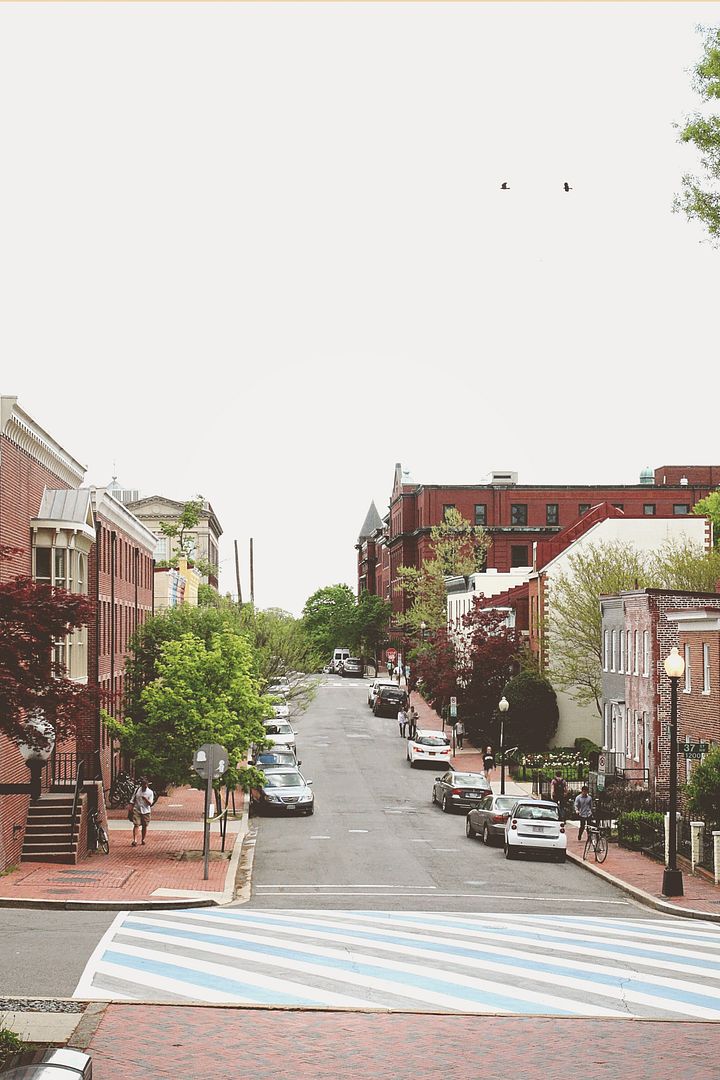 The whole area is just adorable and homey and full of fun shops and restaurants. Unfortunately, there is very little metro access there. So we took the Circulator bus over, which was a breeze.
We weren't planning on eating again so soon after breakfast, but we spotted Georgtown Cupcake and decided we could make room for a treat.
I ended up with the Salted Caramel, and Faith got the seasonal Lavender Early Grey Teacake. Both were really phenomenal, which was surprising, as I had heard that Georgetown Cupcake was overrated. I've had many a cupcake in my day, and I can tell you that these were very, very good. Worth a stop if you're in the area, particularly if there's not a long line.
After we stuffed ourselves, we got off M street and headed toward Georgetown University. I adored the quiet little spots we found on the way there. And then the university, itself...
Just breathtakingly gorgeous. With trendy college students lazily lounging on the lawn studying. We popped a squat in the grass and took a selfie. Ha.
Next, we headed to Washington Harbor. We took a semi-shady (but still fun) walk adjacent to a canal to get down to the water. (On the way, some CrossFit enthusiasts stopped and tried to recruit us. #nothankyou)
This area was cute, but definitely more touristy. We ended up at a table outside at
Tony & Joe's
for lunch, and it was decent.
Sequoia
, just next door, looked much better and had tables that were up above the walkway, but we just weren't feeling brunch.
After we ate, we wanted to head over to the National Mall to check out a museum or two, but we didn't feel like messing with the bus, so we just called an Uber. So easy and cheaper than a cab.
Our first stop was the National Museum of American History. I can't believe this, but I have ZERO pictures from our time there. I definitely took a few, but they were all so dark, they're not even worth posting. We did geek out when we saw Dorothy's ruby red slippers, but to be honest, we were in and out of there in less than an hour. Very cool, and worth a stop, but neither of us are prone to dawdling.
After we finished there, we went to the National Air and Space Museum.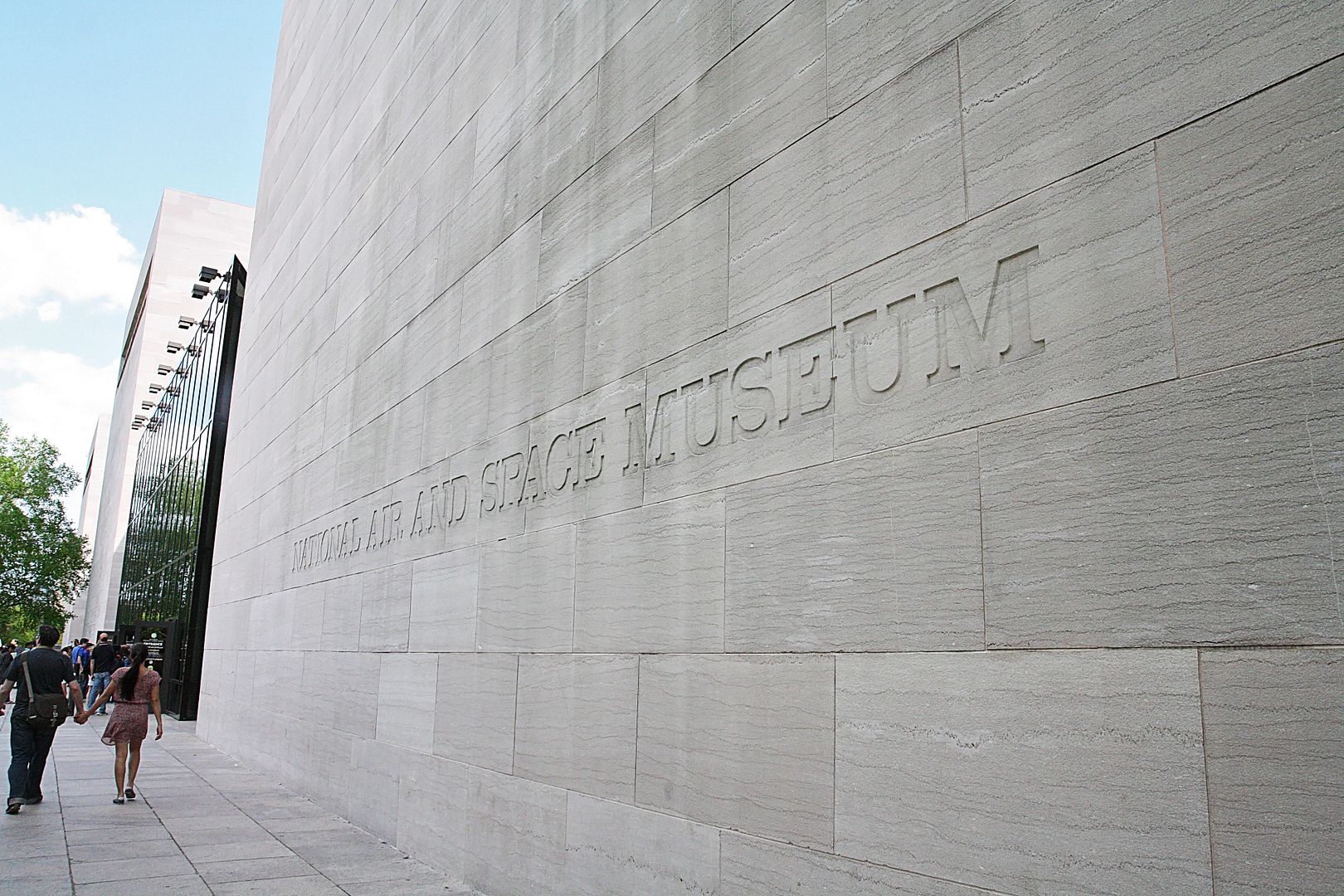 Y'all, this place was
cool
.
As soon as you walk in, you're inundated with actual planes and missiles hanging from the very tall ceiling.
There were just too many cool exhibits to share here. If you've only got time for one museum, I'd definitely recommend this one over the American History museum, particularly if you're at all into planes and/or space travel. Next time, I'd like to see the American Museum of Natural History.
After we finished up the museums, were were spent. We found a shady spot on the mall and sprawled out for a rest.
I think that if I had stopped talking for more than five seconds, Faith may have actually fallen asleep.
We finally got the energy to get going again and grabbed the metro back to our hotel. We grabbed a snack and a glass of wine, took quick showers, and got dressed for dinner. Our reservations weren't until 7, though, and we were both
so
sore, so we spotted a little massage parlor near our hotel and squeezed in a quick, 20-minute chair massage.
Best idea ever
.
For the trip to the downtown area, we decided to take the bus. We walked down to the White House and took obligatory pictures.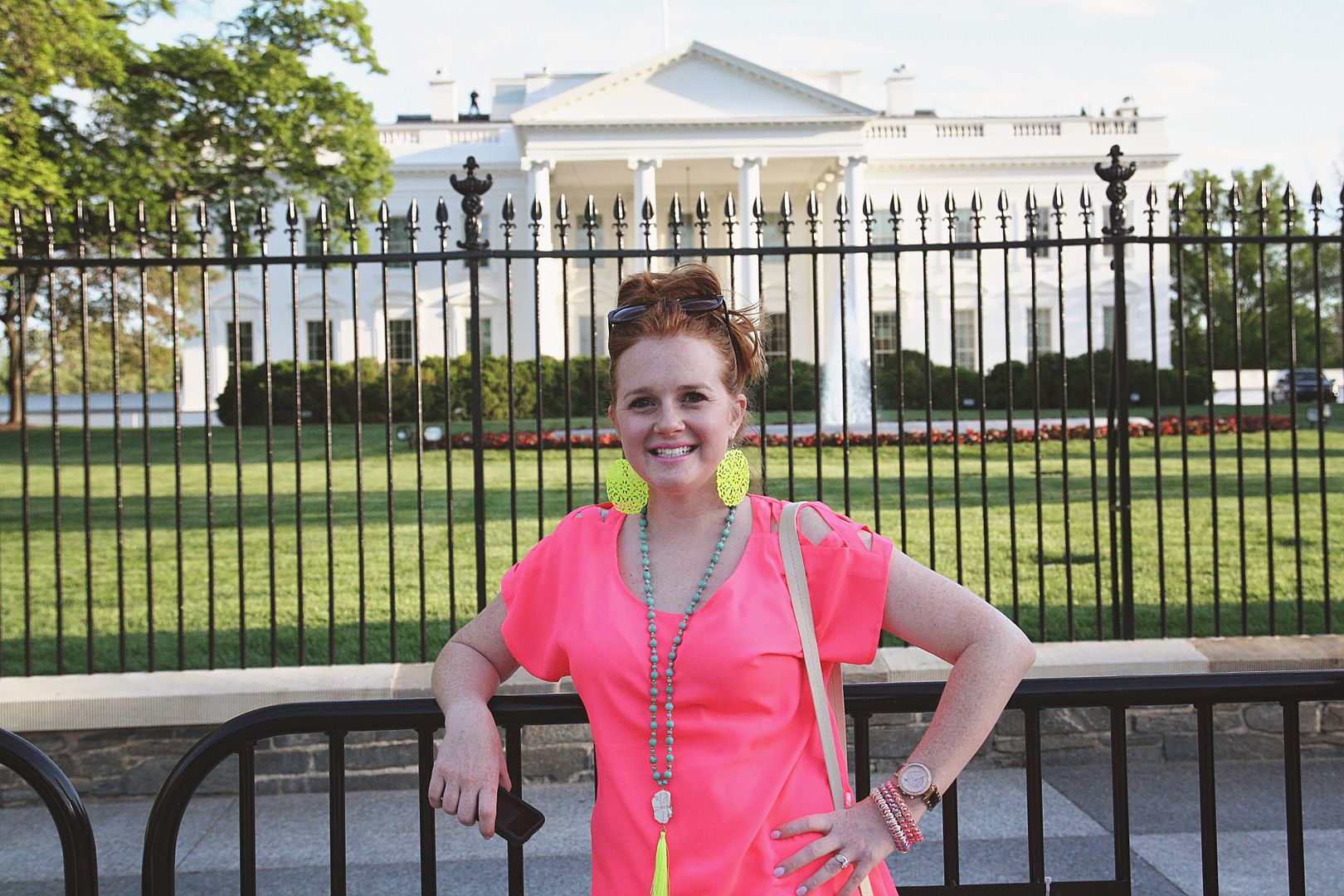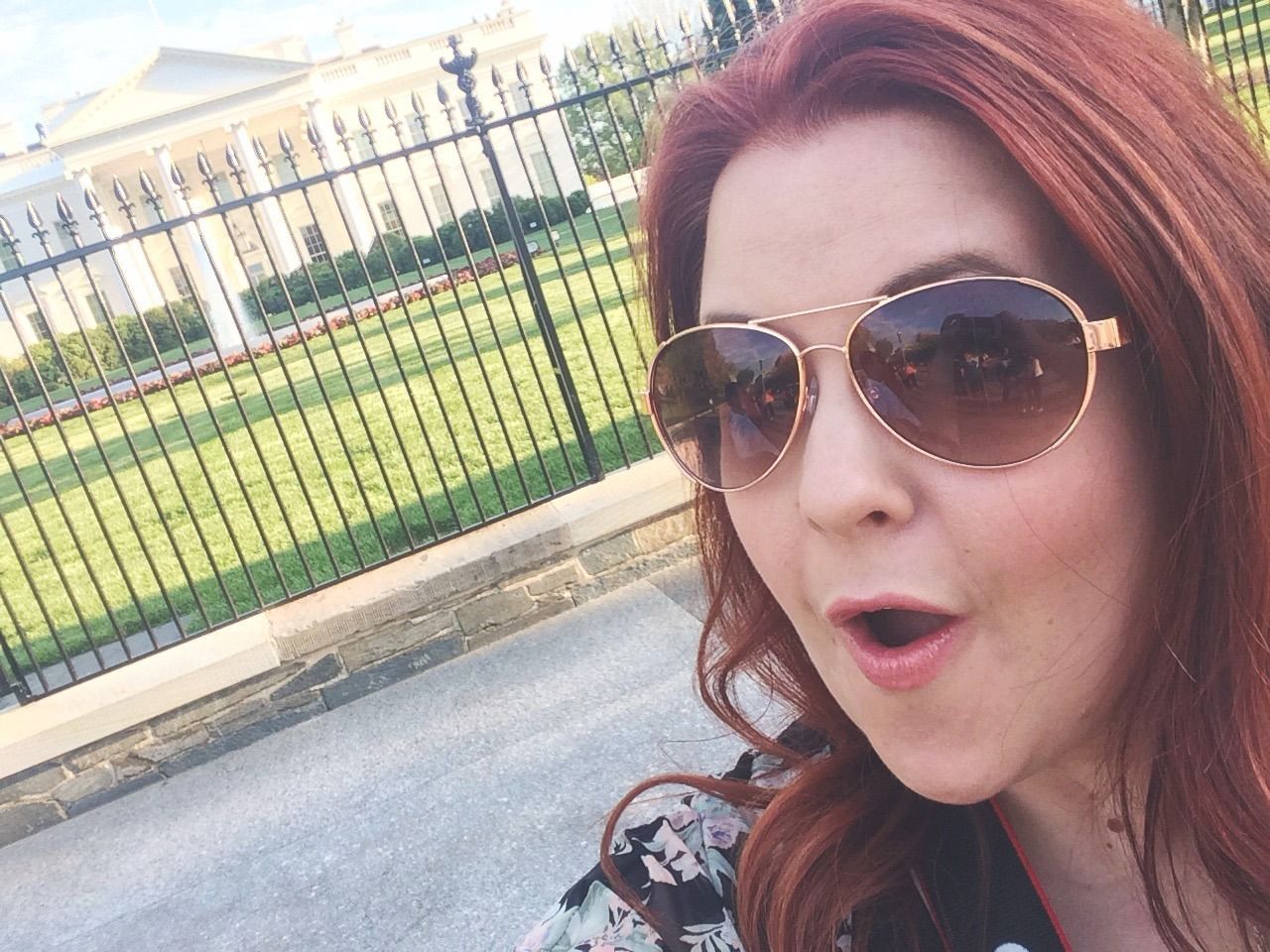 The
last time I was in D.C.
, there was only one fence in front, so you could stick your camera between the bars and get an actual picture of the White House. Now there are two, so pictures really sort of suck.
Our dinner reservation was at Old Ebbitt Grill.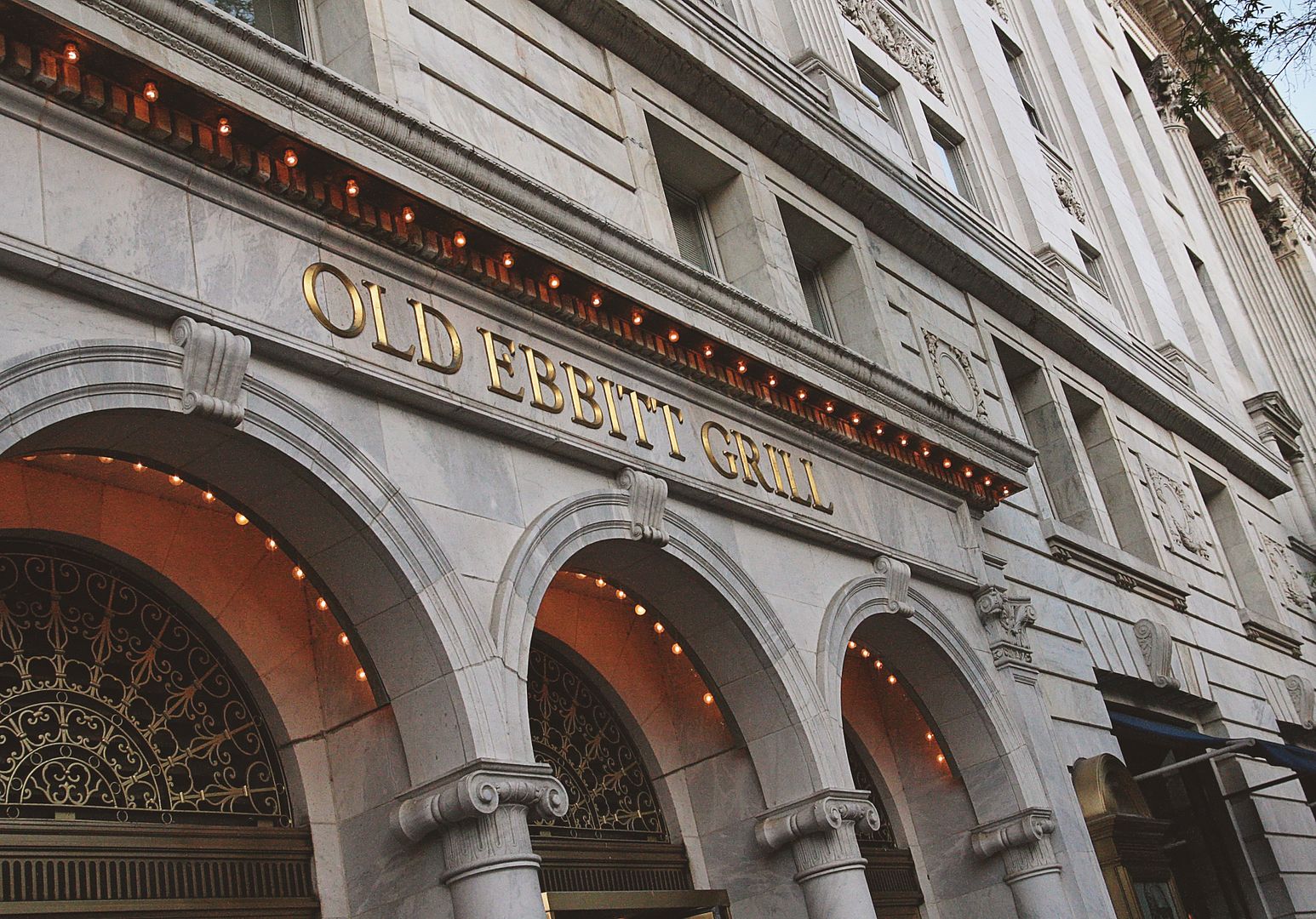 It's one of those quintessential places in D.C. that's not at all worth the hype in my opinion. The atmosphere there was busy and fun, and it's so
very
old school. But the food was only mediocre, and the service wasn't great. If you really want to eat near the White House, I'd strongly suggest the restaurants at the W and Occidental hotels or Cafe du Parc nearby. They have excellent patios and were significantly less crowded.
We actually grabbed dessert at Cafe du Parc. I had had the most incredible caramel popcorn ice cream dessert there on my
last trip
, and I was hoping they still had it on the menu. They didn't, but we shared the french macaroon ice cream sandwich (!), and it was every bit as delicious as it sounds.
After dessert, we were planning on grabbing the subway back to the hotel, but we missed the last train by 2 minutes. Our feet were so sore and tired, but we figured we could make the trip back to the hotel. It was less than a mile, after all. We ended up walking past a pretty happening nightlife area, which was very...
entertaining
. Lots of bros with popped collars and girls in four-inch stilettos. Not at all our scene.
Nope. Faith and I made it back to our hotel before 10:00 and were asleep by 11:00. That's what going crazy looks like for two moms of toddlers who are old ladies at heart. :)